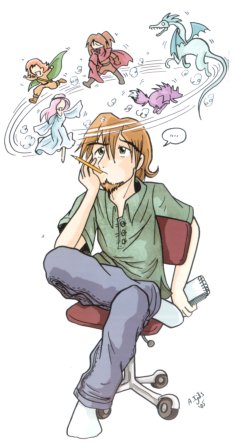 28-Nov-2006: Praedor 1.1 is Out of Print!
Webshop Roolipelit.net just ordered a box of Praedor and to my horror I found that I had none. Full box would mean 19 copies. I could scratch together 13 from opened boxes. Well, that's what they are going to get but I was so sure I still had a full box somewhere... Let's see... 649 already sold + these 13 = 662. There are 700 copies of Praedor in existence. 700 - 662 = 38 copies given or retained by authors, handed out as gifts or rewards, sold outside the books... I guess it is possible even if the number feels a little high to me. In any case, sorry Roolipelit.net. You are only getting 13 copies and then Praedor 1.1 is officially out of print. Will there be more? If I get enough pre-orders to cover the costs of the print run, yes. Only time will tell, I guess.
With so many Praedors out there it would be sensible to provide some support for it. I am not going to do more Praedor stuff without Petri but maybe the rules could also be used for something else. After all, they were playtested using early 17th century Europe and the Thirty Years' War as a setting. I would also like to develop a magic system for them but A) it cannot be setting-independent and B) not for Praedor in any case. This idea of Baltic pirates and stuff, mixing my old Hansa campaign with swashbuckling elements, is growing in my head. I really need to hack it somehow.
I finally got to move out of Inorganisms and into Oases in STALKER. Of all the aspects of the game this is the least supported by the novel. Frankly, the whole idea of Oases is based on two comments on pages 184 and 185 of the WSOY edition. Mutant tribes and the whole concept of mutated ecosystems somewhere deep within the Zone comes from there. Of course, the movie portrays Russian Zone as teeming with life but while it shares some of the elements with Oases, your standard Russian glade "without the smell of flowers" is not what I mean. Of course, in the Russian Zone at Derbent you can get that too.
I know I was supposed to send the Tracon train tickets to get a refund before this weekend but I just couldn't be arsed. Traconeers, consider this my contribution to organising Tracon. You've earned it anyway and it was such fun that I am seriously contemplating about coming over as a regular customer next year. Yep, I think three roleplaying conventions per year would be nice. Summer has Ropecon, Autumn has Tracon and Spring is still open for grabs. I heard that Conklaavi is on its way out. Although my experiences from them are rather unfortunate, it is still a loss. We are not legion; don't let the hordes of cosplay-kiddies (I thought Finland did not have enough children?) fool you.

22-Nov-2006: Late Night Musings
Actually past midnight, so the entry date is wrong.
After all the excitement my illness turned out to be your standard run-of-the-mill segmental pneumonia (or whatever "lohkokeuhkokuume" is in English). And it is not the disease that's killing me here, it is these antibiotics. Ketes, I don't know if that is supposed to be strong or not but I feel like the pills are burning a hole through my stomach lining. Ouch.
Every time I feel like my setting timeline leading up to present events feels stupid, I take comfort in two things: World War I and this website. The first one proves that any kind of social, political and ideological upheaval is plausible on a global scale within the next 24 hours. The second proves that some people seeking to influence the society are so stupid it is beyond funny. There is no way you could screw up your NPC factions as badly.
This is the part where I am supposed to hype STALKER but I am still stuck in the Inorganisms. I hope to finally get a move on this week but right now I am writing about a thing called Salt Worm. It is a small, semi-corporeal entity that moves by extending a crystalline tube-like structure into the direction it wants to go. The "living part" is the very tip of the structure and tiny compared to the mineral tubes it leaves behind. Eventually gravity and erosion make it crumble away but for awhile an area where Salty Worms have just passed through can look really, really weird. And if you get too close, it can punch right through you as it grows.
Writing a game is not the same as playing and frankly, my most recent campaign has all but fizzled out. In hindsight, maybe it was ill-considered from the start. I wanted to try out the basic plot premise behind Garden of Shadows as a roleplaying adventure. Obviously the players did everything very differently but it also turned out during this time that I won't write the book. That curbed my enthusiasm and the hurried pace at work did the rest. Intervals between sessions grew and I don't know where the adventure is going anymore. Players don't seem to mind but it bothers me.
Now it has been more than two months since the last session and I really have to decide if I want Garden of Shadows to continue. The story arc has been so mauled by players that the adventure is nearing the end anyway. So, dropping it would not mean losing too much game play. Then again, it would be nice to have a proper conclusion. And I can't keep running it for long anymore. There is stuff to do and other adventures to think about. I've been running mostly Praedor campaigns since year 2000. It has been fun but I want to try something else.
Oh yes, another game review to gloat about. It was a rush job but my name is in the credits as the lead designer for the mobile version of Electronic Arts' Need For Speed: Carbon. First one to say "isn't that just a mobile port" gets a black eye. The mediums are entirely different, so making a mobile copy of the console game would be just plain stupid (fortunately most clients seem to grasp this). To make something work on mobile, it has to be designed for mobile. Licensed game has to be part of the same intellectual property or franchise but it can't be the same game. Fortunately the people we work with seem to understand this.

19-Nov-2006: Justification of Being Ill
Sometimes I wonder if I ought to have the screws in my head checked.
Nobody else I know goes bananas like me when they are on a sick leave. To sum it up; I feel guilty not being at work which means that: A) I have to constantly prove to myself that yes, I am not well and B) I feel this obligation to do from home that I normally do at the office which kind of defeats the purpose of rest and recovery. Help! I am not at work! Who is going to do X? (Mr. N can do it) Who is going to do Y? (That can wait) Can they manage without me? (Yes, they can). It is like an intricate combination of a guilt complex and acute megalomania about the studio revolving around me.
Just now, I am struggling with it because I am not going to work tomorrow and I am feeling more or less okay with no fever. Never mind that it took me 800mg of ibuprofein and 1000mg of acetaminophen to get here, I can't walk straight, my rest pulse is through the roof (95 beats per minute), my CRP is 70+ (should by 10 or less), my pancreas is enlarged, I am bathing in cold sweat and every time I cough it feels like my head is about to come off. Just this morning my temperature was still 39.0. But hey! It is way down from yesterday (40.7)!
So can I go to work? Can I even do stuff from home? Am I a bad person because I am on a sick leave? If I am not a bad person why am I on a sick leave when I am not dying (not that we know it for sure)? You get the picture. Being really ill feels really shitty but at least I feel justified about being on a sick leave. So, the worse I feel physically, the better I feel mentally and vice versa.

14-Nov-2006: I Should Sleep...
...but here I am, writing this blog. Continuing from the previous entry, I have discussed the CCP/White Wolf "merger" with some people from both digital and non-digital games industry. The consensus seems to be that it was a bad move (I know that mergers are always extremely disruptive to both parties but I can't really understand why). The revenue generated by White Wolf-produced EVE novels and non-digital games will be insignificant compared to the MMORPG itself. More importantly, the EVE players are pretty much the only feasible target audience, so trying to tell them about EVE is like preaching to the choir. I expect roughly 10% of the players to be interested in non-digital EVE products anyway.
World of Darkness MMORPG... while this may at first sound like a good idea, it is a niche of a niche genre. If the target player base is anywhere near EVE, it is not going to work. Granted, a game based on a license already known by roleplaying nerds might have a stronger initial player base than EVE but it is very hard to see the number of subscribers rise above 50,000. The concept is just too radical (read: niche). If this is not a problem for CCP, all well and good. After all, they don't have investors breathing down on their necks. I'd love to know the financial terms of the merger but of course, those are not available for the public. There is some conflicting information about the financial state of White Wolf and nobody knows the truth. If WW has the traditional RPG company book-keeping style, they don't know it themselves either.
Closer to home, a dear friend of mine is coming over from Japan and I promised a post-holocaust flavoured science fiction campaign for him. I try to keep my promises and am busy converting STALKER-FLOW into SCIFI-FLOW. Actually, I'd like to generate it from the genre up instead of converting it from an existing set but with only one week left you go with the rules you have, not with the rules you would have liked. As for the equipment list (always a sore point at science fiction games) I am plagiarizing Heavy Gear. Stalker does not really have an equipment list since it is set in our world and times. I did include a brief description of typical firearms, though. When my friend comes, I am taking him on a little trip to Mars. It will be interesting to see how that turns out.
Speaking of STALKER, I am still writing down the inorganisms (there have been quite a few distractions lately). Instead of a two-axis mental randomiser like the one used for anomalies, I decided to go for a whole different approach and write 10 short stories about encounters with different kinds of inorganisms. Since inorganisms are so rare, encountering them or even traces of them should be one of the highlights of the adventure. You are not alone... not even in the Zone. I just need the one commodity I do not have to finish it: time.
While the top leadership for next year's Ropecon organisation has already been chosen, the government positions (Conitea) are still open and able-bodied (okay, we are geeks, it is the mind that counts) volunteers sought for. If you are good at something and have always wanted to contribute to the greatest Nordic scene event (and probably the greatest independent European scene event) in a big way, here is your chance. Been there, done that and no regrets. Watch your favourite RPG related forum for more info. In my opinion it would be at least wise to extend the recruitment beyond the mailing list.

12-Nov-2006: EVE Fanfest
For reasons not to be disclosed here I was in Iceland (you know, the Lappland-sized island in the middle of North Atlantic with the population of Vantaa to go around), attending the otherwise sold out EVE Fanfest by CCP Games. It might have been a bit of a mistake to go alone but company would have been difficult to arrange and it was fun for the most part. Icelandic weather is very nice. If you dress up warmly for the Finnish winter, you are pretty well covered for Icelandic winter too, even if temperature is 5-10 degrees higher. And with Reykjavik (Savujen Lahti) being on the same latitude as Vaasa, it was also dark most of the time. Perfect!
Thursday was stormy, Friday was stormier and on Friday night they had such a storm that even the locals got worried. Saturday was calm and cold. And today it was stormy and rainy again. Took some pictures but I am not going to post them here. Loot at a travel brochure, it is prettier.
Pretty much everything relating to Fanfest has been covered on a multitude of forums, so I am going to talk about the one thing I have emotional investment in: the White Wolf/CCP merger. The immediate reaction on many forums was that "OMG WW has bought CCP". It is the other way around. White Wolf does not have any and before this merger it was in the same post-MtG crapper as the rest of the industry. CCP pulled their asses out of the fire and made them their subsidiary. Basically they pocketed just some more IP so they won't be depending on just one product. White Wolf staff and original game development is not really part of this equation, although I believe it will continue.
For White Wolf, CCP partnership provides a ready audience of 150,000 people where to push novels and games, including the long-awaited EVE RPG which is now said to be in the works. If one in 30 people buys the bloody thing that is 5000 copies sold aready and yep! WW might be the second-most successful RPG publisher out there but 5000 copies sold is still a reasonable goal for them. There is some serious talk of another dev studio being set up in Atlanta that would focus on a WoD MMO. Maybe, maybe not. They are still at least two years away from a meaningful product launch.
Good for them. For me, it all poses a problem. I've never cared much for White Wolf products but this alone would not deter me from playing EVE. However, last year, right before Ropecon, they did something I will neither forget nor forgive. Remember this? After the global roleplaying scene exploded in rage and ridicule, they backed down but not before Justin Achilli had called all his opponents in the debate idiots and sworn that WW will never, ever give in. I've been boycotting White Wolf ever since but now they are part of EVE. I don't know what I am going to do.
It seems that the RPG scene lost. White Wolf got everything they wanted at one go: a subscription based player license system, strict and enforceable code of conduct and a meaningful way to hit back at perceived offenders.

05-Nov-2006: Small World
Friend of mine has been running Praedor for some years now. He once had a player, Tero Salonen, who was in the same military unit with me back in -93. But enough about that. Having played Praedor, Tero rewrote the lyrics for "Tuhansien Murheellisten Laulujen Maa" to fit Jaconia and life of a Praedor. It is all in Finnish but you can always try babel fish to sort it out. The outcome should be hilarious even if incorrect.
Syyttömänä matkaamaan, sattui hän,
tähän maahan Borvariaan, ja kylmään,
jossa jo esi-isät, praedoreita tottakai,
puri nurmea jos pedot ne kiinni sai.

Perinteisen praedorkohtalon,
halus välttää poika tuo,
aina puen päälle panssarin,
enkä pedon lyödä suo,
sillä elää tahdon.

Borvaria kutsuu praedoria talvisin,
mut en tahdo sinne koskaan mennä yksin.
Aarteet huumaa kuin tynnyri väkijuomaa,
silti moni sieltä tyhjin käsin palaa,
koska pikkupedot ne herää henkiin,
ja pakoelkeet tarttuvat praedoriin.
Kohti laukkaa, Jaconiaa.

Se praedorin epätoivoon ajaa,
kun ei oo enää ruokaa.
Keskeltä raunioiden hiljaa
outo otus tuijottaa
kun praedor notkahtaa.

Keskeltä kumpujen, mullasta maan,
isät ylpeinä katsovat poikiaan.
Vasara, nuija, kirves ja miekka,
suurtappara ja sen kilven viimeinen pala.

Tämä tuhansien pikkupetojen luvattu maa
jonka tuhansiin taloihin juosta saa.
Kummallinen alue jonka oikkujen määrää
ei mittaa järki eikä nuoli väärä.
Joka taistossa hukkuvat ne elämän valttikortit
ja kiinni jää aarrekammion portit.
Praedorin epätoivosta ne kertovat.
San. Tero Salonen

04-Nov-2006: Happy Birthday
I've been around for 33 years. Yep, this is the age when Megatraveller characters start showing signs of aging and I am not in such a good shape to begin with. Time is a funny thing. I still feel like I just graduated from high school and even if the last five years have actually been an agonizing crawl from one upheaval to the next, looking back at them makes it all seem like a flash of lightning. It did not always look so good but things turned out fine, after all.
Now, I know many people reading this blog have or are about to have kids of their own. I don't know much about rearing children but the relationship between you and them does not end with childhood, so I have this word of advice:
I hope that one day your kids will have made it past 30 without injury or prison. By then, they have been grown-ups for quite a while and already have some sense of the world. Hopefully, they are earning their own living and moving up in a career they like. Not rich but doing okay. Not famous but known by the right people. Perhaps some of them have even a few published books under their belt, although it is just a hobby.
Now, even if you think it is all shit compared to some other goal *you* have set for them, don't say it when you call them on their birthday.

29-Oct-2006: Tracon
Been there, seen that and was pretty impressed. Thanks to anime-themed events, they drawn in more than 2000 people, so it was about the size of later Paasitorni cons, if also just a single-day event. Their staff room is three times as big as that of Ropecon, btw. Everything went smoothly (unlike in some other non-capital-area conventions I've been to) and I think they had just the right attitude (of course, some of those people are part of the Ropecon regular staff as well). The only drawback is that my mild flu worsened to a full-blown disease on this trip but it is not really their faul.
Since I was not feeling too good I tried to take it easy and did not watch the other events but instead walked around, looked at the stands and chilled out in the staff room. I had two events, first a panel at the ungodly hour of 11am where I, Eero, Miska and Jan-Erik (Parabellum) were discussing the business and practises of publishing your own games. As the last panel on the subject I will ever attend it was quite good. Eero behaved and we discussed a lot of stuff I already touched upon at Burgerin Arcade at Ropecon, which I still find very interesting. Jan-Erik was an interesting character, an extremely tall Goth salesguy outing at Tracon with two buddies. Had not met him before.
If anything, the panel convinced me even more that I should retire. Miska had produced a soundscape CD for Heimot and it is actually pretty cool ambient stuff. Jan-Erik was bursting with ideas for mixing multimedia and networked features with a roleplaying game, not necessarily impacting the gameplay itself but to the expand the "Parabellum Experience", so to speak. I finally bought me a copy of Parabellum but I forgot to ask him to sign it! Bloody hell. I haven't read it through yet, obviously. One thing that did get my attention right away was the look and feel of the game. The cover and also something in the interior layout scream "indie" and "first try", even if there is nothing really wrong with any of those. The production quality just feels low. I hope the content makes up for this but this is a strange contrast between the game and Jan-Erik's cool ideas.
But in short, one of my goals in getting into the "game" was to show others that it can be done. And behold: they have learned! I am not making multimedia applications or original soundtracks for my game and sometimes it made me feel like a fucking T-Ford in a modern-day car shop. By the way, for some reason Mike had not been invited to the panel even though he was there. Like it or leave it, you really can't deal with RPG publishing in Finland without him. Now it was up to me to try to scrape together what little I knew of his Johnny Kniga deal.
Oh fuck, somebody in the audience asked about the games we like and the games we hate. I should have mentioned Cyberpunk v3. I really hate that crappy-looking piece of shit.
My second piece was a STALKER presentation, this time decorated with real STALKER art and having some meat on the bones for the game system. The one hour they gave me to do it was enough, even if the questions session in the end could have been longer. I was honestly surprised to have questions. Usually people from outside capital area never ask anything. Attendance was good too, about 40 people. For a game that is been in the air for so long and has yet to come out that is not bad. After the event one of the participants asked if I thought Flow could be converted for use in a cyberpunk game. Certainly. The mechanic is generic, even if the abilities and derived attributes are game-specific.

27-Oct-2006: Green and Pleasant Land
Greetings from England. Well, actually I just got back and I am writing this from cold, dark and damp Finland. London was just as big as the last time, the European headquarters of the largest game publisher in the world were very posh and I should be banned from five-story bookshops. I finally got to see two more floors of the Imperial War Museum. Only the Holocaust Exhibition on top floor remains. All in all, a great trip and I think the book I've got can prove surprisingly useful if my Renaissance Fantasy-idea ever moves forward. At nights, I wrote my Stalker presentation to get a framework for bullet points. Talking is easy but I need the bullet points to stay on subject. Tracon is on Saturday and my presentation at 16.00. Unfortunately there is a panel already at 11.00 so I have to get going really early.
Just before I left, Fantasiapelit ordered another box of Praedor and the official Praedor count for me is now 649. While I was away, the next issue of Roolipelaaja -magazine came by mail. While I strongly endorse the sexuality theme running though the issue, Jaakko Stenros, has obviously missed page 20 of Kuninkaan Lapset while writing his short analysis on how Praedor game and comics treat the Eridu (a homosexual warrior cult of the Mountain Tribes). Oh well, your Jaconia may vary. Me and Petri agreed long ago not to impose a canonical truth on anything. By the way, version 1.1 is now running low. Maybe the product life cycle is finally coming to an end.
All in all, reading the magazine gave me a funny sense of deja vu... I have used roleplaying games as a way to express my own sexual fantasies already as a teenager and prefer to describe erotic situations as I would imagine them to be described in the literature of the relevant genre. That usually means a heavy emphasis on the erotic at the expense of actual sex. That said, I apologise to all my players who had to play these situations enduring both my personal fetishes and subjective ideas of what is or is not erotic. But I digress. In short, it is nice that while the scene is constantly talking about this, someone puts it into writing every once in a while. Makes things easier for new players.
Sex in live-roleplaying games has been discussed at Ropecons as long as there have been LARPers (no, they are not all virgins). If you have sat through the roundtable discussions the articles had nothing new to offer. Still, Mike's personal account was pretty funny. Hey Mike! You are tall, young and look like bloody Legolas! I am more surprised that you two did not actually have sex.

15-Oct-2006: No Christmas
Looking at my calendar it is safe to say that STALKER won't be done by Christmas. 2/3 of the book is done but my calendar says I am not around to do it! Next week I have Game Producer lectures and then a trip to Tallinn. After that, I am most likely going on a business trip to London. Then comes Tracon (I have to double check the time I was expected to be there). Then I have about a week-and-a-half before I am off to Iceland. Then I am going to Stockholm at the first opportunity. I am also on a constant alert for an extended business trip overseas and if the next few weeks are anything to measure by, it won't stop there. To be honest, I don't think I can handle long projects anymore.
STALKER will be the Burger Games Jubilee release for 2007. Then I'd like to tidy up the extended version of Mobsters I have on the hard drive and push it out too. After that it may well be that there will be no big game books coming out until I retire. Oh, I will probably start a few and get a bunch of inspirations but really, the chances of finishing one look pretty slim. Oh damn, I so would have liked to do Miekkamies (or the Baltic thing discussed on #praedor) for the Burger Games Jubilee Year. Well, can't be helped. While it is good that I don't depend on things for living, the things I do depend on take priority. It is called old age and this is why I am so jealous of you young dudes still trying out your stupid ideas at Ropecon or in the forums. They won't remain stupid forever.
I am currently writing about Inorganisms. These are anomalous forms of life (or lifeform-like anomalies) ranging from the Living Corpses (not your average zombie) to swarms of blue lights drawn to heat sources and freezing everything upon touch. Drawing the line between an anomaly and an inorganism can be difficult at times, just like discerning Living Corpses from organic creatures requires laboratory examinations. Inorganisms bridge the gap between anomalies and the mutant lifeforms of the Oases which are what I am going to do next. Then I close the Gamemaster's Book with Artifacts and write a couple of dozen pages about the city of Toulouse, split by the Boundary, near-abandoned by the society and becoming stranger and stranger as the time passes.
Lots of babies being born in my social circles these days. That's what happens when you are over thirty.

10-Oct-2006: About Writing a Novel
So it is confirmed. I am going to EVE Fanfest in Iceland on my employer's expense and without a real agenda. They say it is a reward for good work but no former employer has paid me work-time tourist trips to exotic locations no matter how good my work has been. Well, I am not saying no and it is nice to get praise. I hope the weather in Iceland is even half-way decent and the guys (presumably) from CCP Games have already promised to buy me a beer. Now, how to tell them that I detest beer without being impolite...
Quite a few people have asked over the past two years if I am going to write another novel and just recently a friend told me that his mother told him that she liked Vanha Koira. Or more precisely, the book was just the kind of stuff she likes to read. Of course, writing a book does not happen by snapping your fingers and but I admit I've been thinking about it. I already have bits and pieces of the second Praedor novel on my hard drive but there are two problems to this: firstly, I'd like to do something completely my own and second, it would be difficult to do Praedor fiction without going through Jalava.
Of course, until Stalker is completed, this is all just hypothetical.
Vanhan bensa-aseman katos on osittain romahtanut ja rakennus enää ruosteinen teräskehikko. Tangon päässä oleva Exxon-kyltti on ehjä. Sen valot välkkyvät öisin niin kuin täällä olisi yhä virtaa. Pumppujen viereen on unohtunut autoja, joista kasvaa metallinväristä hämähäkinverkkoa. Seittiä riittää aukean laidalle pysäköityyn rekkaan asti.


06-Oct-2006: Newscast
As reluctant as I am to go to the doctor, I did go when I got a clear case of vertigo last Friday. World was tilting to forward left and the sensation was strong enough to make me wobble when walking and cause motion sickness. I think it is because of work stress and frankly, I would have died already if I had not had that vacation in Japan. Stalker is doing poorly as I've been both physically and mentally drained when getting home from work. But I am coping. This year I have paced my work and vacations well and still have about week-and-a-half left for December. Go me! My next trip abroad (apart from Tallinn) is to EVE Fanfest in Iceland in November. It is a work trip but I am also going to have fun.
No news on the RPG front. Well, not exactly true but I am bound by NDA. Let's just say that I have high hopes for some of my work (and hobby) projects right now. However, the Burger Games RPG department is not going to do much else before STALKER is out of the way. Then there are some alternative settings I would like to try using FLOW in. The basic mechanism is generic even if the stats and abilities are not. I don't expect a diceless game (especially non-branded diceless game) to be a commercial success but I have to do something with my spare time, don't I?
A curious thing happened this week and since conversation in roolipelaaja.fi forums seems to have died away, I can continue my musings here. Many roleplayers compare roleplaying with the make-believe plays of the childhood. I can't deny the obvious similarities but somehow for me roleplaying has always been an extension of literature. If you go as far as to draw comparisons between childhood make-believe-plays and reading fiction I will give up but am I really the only one out there who feels this way? I tried explaining this on #praedor and was told that it was just me and my "super-gamemaster" approach to roleplaying games.
I argue that while the process of play can have features in common with make-believe-play, playing roleplaying games is like writing a book as a joint effort. Gamemaster is the controlling author but by no means the only one. Anything that would work as a story vehicle or a plot element in a work of fiction will also work in a table-top roleplaying game. Despite opinions to the contrary I maintain that they can be used by both the gamemaster and the players. The resulting story could be told as a piece of written fiction, even if experiencing it is usually a more fragmented affair. Story arcs are the same. Plot vehicles are the same. Tricks used for building suspense and atmosphere are the same. If it walks, talks and tastes like a duck, how come it is not a duck?
Of course, my experience is limited to table-top roleplaying games.

01-Oct-2006: Yamato
Since I am a friend of war films, seeing "Yamato" adverts all over Tokyo and big stands in the DVD shops obviously got my interest. Blessed Internet allowed me to get my hands on a Region 3 copy with English (and Chinese) subtitles. I watched it, liked it and went to IMDB to see some comments. Pretty divisive film with 23 "10"s, 15 "1"s and a few votes here and there in between. Wondering how someone who likes war films could not have liked Yamato, I read one of the negative comments. It made my day but broke my faith in Humanity. This guy said he had loved Saving Private Ryan for its Humanity, Heroism and Sacrifice (since Americans were the Good Guys).
But for him, seeing any of the above in "Yamato" was an insult to Spielberg's movie (which I personally consider to be crap apart from the landing scene) since Japs are the Bad Guys, regardless of what Japanese at the time might have thought about it. The fact that the movie shows Japanese Navy up the Shit Creek without a Paddle and is far more apologetic than e.g. Yasukuni War Museum did little to soothe his Righteous Anger. I know that history is written by winners but I did not know this applied to movie reviews as well. I hope he never gets to see Tuntematon Sotilas or Das Boot...
For the ignorant: Yamato and its sister ship Musashi were big-ass battleships (okay, the biggest-ass battleships) of World War II, with displacement tonnage of 78,000 (some sources put this at 74K or 80K). They were built according to the Battleship Theory that puts heavy emphasis on a decisive confrontation between hostile navies. After the battle, the victor would have an uncontested rule of the seas. Americans believed this too but after their battleship force had the shit kicked out of it in Pearl Harbour, they had to think things over.
As a result, Americans avoided decisive naval confrontations at all costs and aircraft carriers (along with guerrilla-style submarine operations) became the backbone of WW2 naval strategy in the Pacific. The battle for which Yamato and Musashi were built never came and the two ships, magnificent as they were, had little impact on the war. Instead, they had a considerable impact on post-war Anime.

27-Sep-2006: Tadaima
I am back from Japan and up to my neck in work so it is no surprise that neither this blog nor Stalker has seen much progress lately. While I was away, Mike Pohjola has been busy being the face of the Finnish RPG scene and this time got himself a full-page article in the most recent Pelit-magazine. Congrats! Star Wreck being such a nerd franchise I did expect them to mention it but I didn't expect to see a whole-page article! I am jealous as hell but it is good for the scene to have some visibility in the media again. I don't recall seeing anything else about them for ages. And as I've said, better Mike's face than mine. But that kind of begs the question: where are all the Finnish female RPG authors?
I was told that in his Ropecon presentation about SW-RPG (which I unfortunately missed because of my first game session), Mike said it was the first Finnish RPG to be published in English. This is not true. Taiga was published already in 1995 and Mobsters struck my digital shelf in 1998. If somebody knows any other Finnish games in English from an earlier period, let me know. I think Nordic's Acirema had its full title in English but I have never seen the game itself. And I think Rapier, despite its name, was in Finnish.
Everybody knows what Japan is like, so enough about that already. I could not find a dedicated roleplaying game store there but the local DVD/video shop had more than its fair share of anime books and along with it some TRPG (the term Japanese use for pen-and-paper roleplaying games, another term I saw was "Role & Roll RPG"). Just out of curiosity I bought two games: Gundog and Crossbone. Both are in Japanese but they have a curious habit of inserting bits and pieces of English here and there, so I was not completely at loss.
Gundog, published by Arclight, is a "Gun Action TRPG" featuring the actions of some kind of an organisation against bag guys ranging from terrorists to anything else you can gun down in the name of democracy. Curiously, attributes and maps are English, as are dice terms. All numerals are in Roman characters as well and there are these cute boxes saying things like "Combat Sense" and then an all Japanese scribble presumably explaining what it is all about. Greyscale interior and detachable full-colour cover which is both homoerotic and doubles as a GM screen when removed. I think that is a pretty cool idea.
The GM Screen, I mean.
Crossbone (or an incomprehensible scribble with Roman characters "Crossbone" underneath and also published by Arclight) is a... well... highly anime-influenced pirate TRPG. The detachable cover is neither homoerotic nor doubles as a GM screen but I really wish I could make sense of the game itself. You open one page and it looks like a regular boardgame with a block map. You open another page and it looks like a full-blown fantasy TRPG set in a world of <incomprehensible scribble>. My plans for Miekkamies 2.0 are not all that different from some of this so I'd really like to know... My best guess is that the block-map is some kind of a ready-made campaign (go here and you have this encounter, go there you have that encounter) but I really don't know. Anyway, the game is much lighter than the testosterone-action-themed Gundog.
Arclight also publishes a magazine called Role & Roll which, despite its title and front cover headlines, is in Japanese. Basically anything Japanese has a dash of English thrown into it to annoy foreigners even more. Arclight also holds regional conventions in different parts of Japan. Or they can be distributing noodle recipes. I really can't tell.

15-Sep-2006: As Always
Flight to Japan is less than 24 hours away and as always, I have the flu. I always have the flu when something important is about to happen. Oh man, the flight is going to be a killer. My girlfriend can sleep anywhere, including airplanes. I can hardly fall asleep in my own bed. Yeah, that sucks. I need 8 hours of sleep + 2 it takes me to just toss and turn and I really don't have 10 hours to spare sleeping every day. I should have brought some pills over from the States. In Finland you need a prescription for anything that can put you to sleep. Absolutely hectic pace at work in the few weeks before now did not help. Hell yeah, I am going all the way to Japan to catch a nap.
What to take with you to read (and in my case, write), is an eternal question. Stalker stays here at home but there are two future projects that might benefit from pre-productive design. One for paper, one for... other uses. I still have slim hopes of Stalker getting done this year (before Holland and falling ill, it was doing really great and I am a fast writer when I know what to write. That is the problem, most of the time.

10-Sep-2006: Cyber Thoughts
I just got back from Holland (forget that stupid Netherlands) with a sunburn, a few new RPG books (yep, I found a roleplaying game store in Leyden, just by accident) and new music (3 CDs for 12 euros proved to be a brilliant deal). Holland is a sunny country where you can walk the beaches along North Sea even in September and dine at beach inns, watching the Sun set into the westerly horizon. Even the locals were astonished at the perfect weather. It is an expensive country but since we were there for just two days I could afford to spend a little. Great pancakes, great ice-cream.
But when we left the coastline for Leyden, I discovered why the Dutch are so thin and fit. A) they all ride bicycles without helmets and B) they can't get anything to eat. Seriously, trying to find a decent bite in Leyden, a much bigger place than the coastal Katwijk aan Zee, was downright impossible. And a warning to prospective travellers: the Dutch don't know the meaning of the word "credit card". Apparently there has been a time when Visa and Mastercard were accepted but now you can't even use them to buy train tickets from the counter. Bloodly medieval. Luckily the Schiphol Airport was already in the late 20th century and accepted them both.
As huge airports go, Schiphol must be the best I've been to. Madrid just plain sucks, Chicago is too dispersed to make any sense of, Mexico City usually has some crisis, Rome is chaotic to the point of crisis even if there is no real cause and Stansted is ugly as hell. Schiphol is well organised, the running lines are going fast enough to be actually useful, there is a freaking brilliant Food Court type restaurant in the top floor. Shops are both plentiful and varied. Yeah, I prefer Schiphol over Leyden, actually. It is just the Sun where Leyden an the edge.
As for the music, it is all legit. Apparently a record store in Katwijk was having a clearance sale. I bought three films (Hot Shots 2, Dragonheart and Beowulf & Grendel which actually looks interesting). As for the music, two records are worth mentioning: Wolfstone which is kind of folk-pop-rock, or Clannad on steroids. Good inspiration tune for writing fantasy. The second record is "Cyberpunk" by Billy Idol, complete with a MAC floppy with some kind of early multimedia crap on it (haven't been able to check it out yet).
Now, Billy Idol has been hailed as one of the visionary pop-stars of the eighties. Accordingly, I think his old records suck. Then again, Cyberpunk, released in 1993 was a flop and partly drove him into drug addiction. Fittingly, I think it is great. Just like the only Blue Öyster Cult record I have managed to listen to from start to finish is "Club Ninja", considered by fans to be the crappiest and most shallow BÖC release ever. It is an easy guess why I bought "Cyberpunk": just four euros and a name like that; how could I resist?
As it turns out, I really liked it. Unlike Dio, another artists who tried cash in on the cyberpunk trend (trend I really noticed only in roleplaying games; was there ever anything else to it?) in Angry Machines, Idol did not contend with fake-sounding social criticism but instead tried to put some emotion into the music. Maybe I am shallow but I am hooked. And hey, I am a fan of Dio and I still think Angry Machine is not worth the plastic its burned on.
Aww... Cyberpunk. Trying to recapture the glory days feels really difficult now. My one attempt at old age, the ill-fated Istanbul Campaign, ended in a dismal failure. My campaign concept and plotline seemed okay on paper and sucked rotten eggs in play. It is the only time when I have given up simply because it suddenly dawned on me how bloody stupid my plot idea was. My second problem has been that I haven't been able to make the world, as portrayed in the original CP2020, to work. I have been far too loyal to the original concept as presented by the games of the era. It just does not and can not work. Why?
Frankly, I think I know the answer. I've been just too yellow to make anything out of it: Cyberpunk is not a setting. It is not even a genre. It is a theme. And this is where the games of the original cyberpunk wave fail and Cyberpunk v.3 really crashes.
Where is the cyberpunk? What is the cyberpunk? I don't think there is a real answer and saying things like "memes" won't make anyone cool. The biggest advantage of cyberpunk is also its greatest weakness. Almost all its campaigns can be easily adapted into almost any other genre. Gangster, Western and contemporary espionage thrillers are the easiest but you can actually use fantasy adventures and no one will notice a thing. No mainstream Cyberpunk game actually gives a hoot about the "punk" (kudos to Faith Worse than Death for trying). Settings are just a mismatch of other genres sprinkled with cheap science fiction and cybernetic gadgets as special effects.
Testing: Caste Caldwell (classic D&D) for Cyberpunk 2.0.2.0.
This fixer called Caldwell wants to set up a little black market import facility at an abandoned US Naval facility, only to find that its datafort rebelled against the shut down order. Nobody bothered to do anything about it and the place is still crawling with active defences like automated turrets and sentry robots. He obviously can't call the cops but if the datafort could be overcome, it make a perfect hideout. He hires a team of hot-shot runners for the job... just switch the rooms with hangar halls and no one will notice a thing!
You are supposed to be a techno-rebel but what the hell are you doing? Most people are corp runners or just guns for hire. CP2020 talks at length about the cyberpunk ideology but that ideology is absent from the setting and player goals. As for Shadowrun... oh dear! Do we really need elves and magic to get some kind of emotional involvement into the game? But yeah, it is definitely not a genre. Just a few themes. And you can add those themes into any other genre and they still work, if a little more fantastically than before. Maybe it is all part of the wider cliché battery that makes up the genre of scifi-action.
With Cyberpunk v.3 being such a turd, what would I tell to a player looking for a setting where all or most of the things he has come to expect of cyberpunk are doable? Right now my answer would be A/State but I do have some ideas of my own... if only I could find the time and energy to write them down. Well, maybe in Japan, a few days from now.

06-Sep-2006: I am a Lazy Bastard
I am not referring to the progress STALKER (which has been quite good over the past week). Browsing through Roolipelaaja-forum I happened upon this link about using props and stuff in pen & paper games. Holy shit! My gaming pals consoled me that my storyteller mood is better than a truckload of props but looking at those pictures I really wish I could have both. Not to mention the culinary dimensions of his sessions. We are just doing pizza here and games are too far between to create the right atmosphere. There is always just too much other stuff to do.
Gods, I am jealous!
When we moved into our current apartment, I had plans to turn one of the spare bedrooms (we have 4 bedrooms for two people, who both sleep in same) into a roleplaying room. When I got to it, I found that I really had no clue about interior decoration, seating arrangements or pretty anything household related. It was a dismal failure and the room is now a combined storage/guestroom. Nothing wrong with that but still, if I run something that does not involve the Significant Other, I am denying her the use of the living room. I am a lazy bastard. I should buy shelves and honestly go through my stuff and toss everything I don't really need. It won't make me a game room but it would be a start.
Ironically, about the same time I am writing the longest and most comprehensive gamemastering section ever (what the hell? STALKER is aimed at veteran gamemasters! How come I have more to say to them than I would have to novices?), there is a super-gamemaster discussion thread at Roolipelaaja.fi forums. Check it out. I can't grasp even half of the academic babble going on there but I learned a new term: auteur-gamemaster. I am one, or that is what they say. In any case, I have long been fascinated by the role of the adventurer. I always am looking for a social niche or angle that could explain or justify the existence of such people without disrupting the world as a whole. I like the idea of professional adventurers, like praedors, condottieri, vikings etc.
That is why I also like to design worlds where the social box or need of the adventurer class is present. It involves that the world as a whole has certain expectations to what the adventurers are like, a demand for their spoils and if the level of organisation is low, also a social role that unruly and sometimes aggressive (mostly) men can fill. In Praedor, all these conditions are met. In STALKER, the society is too organised and stalkers have a social role only as criminals and outlaws. If these built-in guidelines to playing the game and character in the setting make me a super-gamemaster in the academic sense, I confess!
I am heading to Netherlands soon. I wish the English would call it Holland like the rest of the world. I think Holland is a great name for a country. Much better than Netherlands, actually. And after Holland, Japan!

02-Sep-2006: Fall
Scratch one summer. Approximately 37 left (I plan to hit about 70 before keeling over from cholesterol). Kenneth Hite, whom I had the pleasure of meeting briefly at Ropecon, wrote his Ropecon report. The poor soul apparently thinks that Jeepform is big in Nordic Countries and labels Praedor an American style dice-and-monsters since it deviates from the perceived norm. I'll forgive him that but not the freeform guys for not setting him right. Before Ropecon, almost nobody had heard of them. After Ropecon, almost no one will ever hear from them again.
I have been planning a Heimot adventure for a while now but reading the rulebook with a specific campaign in mind proved really frustrating. Of course, not choosing a specific focus for a game means you can't go into too much detail but hell! Where are the world descriptions? Where are the small paragraphs at the end of each tribes explaining the current affairs and internal tensions? That bloody map I first loved turned out to be next to useless and lack of star descriptions really hurts space-roaming gamemasters. Even a list of named locations would have been a big help.
Oh well, it just goes to show why I will never do a game without a specific theme anymore. Miska has his work cut out for him as far supplements go. There is an unwritten rule that a supplement sells about third of the total game sales. With 1000 print run (assuming it will sell out) that would make out to 333 sales for each supplement. More if they are just weapon lists (that is a really odd but a definitely proven feature of the Finnish game market).
STALKER is still doing quite nicely, thank you very much for asking. I am writing the expanded gamemaster's section, describing the use Flow to detail. Basically, I am taking the tricks I have long used to temper dice-based game flow and putting them into game mechanics. Sometimes I feel like after this game I have nothing more to say about gamemastering. It is not true as there is stuff that you just can't put on paper but this by far the most comprehensive gamemastering section I have ever written. Even after cutting out the basic "what is gamemastering" -stuff since the reader is supposed to know that already. On the other hand, it is damn hard to come up with an objectively good example of "good roleplaying".
I recently talked about IGIOS here, a Finnish MMORPG-in-the-making (and in its very early stages). Now that game budgets are shooting through the roof and talking heads at trade shows are explaining how it is impossible to make a MMORPG for less than 15 million, I have started to keep track of interesting hobby projects out there that look like I might be willing to pay to play some day. IGIOS sounded cool when explained to me live but the website has just the bare bones. Force of Arms, although also far from complete, has already got something more to show.
I have been asked if I could add a comments section to my blog. The answer is no. If you want somebody else's opinion, go read their blogs instead.