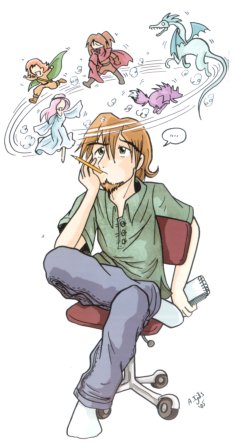 26-Aug-2006: News Update
Somebody (might have been Miska) asked for the slides of my Powerpoint presentation at Ropecon. Here you go (pdf). Someone in the same crew also asked me to make RoadKill available again. I said yes but I have been having second thoughts. I am not too happy with that unfinished turd of a game and although it was downloadable at some point in the distant past, I've never heard from it from anyone else. What exactly do you want with it? What do you think was good about it? You just made Heimot, for crying out loud, what good does an old, failed project of mine do?
On the professional side, I am proud that www.subsim.com has linked the Pocket Gamer review of War Diary: Torpedo on their website. I have been a submarine sim fan for over 20 years and it is nice to have been noticed. Despite the limitations of mobile medium, WD:T was made as realistic as it can be. It is just a high-level view into submarine warfare, without all the bells and whistles that make you think like you were the only crewmember aboard. That being said, I really like the first half of Silent Hunter III dynamic campaign. Later the bolt-out-of-blue air attacks, while realistic, ruin it for me.
Tracon organisers got organised and emailed me. There will be a panel but they didn't have a clear vision about other programme yet, so they'll have a meeting and get back to it. There will probably be something about Stalker but according to them Tracon has been more about workshops than seminars. I have never run a workshop but if they think they need one from me, I'll give it a try.

22-Aug-2006: Finncon and Tracon
Finncon isn't my thing. Too many people and far too many Otaku. Crowds at Paasitorni were enough to give me panic fits and I was told Saturday was even worse. I usually don't go but this year I was invited into R.E. Howard Centenniary Panel. Upon arriving, I found out that I was also supposed to be panel host. This was a recurring theme at Finncon this year. We heard of three other panels with the same problem. Anyway, after a quick discussion with other panelists we settled on taking turns as the panel host. That did not go too smoothly but the panel itself went well. Or at least I haven't heard any complaints. I was invited to Finncon afterparty but did not go: Hell, I don't even go to Ropecon afterparty, what business do I have crashing the Finncon one?
Don't get me wrong. Having something like Finncon is a very good thing and Ropecon probably would not exist without it. But I am a game designer, or as Mike put it, a roleplaying game author and prefer "interactive literature" to the traditional one. But anything that benefits the spread of speculative fiction benefits me, so yay for the crowds and otakus! Just don't throw me in there again!
Booking people without telling them is becoming a habit in this country. Tracon II is at Tampere in October and I've been asked to attend a panel with other Finnish RPG authors (or call them movers and shakers, if you will). That is documented in my email exchange. Well, I admit that I told them that if they are going to book all of us from Mike to Miska, they'd better use us for something more than just one panel. They promised to get back to me on this. That was in early May.
Tonight, I stumbled on this.
So, they decided unilaterally that I am going to have a presentation on Stalker. Kinda reminds me of reading from Conklaavi ads that I am going to be their guest of honour. Honestly, get your act together, people. If you promise to get back to somebody on programme ideas, do it. You can't just go assigning tasks to people without consulting them first. With me at this particular time, no harm done. I'd love to talk about Stalker and I have loads of cool new stuff to show you. But some day, with someone else, stuff like this will bite you in the ass.
Also, update your website! Right now it only shows the date and some contact emails to main organisers. I can understand that you don't have the exact programme yet but "how to get there" info with a little map and the street address of "Tietotalo" would rock. Hell, I don't even know where Hervanta is. Does the train go to Hervanta after stopping at Tampere station?
Despite my whining, I am really looking forward to Tracon. I have wanted a dark-time-of-the-year-convention for a long time and while I would prefer November or January, late October is gloomy enough. Tracon had a little over thousand paying visitors last year. That is more than enough to create the true Con feeling. After all, the first Ropecon only had about 500 or so.

19-Aug-2006: Midnight Oil
Summer is ending and the darkness of nights keeps me awake. Wreaks havoc on my internal clock. But enough bitching, take a look at this: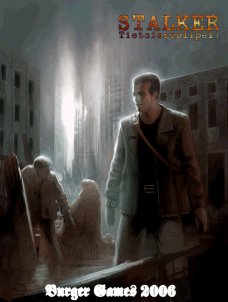 This is a draft of the Stalker RPG front cover. The Burger Games logo on the bottom is ugly as hell and the title texts might be too small but the final product will be along these lines. The cover painting was made by Jukka Rajaniemi, who also makes marketing art for Rovio Mobile. I like it and since it has people on the cover it is possible that the audience at large likes it as well.
Who am I kidding? The game is so strange the masses wont touch it even with a ten-foot pole...
I have made some drastic layout and less drastic content changes to Stalker over the last few days. Old font was barely readable, so I increased the size and made the layout sparser. My original idea of dispersing character creation parts here and there into the setting description looked cool but was a pain in the ass to use when you actually wanted to make a character. Now it is setting first, character creation then, listing the abilities and traits, a free-form run-down of the stalker routines and finally some closing comments from yours truly. And that is just the 66 pages of Player's Book. Explaining all this freaky shit to the gamemasters is taking up even more space but Stalker will be thinner than Heimot. And less expensive too, with soft covers and all.
I have not had much feedback from my Burger's Arcade presentation so little something in majatalo.org caught my eye. The guy said he had liked the stuff but wondered who'd play a game about killing monsters when you can do that so much better in a videogame. My response is that as long as there are military RPGs, mecha RPGs and dungeon crawlers, there is demand for a game about killing monsters. Tying to a videogame brand does not compete with the videogame but expands the franchise and user experience of it. At least if it is done right.
Of course, if you ignore the setting and only focus the user interface procedure (point and click) in your play experience, then there is nothing to expand. For me the action of shooting in a game is less important than the motivational framework for doing so. But I did not say Arcade Roleplaying could work for everybody. Some console gamers are just not interested in roleplaying games. I am just trying to lower the treshold for those who potentially are.
By the way, one comment I got relating to Heimot was that "if Praedor had looked that good, it would have sold on a whole lot more". Really? You really think that more investment into the visual appeal would have raised the sales past, let's say, GURPS? Because at 630 copies sold, it is already in the top-5 of Fantasiapelit RPG bestsellers. The massive tomes with full-colour interior and hard covers made of baby seal leather people like to refer to have sold only a couple of dozen copies during their shelf-life. Market's is a bitch, baby!

17-Aug-2006: Heimot, my take
I have ranted, I have raved, I have hyped. Now it is here, Heimot, the first-ever Finnish science fiction RPG. Released in Ropecon, it is a massive 200+ page hardcover giant of a rulebook with a stylish colour cover and greyscale interior. Made with real printing machines instead of the digital printers I use, the layout is not subject to same restrictions on paper size and graphics. Most importantly, real printers can handle less porous paper-qualities, which makes greyscale images turn out better (there is a reason why I am using black and white illustrations, if possible).
Visually, Heimot is roughly at the level of the Swedish roleplaying games I have so often envied. Actually, looking at the layout and pictures, Mutant comes to mind. High-end American, German or French games are still out of reach but I am not sure if glossy paper and full-colour images really enhance anything as long as a certain level of visual appeal has been reached. However, while the book gives a rich graphic feel because of the page frames, there are really not that many actual pictures. I know thagt handling artists is like herding cats but really, I want to see A) pictures of all relevant alien races, B) pictures of the most common starship designs or even scenes (what does the space architecture look like?) and finally C) scenes from daily life in the Heimot universe.
Praedor rulebook scored a bullseye in having descriptive comics on both Borvaria and Jaconia. One picture is worth a thousand words and however much I wrote into the book, I could never match the sheer volume of information offered in those pictures. Those who were there at "Gamemaster's Jaconia" presentation know what I mean. If you got a killer artist, like Olli, use him!
I am not going to describe the setting here. You got browsers so you can check the game website yourself. Hard space opera, scifi noir, just what the doctor ordered. Different tribes are different both physiologically and psychologically, giving players enough to choose from. Alien races have a strong Babylon 5 feel to them but at least the Druskis are not humanoid, which is great. The role and status of adventurers was expertly explained at Ropecon but somehow the rulebook paints a much darker picture. I can't really see a multi-tribe party of clanless adventures interacting with the mainstream society of any particular tribe. They are quite at home in the outlying regions, though. There is no single particular hook to grab my attention to this setting but who says my style of writing from a preset angle is the right one?
Game system is a traditional 1D10 + bonus -roll where bigger is better. Miska says he expects experienced players to eventually drop the rules and I can promise you it will happen to some parts. The basic system works, even if the roll is not open-ended. The stress die is a bit dubious addendum as it makes everything a little too random. I have never seen any point in dedicated weapon penetration rules. Weapon fetishists love this stuff but in most games, including Heimot, weapons tend to fall into penetrating and non-penetrating classes. The system could have been much simpler. Without playtesting I can't really comment on the injury rules. Weapons seem lethal and just how well this combines with the space opera roots of the setting remains to be seen.
Towards the end of the book the quality of the content begins to suffer. Inventory is excellent but everything beyond that seems curtailed or cut down, probably because project was running out of time. Miska told me he had to cut something like 40 pages from the script before sending it to the printers. I get the feeling most of the cuts were made here. After such a game and combat system the vehicle rules are laughably simple and if you like space travel as much as I do, the three-ship list of spacecraft is not going to warm you up. I hope future supplements and perhaps a space combat game based on Heimot franchise will fix this. According to his Ropecon show, Miska has some big plans.
So, to sum it up I'll give Heimot an A for the setting, B for the visuals (would have been A if more of the pictures had been actually useful), C for the system (seen a lot worse in my time) and another C for the gamemaster/adventure idea/follow-up sections at the end of the book. That translates to B-, making Heimot easily one of the top science fiction RPGs on the market right now. I think the four stars given by Roolipelaaja magazine are quite right. There are typos and convoluted explanations where the inexperience of the author shines through but this is still one of the most ambitious and certainly THE best executed pen-and-paper roleplaying game project in Finland.
If everybody reading this blog bought it, the world would be a better place.

13-Aug-2006: Ropecon 2006
Welcome to Jesus.
I swear, sometimes talking to Indie fans is like talking to religious fundies. I am discussing mini-game design in the context of Arcade Roleplaying and their eyes light up: "I am so happy you've moved closer to Jesus (sorry, Forge, Indie Principle and stuff". "Welcome to Jesus (oh, sorry, Indie)". "Your presentation was an excellent buff piece for Indie/Forge". FYI, Forge is a web-community of some hundreds, most of whom are trying to re-invent the wheel and the rest are sacrificing virgins to Ron Edwards. As for the Indie Principle, search me.
Usually Indie refers to self-published creative works without an external publisher and often with a low budget. By that criteria I am an Indie game designer, I have always been an Indie game designer and I will probably always be an Indie game designer (which Miska does not mean to be in the future). I mean come on, guys touted by Arkkikivi.net have an external publisher. I don't. In all honesty, with so many monkeys hitting the typewriters the Forge is bound to come up with something good every now and then. Check Arkkikivi.net for those. No Shakespeare yet but getting there.
Other than the Indie disruption, my presentation appeared to go fine. There were lot of questions, lot of discussion and yes, there are open issues which I have not resolved yet. A friend told me that the amount of questions and discussion is actually the best objective measure of how good a presentation is. I hope this is true. This year, I noticed that many presentors are actually following the presentation format used in universities and workplaces (topic, lead, list of contents and then moving on using content-specific slides). I made mine something of a show because I think this kind of stuff sinks in better and provokes discussion more easily if the format is lighter. I think it worked but you'll have to ask someone in audience.
I also ran two game sessions of Code/X, set in Lake Vostok base Antarctica. As befits the game they were contemporary dungeon-romps with unusually Cthulhoid monsters in them. I have to admit that the character design of Davey Jones' crew in Pirates of the Caribbean 2 left a lasting impression on me. After those guys, fish-faced Deep Ones are nothing. I was told 8 hours entitles me to GM loot but I did not care to wait for that long. I've got all I need. I simplified the rules a lot while playing and creating characters. I expect some of those changes to end up in the finished game as well. I also promised to put the presentation slides on Arcade roleplaying at Code/X website. Unfortunately there is no narration.
Running games meant that there was a bunch of stuff I missed, like Mike Pohjola's Star Wreck -presentation. I heard it was quite a show. Mike was kind of enough to donate me a copy of Star Wreck RPG when we first ran into each other. I haven't read and formed an opinion yet and maybe never will. It is clearly a Star Wreck fan product. I was surprised at how thin it was but then again what do you expect of a game that was written in two months?
Heimot is here! Whoopee!!! And the book looks absolutely gorgeous. I haven't dug into it but I will. The print run was 1000 copies so they could use a real printing press which means better covers, finer papers, better tone control on grayscale graphics and so on. Sure, it pushes the material cost (nobody counts the work cost) per book down and with that high production quality they should be able to make it back, even if the entire print run could not be sold. I am planning to run a Heimot adventure this fall. After that I can say more about it.
Miska is a project manager by trade and that is what his presentation looked and sounded like: matter-of-fact, efficient, formal, dry. I've watched quite a few of these at work. Given the time and place would have liked to see a little more colour and less project marketing but when you have a hammer everything looks like nails. It was not a bad presentation and gave a good picture of the game and the Ironspine company behind it. Miska thinks big and actually has the skills to make it happen. While Burger Games is decidedly Indie, Miska's Ironspine is trying to get higher up in the food chain. Just look at their website.
Finnish Game Design by Eero Tuovinen draw a small but interesting crowd; basically anyone involved in it. I've been told Eero is a good presenter. Personally I find his style slow, rambling and hard to follow because he is very easily distracted. I ran my presented materials through in 60 minutes and he took over 120 with half the text. Anyway, there were highlights, usually created by interaction between Eero and the crowd. Eero is using his status as a kind of a village idiot (or a court jester?) of the Finnish RPG scene to take liberties from social conventions. Hence, he at least thinks he can say things that would raise hell if said by me.
I got off easy. He liked Praedor and apparently understands where I am coming from. His playtesting methods suck and he clearly skipped over pages 10-11 when creating his character. But he liked the fact that when designing Borvaria, I tried to build a real monster-supporting ecology instead of just treasures and guardians. The monsters are a hazard, not obstacles to overcome. There is no purpose in killing them if it can be avoided. Actually, killing your own horse to draw the biggest predators away might work much better.
Everything else happening in the scene was pretty much bashed and I could tell that some people in the audience were getting pretty incensed. Then came the crowning moment by which I will remember this convention. I am not going to tell you what it was because it got pretty personal but it is nice to be used a yardstick for measuring all the other Finnish game designers. Yeah, it will be really interesting to see what the forums and Roolipelaaja will get out of this.
If there was one disappointment it was Wille Ruotsalainen and his piece on using Finnish myths and memes in games and game settings. With Taiga 2.0 set in Finland and me drawing plans for as-of-yet unnamed historical fantasy renaissance game set in the golden age of Baltic piracy in 1570-1590, talking about seal-shaped beastmen and saunas just felt so amateurish. I also expected to hear something new about his next game project but apart from a passing reference to häjyt (bunch of young thugs raising hell in Bothnia in the middle of 19th century) there was nothing.
I bought two games there. One was obviously Heimot, although Miska would have given me one for free if I had not already got it. The other one is Cadwallon RPG Player's Guide. Now this is some freaky shit and the reason why I am no longer so convinced I could or should revive Miekkamies. It is a French miniatures game by Rackham, now translated into English and expanding into the RPG direction. Only the English Player's Guide is out now and that is what I got. High production quality and very interesting stuff. I can see the free city of Cadwallon competing with the free city of Marienburg in Warhammer but both are very interesting settings. Sotataito.com is the importer so check here for details.
All in all, Con was. First thing on Friday I got a strange sense of disconnection (could have been the painkillers): What am I doing here? Who are all these people? It passed with the first game session but I am getting old. Most people come to Ropecon to hang around with their friends and gaming and social life mix. I am all about games. Downtimes between interesting presentation are spent wandering about, hoping for a glimpse of something interesting (okay, finding a naked lady, complete with pierced nipples, under the gaming table at the 2nd session was pretty interesting but I was told this is not a regular GM service).
I don't have a group of friends to hang around with or a table to lean on. Burger Games has not had a stand at Ropecon for years and probably never will. And conversations at Ropecon are usually harried, started at random when bumping into someone on the corridors. The one I had with Miska at Keltsu was one of the best ever but it was pre-arranged. You know how in videogame events companies have these "silent" booths somewhere in the back for meetings. At Ropecon, that is Keltsu.
Modern Ropecons always have a theme. This year it was Bad Omens and that is not really in my zone of interest. Fortunately there is plenty of other stuff so you can pretty much ignore the theme if you like. However, I am now going to make a promise I may have a cause to regret: If they ever choose Romance as a theme, I am going to run at least one session of Towers of Dusk. To quote an entry from last year:
Towers of Dusk -the Romantic RPG
Developed for Ropecon 2005 Game Development Challenge
Imagine the Venice of Myth, early 18th century. City of carnivals, idyllic places, beauty, art, decadence. Gondolas slowly drifting along channels. Mist veiling the bridges where disguised lovers meet at night. Graveyards where rival lovers fight a duel at the first light of dawn. It is the Era of Love, the waning of the swashbuckling Baroque and the beginning of the Age of Reason that would eventually be destroyed in the madness of French Revolution. It is the age of Thinkers and Poets, Lovers and Tragedies. The Age of Giacomo Casanova, as it is told in Romance novels and dreams of love. Giacomo's legend was preserved but he was not the sole romantic hero of his era.
Characters are gentlemen and nomenclature, or if they are female, they live double lives, wearing masks of honour to hide fiery hearts. With money and standing they do not have to concern themselves with the mundane, but instead strive to win the favour of their love, to conquer or give, depending on their taste and view of their desires. Every adventure is a Romance epic. In an all-male character group (assuming there are no homosexual characters) they might be both friends and rivals in pursuit of favours from one of the ladies that are the light of Venice. In a more mixed party they might have more diverse aims, but are pledged to help and advice one another and might get embroiled in each others' romantic troubles.
Give me a reason and I will give it a chance.

10-Aug-2006: Ropecon Draws Near...
...and fittingly, a Ropecon special edition of Roolipelaaja-magazine came by mail. Not bad. If Roolipelaaja keeps delivering this kind of constant quality I'll keep subscribing to it. Only thing I am having trouble with are the game reviews. First off, all games get either three or four stars, even if it was two hundred pages of utter crap like Cyberpunk v3.0. How bad does a game have to be to get only two stars? Is it even possible to get five stars or is that "reserved for God" like the old teacher idiom goes? (Exalted got 4.5 so I guess there is hope). But frankly, I get the impression here that game reviewers are too afraid of offending people. Sure, people get offended; give Stalker two stars and boy am I down. But that is how reviews should work.
My other beef with the reviews is based on gut feeling. It may just be me and my wicked mind. I get a feeling that the reviewers have very strong idea of the "perfect system" and anything deviating from it for any reason, even justifiably, is condemned as "complex" or "smells like 80'ies". As I said, it may be just me and it is a minor detail anyway. Still, if a person's idea of a perfect roleplaying game is out of touch with the mainstream (whatever the hell that is), it will skew the reviews.
Woah, medication is kicking in... just had a piece of gum removed so they can rebuild a tooth later this month and took so much painkillers I can hardly sit in the chair... Now if only could I could remember what time my game sessions were supposed to be. One on Friday and one on Saturday, probably right after my presentation. I'd just like to have that confirmed.
This year's Ropecon looks pretty good, programme-wise but what do people see in the new (and to my understanding now permanent) Ropecon-logo? I think it is supposed to be a dragon but all I can see is either a duck, or a cave-painting style swan. It is not bad a logo and shows a sense of humour but I sometimes wonder if it really was intentional. People at #praedor IRC channel came up with a nice programme idea for Ropecon'07: Burger's Instant Adventure, or if we can lure in other (in)famous gamemasters, The Instant Adventure Kiosk. Tell us the game/genre and we'll give you an adventure nugget for it.
There could a token cost that would not be money but something, anything, else: Low-value Magic card, a die, some candy etc. Completely unusable (or inedible) tokes are not accepted and neither is money. Let's see if I can do this for Ropecon'07, hopefully somewhere between the Stalker demos.

06-Aug-2006: Assembly
Excellent atmosphere, many excellent demos and an outstanding Short Films Compo, spent a lot of money on utterly useless things, will go there with my own PC next year, I think. I'd be the oldest guy in the Arena Floor, probably. I also got to chat with some of the strangest people. Take a look at this. These guys are in the early stages of MMOG development and it is post-holocaust flavoured cyberpunk game! I admit that the odds are stacked against them but I really, really, really hope they pull it through.
As always, I was there because of the seminars. ATI seems to have the same presentation every year and just updates the screenshots as technology moves on. Matias Myllyrinne from Remedy held an outstanding presentation on games industry as a business and what he perceived to be the current status and options for new small-scale developers. Since Remedy is neither recruiting people from Assembly nor have anything to fear from local competition, this was one of the most impartial, professional and thorough presentations on the topic I have seen.
That seemed to be the common theme this year, by the way. There were many presentations to that effect but frankly, Remedy's was the best and Peligroso's second one (Sweden-based game publishing consultancy) was also good. The latter was actually perhaps the best advertising presentation I've seen. Unlike the million American pieces in GDC, this one was tailor-made to suit Finnish tastes.
The very best presentation was of a topic that I am not involved in professionally: Computer viruses and cybersecurity. World of Viruses by Mikko Hyppönen would have made an outstanding TV documentary: Excellent speaker, exciting topic, a tintillating glimpse into the organised crime behind viruses and spamming, presenting F-Secure offices in Ruoholahti like it was the laboratory of Q from James Bond movies, virtual reality models of viruses programs and scenes from a radiation-proof chamber while testing Symbian malware. I know from other sources that F-Secure is a pretty intrusive workplace as it has to have pretty much the same security standards as a spy agency. But oh boy, the stuff they are doing is critically important, straight out of a techno-thriller film and bloody cool. If that was a recruiting ad disguised as a presentation (I doubt it since you need serious special competences for the coolest jobs), I'd say they nailed it!
As for compos, the short film compo I already mentioned. Never seen better. The 64K intro compo was also very impressive and ironically even more impressive than most of the demo compo entries. However, the closing demo compo entry done with an Amiga processor (I suspect it was bolted to something else than your usual Amiga mainframe) blew my mind. How the hell can an Amiga demo make modern high-end PC demos look so bad? I am not convinced that demo programming is actually that significant for game programming and stuff but trust me: It wont hurt.
All in all, it was an outstanding event and would have struck me as efficient, fun and professional, if it was not for one bloody odd presentation on how to get a job in the games industry. Been there, done that and while it has been almost a couple of years since this incident I still remember it like it was yesterday... I never mentioned it in my blog before because I was still working for Digital Chocolate at the time but my friends know what I am talking about. So, after watching Getting a Job in Games, I decided it was time for...
GIVING BURGER A JOB IN GAMES (Employer Guide for the Job Interview)
#1 USE YOUR BRAINS

Inviting me to an interview when you have already filled the position falls between unbelievably stupid and bloody insulting.

#2 DON'T PANIC

So I don't have the deer-in-headlights look of your typical applicant. I am not a psycho killer. Calm down and speak clearly. First impressions are important.

#3 READ THE CV

My games portfolio is right there. If I have to read it aloud to you, I don't think you have read the rest of it either.

#4 DO YOUR HOMEWORK ON YOUR OWN COMPANY

If your CFO does not know where your money is coming from, you have a problem.

#5 INCENTIVES

"Getting into the industry is a reward in itself" -pitch does not work well on somebody who is already there. Having a list of incentives ready so you don't have to make them up as you go works better.

#6 DON'T BREAK THE LAW

Explaining to me in a casual fashion how you are breaking the Finnish Work Law to exploit your employees is a hell of a poor recruitment pitch.

#7 CAREFUL WITH THAT POSITIVE SPIN

No. Unwillingness or inability to implement even rudimentary software development processes is not a good thing.

#8 DON'T WASTE YOUR TIME

"I don't think this is going anywhere" is a perfectly good conclusion to an embarrassing job interview when you have already failed on points 1-7.

#9 SAVE FACE WHILE YOU STILL CAN

If you just had to go and fail on point 1, you can still save face if I never know about it. Telling me towards the end of the interview that I am over-qualified and that the position is already filled sort of sticks to mind.

#10 DON'T WASTE MY TIME

If you can't make a decent job offer, it is best not to make one at all.

29-Jul-2006: Finnish Army
...Sorry, Defence Force. Much like the Israeli Defence Force, that actually brought all this to mind. I began my military training in January 1993 and for better or worse landed in Jääkäritykistörykmentti (Jäger Artillery Regiment, if you must know), which was part of the Finnish Tank Brigade and just about to give up their pull-carriage guns for mobile artillery vehicles. All my training was with the old-fashioned-hard-to-handle lumps of shit better known as howitzers. The oldest piece I've fired was a 152mm Red Army piece dating from 1938 and captured at Raate Road battle in Winter War (1939-1940). Although they were painted over, you could still see the bullet holes in the gun shield.
I've seen two people getting run over by an artillery piece (both survived with either broken bones or compression injuries). I've had a 2nd degree frostbite to my face and my lungs are permanently damaged because of multiple lung infections I got in the service. I've seen a howitzer topple over when fired and the barrel fly off the carriage. I have been one command away from firing an three-grenade strike at Kemijärvi town because of NCO incompetence and seen three gun crews from Kainuun Tykistörykmentti attempt suicide by switching timer detonators on their shells on and then setting the "time-before-detonation" value at 0. I've been wanted by the police because lieutenant forgot he had sent me on a three-week depot commission and declared me AWOL.
Let's skip the infamous through-the-wall brawl between the 2nd battery and the military police school for now...
As for my own goof-ups, I have blown up my own helmet but managed hide the fact. I made such a mess of time keeping at the physical exam of the next batch of recruits that they had to run the Cooper test twice. There must have been more but that's all I can remember. What else... well, the batch I was in included some interesting characters from prisons and the like. Looking at the comments in the regiment yearbook you'd think they all hated each other and many of them did. It was like comprehensive school all over again.
So, if it was FDF and not IDF fighting against the Hezbollah, how would it go? Pretty much like it is going now, as long as it is really against just Hezbollah. If it was, let's say, against the Swedish Army, they'd kick our sorry asses all the way to Lake Ladoga! The overall Finnish tactical doctrine is supposed to be a secret, even though it has been explained to every conscript. I am not repeating it here but when it was first explained to me, I got this creepy feeling of obsolescense. First off, the FDF doctrine calls for air superiority. I bet you can see the problem. Second, for a country that depends on foreign exports and a working transportation network for fuel the plans are pretty grandiose, or otherwise counting on Russians to fuck up their invasion just by themselves.
Contrary to a common belief, not all Army regulars are idiots. I once discussed my misgivings with a very old captain who had made it all the way from NCO and he told me that there was another tactic that was rarely mentioned. It comes into effect when the remaining aircraft have been blown up, surviving tanks driven into swamps and artillery dumped into lakes. It is perfectly suited for the Finnish terrain (or any rough terrain anywhere) and has already proven itself against the mightiest army in the modern world. If you ask me, that is what FDF should be training for, instead of a re-run of WW2. As it stands, FDF will only become useful after it has been soundly defeated.
In the opinion of a lowly corporal, of course.

26-Jul-2006: New Release!!!
Code/X is not exactly a new game but today is the official Code/X release date by Burger Games. Big applause to Olorin who designed the website that made it all possible. This is really one game that would not have come out without eager fans and it makes a great case study for my Arcade Roleplaying presentation at Ropecon. It meets my criteria for an arcade RPG in all respects but one: it is not beginner-friendly. But as long as it comes packaged with someone who knows what roleplaying games are about in the Old Skool sense, it works just fine.
Hence, I declare Code/X officially added to Burger Games lineup, even if it is still version 0.7 (I should write three more Black Files and some monster stats). Like my other mini-titles, it is freely downloadable and if you want to write something for it, feel free as long as the original core rules are still needed to play it. So all supplement writers, welcome. As you can see on the game website, there is an open slot for Code/X:NOMAD. I really wish I find the time to fill it. It was one of my better freaky ideas.
I've heard rumours that Mike Pohjola plans a press conference during Ropecon about Star Wreck. Maybe I should hold one for Code/X... oh wait, I am! It is called Burger's Arcade and Ropecon programme says it is on Saturday 14-16 in a room called Klondyke. And that is the way it should be. Star Wreck is one of the most outwardly visible things in our little geekdom and Mike is shaping out nicely to become the face of Finnish roleplaying scene. And trust me, better his face than mine. I haven't had confirmation on whether I can hold the Code/X sessions I was planning. Maybe there won't be confirmation until I check the game lists. In any case, the best time of Summer is only two weeks away! Yeehaw!
I was just in Riga (in Latvia) for a few days and judging from that weather the place is in tropics. Mexico was hot but never that humid. It was a very nice trip but this is not a travel blog so I'll skip that part. As you know, my life is a crossfire of inspirations but this one was actually pretty cool. Everybody knows that Caribbean Sea is famous for its pirating past. But how many of you know that in later half of the 16th century, Baltic Sea was just as (in)famous and two thirds of Sweden's exports were goods seized by her privateers? I bet you didn't. It is yet again one of the things school history always ignores.
Wille Ruotsalainen is right. Our history is brimming with roleplaying potential!

19-Jul-2006: Suomen Retropelaajat ry.
I had a terrible realisation. One of those that will shake the way I view videogames from now on. You know how often modern shooters have these aggravating tube-like levels? Thought so. But did you know that the game to blame for it is... Half-Life? Back in 1997 (yeah, ancient history), Half-Life was a sleeper hit that stole the spotlight from the game that was expected to be the big shooter of the year. Half-Life got its name into history books and the big shooter didn't. Why? Now there is something that game theorists should look into.
My personal view is that it was because Half-Life brought something revolutionary to the first-person-shooter genre: character identification. Not only was the player given an avatar with a name and a face (nearly unheard of in first-person-shooters), but he was also given a well-though-out storyline that pretty much mimicks the player experience of the game. The train ride gives the player time to get the feel of the setting. Control tutorials are part of his daily routines and when things go awry, Gordon Freeman is just as bewildered as the player. Storyline and immersion were so masterfully done that nobody, me included, noticed how linear and railroaded the levels actually were.
Of course, excellent graphics for the times and the first-ever use of skeletal animation in a game did not hurt either. Half-Life was built on the Quake 1 game engine, which the Big Shooter was supposed to replace. It did not happen and HL outsold the Big Shooter by a large margin. You have probably guessed by now what the Big Shooter is but let's continue this play for a moment.
Big Shooter character does not have a name or a face. He is You, a soldier fighting in a bitter war between Earth and a hive race of biomechanical aliens. In the opening scene, Earth fleet moves into the orbit of the enemy homeworld and launches scores of one-marine drop-pods in a surprise attack. On their way in, player's pod collides with another. Badly damaged, it cannot follow the main group, thus narrowly avoiding the trap which decimates the others. Almost out of control, it lands of the far side of the enemy capital structure and crashes. Armed with only your trusty sidearm, you start the battle from deep behind enemy lines.
Somewhere on the far side of the structure the war continues. You get radio chatter and sometimes orders from the HQ, while exploring the labyrinth of corridors and halls. There are multiple avenues of approach, secret passages, and weapons caches along the way. While chapters of the story are linear, within each chapter there are multiple complexes you can enter, leave and re-visit. There are items that must be found, systems that must be activated, puzzles that must be solved and sometimes traps you can lead enemies into. At times it feels more like an adventure game than a shooter, especially if you are watching someone else playing it.
Structures around you have a steam-punk feel to them, while enemies are built from human bodies with crudely attached mechanical parts. Some of the scenes, like the "asylum" of insane human prisoners or the meat grinder for captured soldiers are pretty hairy even for today. Time and time again, I am stunned by the machine-like inhumanity and callousness of the enemy, who builds its organic robots from captured marines. Of course, with such hectic action most players probably missed this but for a setting-oriented player like me, the opportunity to cause havoc behind enemy lines became personal issue. It is not really a story like in Half-Life. Instead, you are the observer and can choose your own responses to the atrocities you are witnessing.
As for graphics... yes, the game is old and while I like the steampunk/WH40K look there is no way to deny that buildings are angular and lack detail. On the plus side, it makes the environment feel even more oppressive, like the old industrial zones of Soviet Union. Unfortunately there is no way to save the effects. The fireballs of the explosions are laughable. You'd think the enemy models would be just as laughabe but hell no! In action they look great and I honestly can't tell what the big deal with skeletal animation was. They also fall down with a satisfying thunk (who needs ragdolls?) and if hit them hard enough break into big, wet pieces. When you do put them down, give them another burst just to make sure there are no dying-breath-heroics.
Oh yeah. Half Life was much better scripted (and better-looking), Unreal had much more glitz even if the storyline was lame. But for sheer firepower, attitude and level design, Quake 2 remains one of the top shooters in the world. I just began playing it again (curiously, it would not install but runs perfectly if you just copy the files on your hard drive) and feel that even after nine years it has been seldom matched and almost never outdone. Kick-ass attitude, smooth gameplay, visceral action and semi-open level design rock my world. I feel there is something here that many of the modern games (including Quake IV) have just plain missed. Just like with Future Shock, back in the day.
P.S. After a gory session of guns and glory, it is good to relax with some Suzanne Vega. I was in her concert in Tampere last weekend and it rocked. Or not really rocked because it was folkish pop... but it was very good and I feel like I understood people listening to that kind of music better now. Live gigs are becoming more important to me as I grow older.

13-Jul-2006: To Mainstream Movie Critics
If you were a food critic and ate shit, you would commend the cook on "having taken the concept of food a step further, creating intricate nuances that are both earthy and lingering on the tongue". Now, the first Pirates of the Caribbean -movie sucked the sweat off dead man's balls (movie quote) but you rated highly, praising it as a top-notch swashbuckling adventure movie. I take it you would not know swashbuckling adventure even if it hit you in the face. And when they finally got it right (and a freaking bulls-eye at that!) in PotC2: Dead Man's Chest, you morons bashed it!!! We've been here before. Swashbuckling adventure is a lost art and it is mainly because of morons like you!
Maybe you have been watching wire-fu for so long that your brains fell off and now you can't tell the difference between acrobatics and swashbuckling. Former is characters doing things at the very limit (and wire-fu beyond) human ability and the latter is controlled chaos: funny coincidences, physical destruction, embarrassing moments etc. Jumping out of a window, landing softly on a truck trailer and vaulting down from there is acrobatics. Jumping out of a window, bouncing uncontrollably off the soft roof of a truck trailer and landing some distance away in a duck pond is comedy. Standing up in the pond, dripping wet and wearing weeds for a wig while firing your gun at the enemies in the window (and probably hitting them too), that is swashbuckling!
Action? Yes! Comedy? Yes! Attitude? YES!!!
As I said, swashbuckling adventure is a lost art. Sure, many have tried but few have found the key to make it work. Before PotC2 the previous Hollywood movies that got it right were the brilliant Mummy and stupid-but-entertaining Mummy Returns by Stephen Sommers. And guess what? You bashed those too!!! There might have been more but because of idiot reviewers like yourselves they never broke the surface or got into theaters. When they do get to theaters, Mummy turned out to be a colossal sleeper hit and PotC2 had the biggest first week sales in the history of cinema. Yes, it outdid movies like the new Star Wars or any of the LotR trilogy by a wide margin.
I loved it. Some day, when I feel more like discussing its merits and less like chaining its critics to a cannon and dropping them overboard, I can explain why.
In other news, I am delighted that my idea of RPGs as entertainment and not art is taking root even in Turku School of Roleplaying. Last night I received news that Mike Pohjola has written Star Wreck -the Roleplaying Game. It will be officially released at Ropecon but can be preordered from SW web store at the price of 14.90 euros. That is about everything I know but we have all seen Star Wreck and can draw some conclusions from that. I predict SWRPG will be the best-selling Finnish roleplaying game ever. Hardly anyone will play it but it will sell at home and abroad (it is in English, btw) because of the excellent geek brand. I just hope it won't steal too much spotlight from the release of Heimot.

12-Jul-2006: Nothing. Nada. Zilch.
There is nothing to report but I felt like writing anyway, so here we go. Those of you reading relevant forums may have noticed that there is a new Finnish roleplaying game out: Parabellum. I don't have it and won't get it either, unless they are selling it at Ropecon. However, some people did get it and have been reviewing it at #praedor IRC-channel. I tried to make them write a true review into majatalo.org or somewhere but they were strangely reluctant. However, based on their feedback I would label the game as "promising but needs work". One of the major beefs (and a source of several hilarious quotes) was the melodramatic style of writing that made even ordinary things sound corny.
Parabellum was also criticized for having character classes but I don't think that is a bad thing as such. It fits some genres very well. My main complaint without reading the book is still the name. I admit that Parabellum is a Latin phrase ("prepare for war") but in my mind it always links with the standard 9mm P pistol calibre. When I first heard the name, I thought it was a modern action thriller-genre RPG. Oh well...
I've been reading Kalle "rpr" Marjola's NEO-V rules again. Brilliant stuff, as always. I am so envious of his ability to run a dice-based game without fixed limits or boundaries. Roll the dice: high = good, low = bad and while there are values and stuff to make Old Skool gamers comfortable, the freedom of interpretation on the GM-side is mind-boggling. Word of warning, though: his systems are not written for those who wish to limit GM authority.
Then I ran across this site: mmhell. It keeps track of MMO's running or under developement, although I don't always agree on genre classifications (WTF is Star Wars Galaxies doing in the fantasy category?). Of course there must be hundreds of titles that are not listed here but those that are listed are enough to keep you occupied for awhile. It was a bit sad reading too: I followed several interesting links in the scifi section only to end up on pages saying that the development had been canceled because of lack of funds.
So, were they trying to bite more than they could chew? Yes, although the moronic background stories probably did help in driving investors away. It is so hard and expensive to do a 3D virtual world with all the goodies and monsters but that is the only way of making it, right? Right?!!
Well, let's do a little test. Everybody knows that World of Warcraft is the most popular MMORPG out there and you know what it is like and how it has been hyped. But do you know what is the second-most popular MMORPG out there like? Killer graphics? Brand you masturbate on? Budget that would make Hollywood proud? Hyped in every media outlet in the industry? Wrong!!!
Over a million subscribers. At the time of writing there are 223,770 people online. That is twice as many as people online as is the entire subscriber base of EVE Online. And 10 times as many people online compared to EVE peak hour figures. I guess they are doing something right.

8-Jul-2006: Whee! Whee! Wii!
Let's start with the mandatory "high-rating-and-industry-award" -part by presenting this Wolf Moon review from wirelessgaming.it:
I usually focus on the awards because ratings from different sites are usually not comparable (or based on any logic whatsoever). Still, 9.1 is not too bad. I can't help feeling a little bitter... Maybe one day I can tell you why. Don't pay any attention to the second rating on the site. At the time of writing it was 9.2 but mobile developers are known to have click-fests over audience rating systems, dissing games from competitors and hyping up their own. That number has already moved up and down quite a bit in somewhat dubious increments of 30 or 40 votes within a space of one minute. I'd love to see the IP addresses of the voters...
I own an Xbox but haven't played almost anything on it. Our television sits too far from the sofa and the pads are just horrible! I love Oddworld: Stranger's Wrath but I really wish it was a movie. So much potential wasted just because you have to have a 18-control interface using every button, doohickey and switch on the bloody pad! My coordination runs short far before that. Also, every now and then you get to hear claims that "this pad is as good or better for shooters as a mouse and a keyboard". Anyone with a half-a-brain can prove that wrong by trying a PC shooter instead. Pads just don't cut it.
Next game system I am about to get is Nintendo Wii and not just because of the name. Nintendo has pulled off an unprecedented PR coup with Wii. "Dropping out of the next-gen arms race", "Games for ordinary people by (almost) ordinary people", "Indie heaven", "Innovation first", "Friend of the little developer...". All of a sudden, Nintendo is the Good Guy of gaming as opposed to the sinister Sony and all-greed-no-glamour Microsoft. Getting a Wii is not just a gaming choice but an ideological statement against Sony and Microsoft for their... I don't know what. You think Nintendo is not after money here? Still, much of the slogans thrown around are true and that is why I am getting it. Wii game development is something that even Burger Games might do. And I am sitting on a bloody big pile of IP.
I would still like to remind the world that Nintendo is NOT the Mr. Sunshine of the gaming world. Behind the cuddly characters and smiling Marios, Nintendo has been the most draconian and arrogant gaming company in the history of videogames, screwing its allies and subcontractors so hard they still can't walk straight. It is popular to hate EA these days but every dirty trick EA has pulled was taken from the book that Nintendo wrote.
So much for videogames. On the roleplaying side I just ran into something called "Diaspora movement", supposedly another indie ideology (much like Forge is considered one; a claim strongly denied by some people involved in Forge). Google could not tell me who they were, what they stand for and if they have ever actually done anything. Does anybody know more?

1-Jul-2006: Self-censorship
Those reading this often enough will have noticed that the original entry was different. It was removed for my own good and it was neither the first nor the last time this will happen. I can be pretty passionate about things and then I tend to say stuff that while true, is not really good for me. Things like that will get censored as soon as I cool down. Of course, it would be better if I never wrote them but I am a different person when I am angry. All you need to know is that War Diary: Torpedo won the Airgamer Award. Woohoo!
There is one sad piece of (public) news though. I have to go back on my promise of a Cyberblood RPG session at Ropecon. Status of the rights to the IP is a bit fuzzy right now and that is one can of worms I don't want to get into. Maybe an ordinary Code/X-session will do, or maybe there's a piece of Code/X:NOMAD ready by then. We'll see.

29-Jun-2006: Ropecon Creeps Closer
Eek! I am supposed to give a presentation there! Eek! Well, with any luck they have timed it on top of Heimot-unveiling or something. You know, usually when I go to open my mouth in Ropecon I try to talk about things I know something about. Okay, by now I can claim to know something about videogame (especially mobile game) design as well as RPG design but Burger's Arcade is very experimental stuff. Maybe I am wrong about it and I sure as hell can't be arsed to write down all the stuff I've thought about introductory roleplaying games. Burger's Arcade is mainly about convergence and synergies between different gaming mediums, as seen by a cranky Old Skool asshole like me.
I'll be preparing a powerpoint slideshow, some written notes to guide my speech, a couple of game trailers and a darling little quote from majatalo.org perfectly illustrating how open-minded and accessible we RPG gamers really are. Sometimes I wonder if roleplaying is a niche hobby just because we want to keep it that way.
On a better note, somebody really likes Wolf Moon. Unfortunately these guys did not have special awards I could boast with here but 9/10 ain't bad.
Now that we are in mobile games, you might be interested to know I am going to gamemaster a session or two in Ropecon. The game is Cyberblood Adventure Game, a mini-RPG based on the mobile game title by Rovio Mobile (and using its marketing graphics for added flair). A5-sized, 32 pages and I am trying to come up with an even more intuitive and quicker system than Code/X. Easy writing and will be ready by Ropecon. I don't know if I'll distribute it publicly yet but I have the required licenses should I decide to do so.
Also, the trailer of War Diary: Torpedo is finally out. The game has been available for over a week now.
P.S.
I heard a rumour that Fantasiapelit in Helsinki has ran out of Praedor (again). If true, that was really, really quick! I still have 30-something copies left from the Praedor 1.1. print run so all they need to do is order some more :)

20-Jun-2006: Roleplaying in Japan
As some of you know or remember, I have a friend living in Japan. He just recently complained not having played roleplaying games for one-and-a-half years (now whose fault is that?) and apparently has not run into any Japanese roleplayers. I've often wondered about the status of table-top gaming in other countries, so I decided to find out about roleplaying in Japan. There is the geographical barrier and language barrier to overcome but luckily also the internet to take my virtual self into the Land of the Rising Sun (my physical self will follow in September). Much or all of the data here can be found using Google but since most of you won't, I'll just summarize.
My friend has a real problem. Most Japanese speak terrible English and unlike in Finland have no real need to understand English-language media or culture. Roleplaying games have to be in Japanese and usually home-made games fare better than foreign imports since it is notoriously difficult for Western game companies to understand the Japanese mindset. On the other hand, Japanese are avid gamers and although the term "RPG" refers to a computer roleplaying game, there are many "Table-talk RPG (TRPG)" fans out there. I can't even imagine what that is in Japanese. According to 2004 data, approximately two new Japanese roleplaying games are published every month. Judging from these pictures they are all manga-oriented but what does a stupid Gaijin like me know?
Then again, take a look at this:
This is the cover image of the Japanese edition of CALL OF CTHULHU. Well now, there is nothing in the picture that could not exist in the Cthulhu universe. Handsome male investigators? Check. Little girls (sorry, it is the face) with books and guns? Check. Human skulls? Check. Tentacled monsters (not *that* kind of tentacled monsters)? Check. Still, I think it is distinctly Japanese. Reminds me of romantic girl manga, actually. All-Japanese games have manga covers and often the names make no sense whatsoever when translated (Scrapped Princess RPG?). You can find more games at Amazon Japan. Curiously, there seems to be multiple covers for CoC. Or then some of those are just supplements.
Here is a link to the website of NIRVANA, a Japanese post-holocaust table-talk-roleplaying-game. What a mouthful.
English-speaking gaming groups do exist and Yahoo has a group for them: JIGG (Japan International Gamers Guild). It is basically a forum for recruiting players for your campaigns and has fair amount of boardgaming activity as well. Looking at the messages posted this month there is plenty of activity and I am especially pleased to see open invitations to small-scale public events. We should have more of those in Finland too.
I know it is kind of funny for me to do research on Japanese RPG scene but I felt it would be a waste to first look up all this stuff and then not tell anybody. After all, who knows if we are all going to move to Japan one of these days. The entire population of Finland would fit into one Tokyo suburb.

16-Jun-2006: Code/X-NOMAD
I hate it when it happens. STALKER was moving along just fine when all of a sudden the pesky people at #praedor began talking Code/X and my Code/X:VOSTOK campaign plan exploded into a full-blown roleplaying game concept. Now it is all I can think of and I have to write some of this shit out of my head before I can continue working with anything else. I renamed it Code/X-NOMAD, since VOSTOK was a little too obvious reference to the old Soviet space program and NOMAD cuts camp right out of Code/X. Say goodbye to Nazi zombies. You won't find them here.

If I had a video game studio, an infinite budget and hordes of excellent 3D animators, I'd do a massively single player roleplaying game (think of Diablo 2 the way it was played in the Battle.Net, or how D&D Online is done now) out of this setting. As it stands, there is just me and a text editor, so you're stuck with my ramblings and a game script that will probably end up in my desk drawer anyway. Some stuff is just too hard to write.
Think of a big space ship on a scale you would expect from a very large space station. Eight gigantic rings attached to a long hull with bulbous control section at the front and massive engines to the rear. Rugged, broken and rusty, even if most parts are made of polymers or black, glassy tiles of asteroid rock. It has its own comet's tail of dislodged parts hull fragments and other debris, sometimes coated with ice. And it is massive, almost 20 kilometres in length. Then again, in zero-G you can build as large as you want and make anything mobile with low but constant thrust. There is a name on the forward control section. It is faded, scorched and scratched by micrometeors, but the letters are so large they could not be obliterated. CAA-NOMAD, it reads but there is no one to read it.
To its rear is a strange object, like a gigantic ball with curved spikes or blades jutting out. Some have pierced the engines, locking the two together. Others look they had grown right through the hull of the ship. The object has an alien, organic feel to it. Blade-like spikes are tinged with purple while in the main body golden and greenish colours shift and swirl. It is like strange liquids were flowing beneath a transparent surface. If you look for a very long time, you can see some of the spikes twist and turn, like gigantic feelers reaching into the emptiness of interstellar space. It is not known if it has a name. Survivors of C.A.A. NOMAD call it the Entity.
NOMAD was a biosphere ship, an artificial island of life for colonising other stars. She carried a hundred thousand colonists in cryogenic stasis. Journey was to last six decades and then they would wake up to the light of another star. Centuries later the space around them is dark. Only scattered tribes of men, mutants and machines remain. Between them stretches a wilderness of dark corridors, structural failures, overgrown greenhouses, contaminated sections and deadly monsters. Behind them lies the Entity, its brilliant but malevolent mind driven by the most basic impulses.
Many kings have been crowned and many realms have been claimed aboard NOMAD, only to fall and fade into legend. New tribes have emerged and others died out, leaving behind nothing but ghosts and whispers. Many secrets have been lost and found, only to be lost again until science and magic are inseparable. Tribal wars are fought over heat, water and light, while the alien menace is growing like a rising tide, threatening to engulf all that remains.
Welcome to the world of Code/X-NOMAD.
Whew, there is almost a physical sense of relief in getting that out of my head and off my chest. It is like you were confessing when you have a bad conscience.

15-Jun-2006: New Stuff for Praedor
Petteri "SFDork" Hannila wrote a handy little thing called Borvaraattori. It is a set of MS Excel tables that automatically generate values for monsters, undead and beasts from the Praedor rulebook every time they are opened. I packed them into a .zip file and put it into Praedor archives. Go get it, if you have something that reads Excel (OpenOffice should do the trick, I think). I also delivered a box of Praedor rulebooks into Fantasiapelit, so they should well stocked for next Ropecon.
Did you notice that the latest issue of Jysäys has at least part of the Lordi comic drawn by Petri Hiltunen? It's a funny little story about monsters with a Lappish accent. I think the whole thing would fit well into the Ontot Kukkulat -setting but unfortunately there were no trolls in the story. It was inconclusive, so I hope there will be more. Then again, having subscribed to Jysäys from the start I should know better. They have cut short almost every single story they've started, including the Praedor bit that I originally subscribed to it for. Now they ran a piece from a comic book their publisher (was it Arktinen Banaani?) has for sale. What the hell is this? Am I paying for an advertising pamphlet now? Unless things improve and we get whole stories, I am not renewing my subscription.
Some people have asked if the upcoming and as-of-yet undeclared BG jubilee game project will use Praedor rules. The answer is "no". I think that rules and game systems should support the genre by helping to create certain types of circumstances and outcomes. Praedor does this pretty well, if gory pulp fantasy is what you are after. In this project it is not what I want and thus there will be a different rule system. Besides, I like experimenting with new things, even if some people in the immediate vicinity do not :)
The world has hailed Brothers in Arms as a realistic and atmospheric WW2 game with advanced AI routines making your team members behave in an intelligent manner. Unfortunately, I have to disagree. The first sign of team intelligence in shooters I ever saw was in Half Life: Opposing Forces. There appears to have been zero progress since then. It is not as bad as in Devastation but frankly, I often feel like commanding the whole bunch of morons to stand in some corner so that they keep out of the way when I am doing the missions.

13-Jun-2006: Official Numbers
With the latest order from Fantasiapelit (which I have been unable to deliver due to a Summer flu) the official number of Praedors sold is now 630. I may have quoted higher figures earlier but this is the real number, at least as far as the Tax Office is concerned (black market sales, artist copies, gifts etc. account for a little under 100 books but most of them were given away free). So there. Now you don't need to ask me about it. As for your second question, yes, it is a good figure. In fact, according to our secret Fantasiapelit source, it is a superb figure for a single product. Praedor has been out for five and a half years now, so that would make about 115 copies sold per year. Yeah, I can live with that :)
Mobilegamefaqs website from UK interviewed me and Lauri (the other designer) for a web article. You can read it here.
There have been some requests for Taiga and since it has been sold out from stores I am going to ask Fantasiapelit to stock a few copies. It has not been a strong seller, so they may well turn it down. In that case, I'll be selling Taiga directly for a spell. Although I detest having to worry about stuff, I don't think there will be too many orders for me to handle. More details about this if and when it happens.
While the rest of the scene is talking about all sorts of fancy stuff with cool if undecipherable names, #praedor community has been discussing the year 2007. Excluding some kind of catastrophy, STALKER will be completed this year and is out by Christmas. Next year, 2007, is a jubilee year for Burger Games and we need a game that is somehow iconic to Burger Games AND at least "likely" to get finished within the year, even if it takes some hard work. We found one and I am pretty fired up about it. I am not going public with it yet, but here is a hint.
No, it is not going to be a remake of Nordic's old fantasy RPG :)

11-Jun-2006: Time to Get Heavy!
I just got back from Sauna Open Air festival in Tampere and the live performances of Lordi, WASP and Twisted Sister. I am not, or at least was not, a Lordi fan but the stuff on their latest album is not bad and Hard Rock Hallelujah really sticks to your brain. Unfortunately they are published by Sony BMG and I just can't trust Sony to keep their CDs clean of spyware and virus enablers. Hence, I shall be acquiring The Arockalypse by dubious means. On the plus side, I won't be circumventing an existing copy-protection system while doing it.
WASP really floored me. I got to see them up close and they were the best as far as music is concerned. Blackie Lawless appeared to be in really good shape and the whole band pulled off a tight set of musical goodness, including some very interesting stuff from records so ancient that I have never seen them in stores. Unfortunately there was next to nothing from the new Neon God -series, which I personally love. .
I don't care much for Twisted Sister's music. Their songs are too simplistic, repetitive and punk-influenced to hold my attention, so I also did not expect much from the live performance. However, once they got on stage, they were unstoppable. Who cares about the kindergarten melodies when Dee Snider fires up the usually frigid Finnish crowd without even breaking a sweat. Ten minutes into the show I was also was jumping up and down, singing and shouting the choruses with thousands of others. It really changed my mind about them and it had nothing to do with the music. Their music was the same old junk. Now they just packaged it with Dee Snider's charisma. I am sold!
All in all, Sauna Open Air was superb.
Speaking of music, the buzz around Nightwish (of which I am a fan) has taken on odd turn with Cabuli (Tarja's husband) claiming that Tarja was fired because she turned down the affections of Tuomas (the band leader). Don't you just love making accusations that you can't prove and the victim can't disprove? Well, at least it keeps the hype strong. Personally, I don't care if Tarja was fired for having group sex with the NW road crew (unless there are juicy pictures...). She was fired by the one person with the authority to do so and stuff like that happens with rock bands all the time. Get on with the music, damn it!
On the gaming side of life, STALKER has been moving along nicely. If I can keep this up the the beta version should be ready by the end of summer, meaning that the finished version will be in stores by Christmas. There are some parts in the game that I have been afraid to write, like the anomaly determination system. When I finally got to it, it went smoothly. In all honesty, there are parts in the game that would benefit from the use of dice and the anomaly system is one of them. I think it still works okay, though. Even if the randomization process is not mathematically even, it is enough to produce sufficient variety. Die-hard simulationists and player-right advocates can go hang themselves for all I care. Or use the bloody dice.
Since I have been too lazy to make a Code/X website, I have externalised this to a fan volunteer and I do like his prototype. When they're done, they'll obviously be under burgergames.com. Idea-wise, Code/X has grown into an unruly beast. In process and function, it is the embodiment of my Arcade Roleplaying concept. Original rules and setting were a hasty excuse to illustrate the function and genre of the game (really quite unprecedented in roleplaying games, even if commonly found in individual campaigns and digital games). That it actually worked for casual roleplaying adventures on Stockholm cruises was just a bonus.
Now, I would not put to print a roleplaying game about shooting Nazi zombies. That is what the original setting really is. But with Arcade Roleplaying in mind, what would I put into print?

3-Jun-2006: Old, older, oldest
Cleaning up my work room I came across a piece of paper. It was from the Finnish trade registry and reads that Burger Games was founded March 17th, 1997. Come next March and I've been at it for 10 years. I think it makes Burger Games the oldest still active RPG publisher in Finland and there is no reason to stop, now or ever, as long as I still have the writing bug. I had secretly hoped I might be able to live off Burger Games. That did not happen but the existence and actions of Burger Games were a contributing factor in getting a job within the video game industry. And right now, if I had the backbone and balls, I could turn BG into a video game development company with at least a chance (better than snowball's chance in Hell, actually) to become modestly profitable.
Yep. If.
As it stands, I am a coward with mortgage payments to make, so Burger Games sticks to pen & paper RPGs (although I might self-publish a novel through it at some point) and I am sticking to my day job. I can then bitch and moan for the rest of my life for letting the opportunity to slip away but on the plus side, I still have a roof over my head and a computer to bitch and moan with. In any case, March'07 is coming and Burger Games will have a 10-year birthday bash. Where, what kind and to whom is still a mystery.
In the meantime, let's try to get STALKER done. Backlog of ideas for post-stalker future is burgeoning. I have visions of Miekkamies: Auringon Valtakunta, TAIGA 2.0, an expanded version of Code/X, INFRA... I need to pull the cork off the bottle before it explodes.