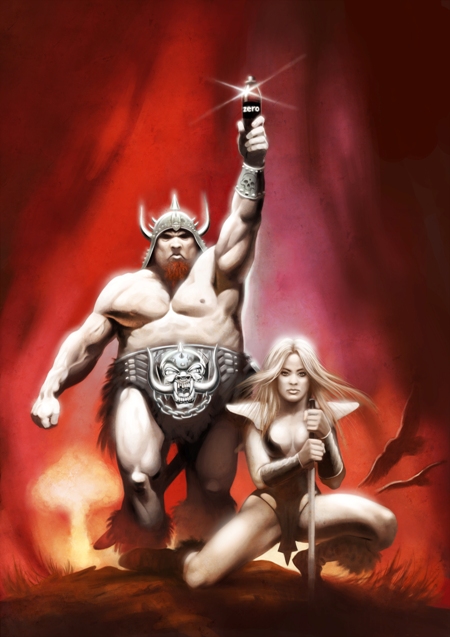 Before we switch into winter mode...
Says it all, really.

28-Nov-2007: Roolipelaaja #12
The Roolipelaaja website was down for so long that I feared they had secretly gone under. Fortunately the mailman brought me a copy of Roolipelaaja magazine and even the website came back up, even if still slightly screwed.
So, issue #12 and third issue by Riimuahjo (I think?) instead of H-Town. Already people have called it dull, mediocre and non-descript in the forums. They might be right but I found this issue of Roolipelaaja strangely personal. All those bits and pieces about old games, old events and old Finnish gaming veterans brought back so many memories you wouldn't believe. Over 20 years in the Finnish RPG scene can be summed up as "I was watching when it happened". The big gap is of course LARPing. I've never cared about it and at one time larpers were so full of crap you just steered clear from the stench.
Even so, Alter Ego provided me a good vantage point into what was happening and immediate feedback on Wanderer and stuff. And Gencon... I remember reading these RPG magazines in the 80'ies, wishing I would get to see it myself. I guess it would be a sorry sight now as far as RPGs are concerned. But I digress.
The magazine opens with Juhana stating that RPGs are either set in fantasy worlds or in the United States. That is a gross generalisation. Taiga was set in Central Asia and even such an Ultra-American game as Twilight 2000 was set in Poland and the rest of Central Europe. Of course, if one is making a semi-contemporary game it is easier to set it in a place and society you are familiar with. In the English-speaking world most RPGs are written by Americans, so is it any wonder they use it as a reference for present-day/near-future settings? Of my games, only Mobsters is set in the United States, for obvious reasons. Even so, the long adventure I played with it, Murharyhmä, was set in Helsinki.
On page 8 I am surprised to find a piece of news concerning me. Roolipelaaja is reporting what this blog is reporting and now this blog reports what roolipelaaja is reporting. Let's see if we can start an infinite loop here :) Actually it is just a small report of the formal announcement of me going write the Gamemaker's Diary (or whatever the hell it will be called). That was some quick reporting.
The article about Timo Multamäki brought a tear into my eye and is littered with people I know and places I've been to regarding the 90'ies, when we were all young, fresh and full of hope. Regarding Timo himself, I've met him on occasion but never worked with him. I've been told the man is insufferable (join the club) and have been less than impressed with the settings and backstories of his LARPs. Other than that, he is a god. Not the God but a part of my atheist pantheon nonetheless. Consider this blog entry is his apotheosis. Timo's accomplishments in his chosen part of the scene remain unmatched and believe me, I do know what he means by "envious backstabbers". I guess the Roolipelaaja staff knows it too by now. Because of the scale of his projects, Timo has just met more of these assholes than the rest of us put together.
Speaking about badmouthing, I heard a lot of bitching about Wanderer III when it happened. I also heard some strange but good things. The event was large enough for people to create their own goals and agendas within the setting. Groups were having fun, weaving stories and in general giving the world a life of its own, expanding it beyond the original vision and concept. Now that sounds fucking marvelous. The only other game I know to have pulled it off is EVE Online. I probably wouldn't have enjoyed W3 even then but of all the LARPs that ever happened, Wanderer III is the one I'm genuinely sorry to have missed. Too little time has passed since Dragonbane to tell where the Finnish LARP scene will go from here, now that Timo Multamäki has retired. Judging from this, it's going to hell in a handbasket.
After the long exposé on Timo Multamäki, the technothriller article that follows feels like a flop. It's not really that bad but I know this shit already. I hope it is useful to somebody but I doubt if Roolipelaaja is read by many newbies. Then Eero, Joonas Laakso and myself get to voice our opinions on best games or supplements set in North America. I went for Death Valley Free Prison for obvious reasons. Read the bloody article if you want to know more. Then comes a whole bunch of uninteresting stuff, culminating in the Yhdessä Parempi Peli -article that wasted two pages on stating the obvious. Can't even bother to read the article that follows... aha! Mikki's article on gaming with children is solid gold. This is a situation I will end up at some point myself and it is best to go prepared. The article is well written, with real-life examples and insightful analysis as to how or why things happened. If you plan to run a game to children or perhaps write a children's book, reading this is a must.
And do run games to children. We need all the new blood we can get.
Living Greyhawk, not bad. I'm sad to hear it is ending. Are there any other "living worlds" going on right now? Perhaps something with... cyberpunk/scifi elements in it? Would there be market for one? Am I thinking what I think I'm thinking? Article on Gencon UK is okay. Couldn't care less about Indie games but it's good they're mentioned... what the hell is a single D&D NPC doing here? Roolipelaaja has a bad record on making D&D characters, or so say the experts. I don't have the rules so I don't know. Then there is an adventure, the compulsory reviews (nice to know that you can get one star out of five now) and that pretty much covers it. I think it is a decent issue overall and some of the stuff was very good. Unfortunately I can also see why ordinary readers weren't that thrilled but who gives a shit about them anyway?
P.S.
A little bird told me that a certain reviewer was annoyed when I brought up (and properly linked) his "spirited" review of Pelintekijän käsikirja in the previous entry. That's all very strange because this is the actual review. Readers can look up his review of his own review on their own time.

23-Nov-2007: It's Time to Start
Now that Finland has safely entered the time of year commonly known as "Winter" but what I call "The Black Box", I should start on my second "gamer book" for BTJ Finland. So far I've only been thinking about it, tossing ideas up in the air and watching them land, some gracefully than others. Unlike in Pelintekijän käsikirja, conveying real information is secondary this time around. The new book must be easy and interesting to read, and also fun even if you haven't spent a day with games industry before. Tall order but I think I'll manage. The deadline for handing in the script is next summer.
I was really surprised to get this book deal and thought they were joking right up until the contracts came in the mail. BTJ was pleased with Pelintekijän käsikirja. It has sold reasonably well for a niche fact book and attracted interest in circles you wouldn't associate it with (I was honoured when Anu Holopainen said she'd go buy one right now during the Helsinki Book Fair). Reviews have been glowing and during the last IGDA meet I had a chance to sit down and chat a little with the person who reviewed it for Pelit magazine. He had nothing but praise for it and I can't really blame him for the three stars; whatever the virtues of the text had, it is a short book and could have really used some art.
As a rule, people who actually do games really appreciate the book, even if they already know that stuff. I just wish I had more feedback from people outside the games industry or press but then again, where the heck would I run into them? Even the sole negative critic who curiously trashed not just the book but also me as a person in his blog review, is a LARP organizer as well as an RPG theorist. Oh well, books come and go. It's the little old me he's stuck with.
There is one issue with the book content I haven't solved yet: what exactly am I allowed to say? Just because I am no longer employed doesn't mean I would not be bound by the NDA I was under at the time. Drawing such lines always comes down to interpretation. I'll have to see what it looks like on paper and focus on things that do not really yield or correlate with actual sensitive information. This also highlights the related issue of names. People presented in positive context can probably be at least partially named. In negative context there will have to be just codes or letters. This blog sets a good example. Of course, some people will recognize themselves but as they say, art courts controversy.

20-Nov-2007: It's Alive!
Speaking of Praedor sales, of course. I just delivered another box of the god-damn heavy 1.1 rulebooks into Fantasiapelit, pushing my total Praedor sales for the year up to 60. Not bad for a game that's been out for almost exactly 7 years (it came out just before Christmas in 2000). It also pushes the official total beyond 700 but I haven't counted by how much exactly. Still falls short of the 10,000 -limit but even little steps take us forward, eh? :)
As a matter of fact, the corpse of Varjojen Tarha is also getting some colour back on her face but so far she hasn't moved. And I need to write the book I actually have a publishing contract for first.
I have also finished editing Stalker to the extent it has been written. As I feared, the wider text column shortened it to 197 pages but I am still expecting to write 10-15 more so the final page count is going to be acceptable. I find it hard to believe that I was originally aiming for a 120-page book. Where the heck did all this text come from? I am still lacking an adequate map of the Toulouse Zone but it's under works. With the proofreading and editing still up in the air I don't know if I really get it done by Christmas. But soon. Very Soon(tm).
The best of all is that my night shift is over for the time being. You know what that means? Maybe I get to play these bloody things again instead of just writing them! I've got a Praedor campaign to finish and a long list of possible new campaigns to start. There are more than I can possible have time for, so pick-and-choose is going to be a hellish process. Listed below is some stuff that is going around in my head right now. I could probably write games around them but for now I just want to run one:
Taiga 2.0 - Caught between the dictatorial European Union and the Russian Corporate Federation, Scandinavia has become a no-man's-land in the Arctic War. While the largest cities still hold out against the growing chaos, the centralised government has collapsed. Complete social and economic cataclysm has left Finland a howling wilderness stretching from the ruins of Murmansk to the Free City of Helsinki. It's few roads, vital links between the Baltic Coast and the frontline to the north, are crawling with bandits, smugglers, deserters, crazies and motorized gangs playing mercenaries for both sides. You thought roleplaying the dark future was all about cities and high-tek? Think again!

Praedor: Crown of Bones - When a notorious pirate seizes the relics of Valiar, the queen has no choice but to send his personal envoy to the restless south, with a mission to restore the honour of her ancestors at all cost. However, there is more to this mission than meets the eye and secrets Valiar sought to take to the grave have now returned from the shadows.

TERMINAL - Classified. Cyberpunkish... or rather "Street Scifi".

Code/X: Dry River - In the future, the Main Asteroid Belt is home to a hardy breed of people scouring the rocks for power and wealth. Today, they thought they hit a motherlode, but Jupiter's invisible web that snared the rocks has now picked up something completely different.
...to name but a few.

17-Nov-2007: Hellgate: London
If I was a fish I'd probably be a salmon, swimming upstream all the time for no apparent reason other than dying somewhere close to the top. However, the one positive side effect is that I occasionally do stuff despite everybody else saying that I shouldn't. Yes, I get burned but sometimes the opposite is true. For example, I am a fan of movies like Last Border, Ghosts of Mars or Rollerball (the new version). With my friend Krabak being the only other fan of those movies that I know, I would say the fan density is about one per 10,000 kilometres (he is in Japan), so the total number of such fans worldwide averages at about 5.
Hellgate: London is the game example of similar against-the-flow behaviour. The backstory makes absolutely no sense whatsoever, the graphics are at least 4 years old by any standards, the intro is unintentionally hilarious because of the whiny British narrator and the multiplayer aspect the game is marketed on runs smoothly like a submarine on skis. To top it off, this could be the first game in the history of gaming that actually loses sales because of marketing. The idiots are drumming it up as a new MMO, apparently trying to sell the idea of futuristic swordsmen in a London-turned-Hell to the casual hardcore audience of World of Warcraft. The only possible logic here is that when put next to WoW, the Hellgate: London graphics do not look so hopelessly outdated anymore. If you turn on the full options (bump-mapped armour and stuff) they might actually look good but I get such starts and stops in the performance with them that I had to go easy on it.
Calling Hellgate: London an MMO is stretching the truth about as much as calling a hot-air balloon a jet fighter. True, they both fly. HG:L does have a network multiplayer game mode with both free and monthly subscription options. However, it is not a virtual world but instead... no, wait. To fully understand what I am talking about we have to cover one other point first.
Remember Diablo II? Well, those guys walked out of Blizzard, set up their own company and wrote Hellgate: London. That's why this game works, feels, plays and on occasion looks like Diablo II, has the same skill system, equipment and upgrade methods, monster distribution, modular dungeons and overall structure of "villages" and "dungeons". The only difference is the graphics engine which shows everything in 3D and you can zoom the camera between FPS (first person) and TPS (third person) views (I play a shooter character in FPS view but I guess the melee chars work better in TPS). Where Diablo had missile weapons, HG:L has guns. Otherwise the differences are minimal and most of the characters are either swordsmen or magic users. My girlfriend is hardcore (or should I say Hell-level) Diablo 2 fanatic and could immediately draw comparisons between the character classes.
The MMO part of Hellgate: London copies the Battle.Net -service for Diablo II. You create a specific multiplayer character but he plays through the same story and locations as in the single player campaign. The only difference is that you can run into (and presumably trade or team up) with other players in the "villages" (London Tube stations, actually). I am not entirely sure, because although I saw them, nobody ever said anything. The multiplayer game is very susceptible to lag and if you are twice removed from a village (you enter a dungeon and then go from there to yet another dungeon), the game dies on you. It doesn't crash. Instead, the lag is so bad that you can't interact with the world and the monsters politely ignore you. Unfortunately you can't interact with the entrances either, so the only way out is to log off, returning your character to the most recently visited tube station. This made the completion of storyline quests impossible, so you're stuck. Scratch the multiplayer... sorry, MMO, right there.
Why the hell would you pay 10 euros a month for the multiplayer mode of what is essentially a single player game? Apparently Flagship Studios couldn't come up with an answer, so they went ahead with this "HG:L is an MMO"-crap, driving away people who would have been interested in the single-player mode and disappointing MMO fans for whom the multiplayer/single player hybrid campaign must have been a one big WTF-moment. Actually, it is a good thing the game isn't more popular. The tube stations aren't large, so either they would have had e to stack up new servers (dividing the gamer population into miniscule portions) or you would never guess London has turned into Hell since the stations are just as packed as they usually are during rush hour. You can actually play the multiplayer without subscribing but the developers claim there is subscriber-specific content.
The only thing I ever ran into were food recipes. No, I am not kidding. I had the recipe for toffee apples and god knows what else cluttering up the inventory and could have used the game's crafting system to make myself a few. Maybe they were secretly super-ability potions or something but after seeing that and getting bitten in the ass by the lag I promptly cancelled my subscription and have been sticking with the single player campaign ever since.
After all this, you would think the game sucked big time. Then why am I still playing it? Because the single-player campaign that the marketing does not let you know about, works like a charm. Diablo II was an incredibly well-balanced and user-friendly game, honed to almost perfection. More than a little of that has rubbed off onto HG:L and I love it. The loot system is rewarding with its constant flood of small rewards and a lottery system for rare and epic events. Just looking at the skill screen makes you want to level up faster. The environment is detailed enough, barrels and boxes go up with a satisfying crunch. With a shooter character there is real excitement in lining up your enemies so that you can send a whole pack of small critters flying with a single grenade and then rip into the big ones with your epic, thrice-blassed lightning-shooting gun. Ammo is infinite and grenades are a mana-based skill. Sounds weird but it works.
HG:L lacks the epic feel of the Diablo universe and the exquisite cutscenes Blizzard games are famous for. Also, it wouldn't work as a regular RPG or a literary setting which is often my key criteria for liking computer RPGs. Still, there is plenty of game time here and I think I'll be exploring the haunted ruins of one of my favourite cities for quite a while.

11-Nov-2007: Redundant
The problem with having blogging friends, a book deal and a strict NDA is that much of what happens to you is either top-secret, makes good book content or has already been covered someplace else. I did turn 34 on November 4th and had a most wonderful birthday party together with four other people, one of whom had just got his PhD. Other than that, there isn't much to report and even the Jokela shooting has been better covered elsewhere. Working in the nightshift has been detrimental to my roleplaying games hobby, from writing Stalker to playing games. Apart from the Army, I've never had a pause this long in my gaming. This week there'll be a pause in my nightshift as part of the team comes to Finland but then it will continue, maybe right up to the New Year.
I've been (very slowly), editing Stalker and fixing the layout. The first layout was way too packed and the second layout was way too sparse. I hope I have now achieved something of a balance. The illustrations I have haven't really been made for that kind of layout format but they'll still do. It just takes a little more tweaking on my part.
Before Roolipelaaja magazine was founded, I actually contemplated starting a magazine myself. I read Magus back in the day but I never had much contact with the crew making it. This time around I have been watching the guys struggle to put a magazine together in a constant shitstorm from the "fans". Nope, I wouldn't put up with that. Everything they do or say is combed for incriminating detail and they're crucified for every mistake they make. I am happy to berate them for policy choices but sheesh! For example, Juhana keeps a blog on the website where he jots down small-time news and other miscellania. He went ahead to misquote another source that the D&D3.5 materials have finally been made freely available on the net now that 4.0 is coming out. Unfortunately for him, a crappy txt-version of the said rules has been out since day one and Juhana is now hiding from an angry lynch mob of D&D fans who think he is disrespectful of them and their game.
To take some pressure of him, I'll go on the record for saying that D&D3.5 is an utter crock of shit. Now send the lynch mob my way and leave Juhana and the Roolipelaaja magazine alone.

03-Nov-2007: Lightning Strikes... Thrice
I've just signed a new book deal with BTJ Finland. It'll be my third externally published work and my second novel, so when it is done, I can apply for membership in the Finnish Author's Association. I'm actually little fuzzy as to what it takes to make a person an author? If it requires living on your book sales (and grants), then there's precious few of them in the whole country. Anyway, I digress. To apply for membership, you need to have two published novels. Fact books don't count, so I am not doing one. The concept is a little hard to explain but you could think of it as the bastard child of a professional biography and this blog. Game nover, gamer novel, gamemaker novel, whatever you want to call it. I have a little vague idea of it myself but I already know how it starts, so I think it can be done. Biographiers and quasi-biographies count as novels, so there.
It would also be nice to include bits and pieces of my fan fiction writings (translated into Finnish, of course) but I probably need the publisher's approval for that, so we'll see. There is also going to be plenty of stuff about my experiences in games development (completely anonymized) but it also means running the script past my current employer so that they can yell out if something comes a little too close to breaking the NDA. Oh yes, there will be people recognizing themselves from my writings but I will go easy on them. After all, no one in this industry that I've met has been a complete disaster as a person. And even the non-achievers were pretty cool guys.
Kirjamessut came and went and my participation was limited to a 30-minute panel with authors Eija Lappaleinen and Anne Leinonen, who had just written Devoted Souls. It is a novel about a teenage girl living a double life, one in the real world and another in an MMORPG called Devoted Souls and both of them are very real to her. It is an interesting concept and gamers (let alone female gamers) have rarely been featured in youth literature but a 30-minute panel is a joke! They should have given us at least an hour. Jukka Halme did what he good and actually did very well in keeping the talk going but it was more of an interview than a panel. Anyway, go get the book if you are interested in a female viewpoint into gaming and female gamers. Looks like everybody is into teenage girls this years and I don't mean sexually. Tähti, Devoted Souls and all the other stuff being pushed out... it's definitely a current tend while it looks like boys are being neglected a bit in the cultural offerings. I am waiting to see how long it takes before the pendulum swings back.

25-Oct-2007: Hour of the Wolf
Surely you remember that I am working at night at the moment? And that there are upsides to it, like actually experiencing the day when it happens rather than sitting in the office the whole time. The upsides are still there but a whole month of night-shift is starting to get to me. However, it is vital. I am part of a team mostly located along the west coast of North America and if we do this now, we don't have to do it again at a later date.
I don't really know if this entry is a whine, a warning, a set of instructions or a romanticized study of the night. Perhaps all three. I hope it is also therapeutic since I don't do shrinks. I can't talk about what I'm working on, so think me as a plumber giving consultation to a team of roach exterminators across the Atlantic.
When your profession is something you typically do from nine to five in an office, switching to effective night working from home has a few tricks to it. First thing I noticed is that you must keep to a rigid schedule. If you don't, it's going to end in chaos. As your sleep cycle is already out of sync with your visual (daylight) and social (friends and family) clock, letting go of set times makes it erratic and throws you out of sync with everybody, including your team. And it never really settles down again. It could be just me but my optimum awake/sleep cycle is about 26 hours long. That means that if left alone, it moves forward 2-3 hours every night. Even with regular schedules I sometimes can't sleep as my 26-hour clock is readjusting itself (and trying force me out of sync by making me sleepy during the next awake period). You also need a more sleep than usual. If you used to sleep for 6 hours at night, try 7. If 8, try 9 with occasional 10.
May alarm clock rings at 12.00 and I will get up on the first call, no matter what it takes. Get dressed, check email, go out for a walk and have a combined lunch/breakfast (lunchfast?) in the process. It would be cheaper just to cook at home but eating out makes me take the walks and helps me retain some symbolic link to the idea of a working day. There are things that are supposed to happen on a workday, even if they don't coincide with your actual work. Besides, I wouldn't have found the best Chinese food joint in Finland without it: Asemakrouvi, close to Louhela railway station, hiding behind a corner and cleverly disguised as an Irish-style suburbia-pub. The locals don't eat Chinese and were astonished to learn that they actually do serve food from a suitable long menu. Excellent, spicy stuff.
From 13-17 it's Home Alone, part 33 (soon to be 34), spent mostly writing and editing Stalker (on a good day) or playing videogames (on a bad day and sadly there have been plenty of those lately). My Significant Other comes home around 17 and we try acting domestic. This is the psychologically hardest part of the day for me. Let's a dear friend has returned from a long trip in the US and invites us over for drinks - I'm not going. There is a cool movie on a late evening showing - I'm not going. Want to sit down at the couch, turn on the TV and... err... warm your toes? - Sure but only until 20.30 or so. I could actually start working an hour earlier than I do but that would cut down the common time even more.
So around 20.00, when everybody else settles down for the evening, I start wrapping my evening up. Save the game, stop watching TV after the current episode ends, check emails a little more often to see if the others have already gotten through their morning routines. Look back on last night's work and commentary to refresh the memory. By 21.00 I am by my computer and the action starts. Sometimes I cheat. I have installed all the necessary stuff also on a laptop and if I don't want to cut the evening short or we have guests, I might stay in the living room and have one conversation live and another via the laptop. Of course, if I need to process or write large masses text in the process, I'm screwed.
From 21.00 till midnight I am mostly in my workroom, alternatively pounding away at the keyboard or leaning back and waiting for the other party to react. The other guys have gotten their day well started by then and new stuff starts flowing in. Lots of Diet Coke (actually Vip Light Cola) is consumed to the background music from various metal bands, Alanis Morrissette, game soundtracks and the like. Anything that gives energy and keeps the spirits high. The IRC helps me keep in touch with the outside world and the life everybody else is living (let's save the definition of "life" for another entry) but it gradually gets silent as people go to sleep.
Around midnight or sometimes as late as 01.00 it is bedtime for my SO. I take a break here, primarily to tuck her in and often spend a few minutes just lying beside her on the bed. When she starts to doze off, I get up, refill my cola and get back to work. It is really silent now. The rest of the apartment (ours is a 6-room biggie) is like a dark cave, with only my workroom lit up. The sound of traffic outside the window begins to subside. I am starting to feel lonely and looking forward to every message and note coming from the team: A drop of activity in a completely static, darkened world.
The Hour of the Wolf, comes at or around 03.00. Nobody's awake if they can help it. Those who sleep are in the deepest stage. Those about to die, do it. This is the peak of heart and organ failure deaths in hospitals, with patients slipping easily away from sleep and life. Even the distant drone of Helsinki-Hämeenlinna highway dies out. Travelers are few and far between, mainly big trucks whose drivers stuggle to keep their eyes open. There are no wolves here. Only the silence at the grave of the last day.
The trickle of messages and notes starts to die down soon after. It is past 17.00 at the other end and we're losing participants. It is time to start wrapping up, writing synopses or summaries and taking stock of what was suggested or decided tonight as it is unlikely new big things are coming up. By 04.00 I am supposedly done, switching the monitor off and heading for the toothbrush. The trouble is that while I climb into a warmed-up bed, it is often hard to sleep this soon after work. The brain is still working too hard. That's why most people have the evening wind-down and relax before bedtime.
Tossing and turning, I try to sleep until 12.00. Only two months to go...

16-Oct-2007: Analysis of Me
I did not think I was asking anyone to study me as a gamer in the previous entry. However, that's how Eero saw it and immediately leapt into action. The result is an astonishingly long and at times insightful analysis of me as a gamer. It is very interesting reading and there's no way in hell I could write a similar analysis on him. I guess Eero actively studies and catalogues what I (or the rest of us) say and do. I, on the other hand, am mostly interested in my own work and usually the rest of the world can go and hang for all I care. For future reference, he labels me traditional auteur simulationist and Old Skool as an auteurist traditional movement in the Finnish RPG scene. Is there a certificate for that?
"Burger (T.A.S. certified)"
Actually, he does a good job at explaining what he means so I am less annoyed than usual.
The one thing I did ask was a good term for the type of more narrowly focused games and settings that I (and now Mike and by his own admission Eero as well) are doing. I have to say that Focused design does not strike me as cool or trademarkable but it's a start. :)

12-Oct-2007: Hatemongering
I just re-read the latest issue of Roolipelaaja and only now noticed that on page 7 Risto Paalanen wishes auteur-gamemasters (which, I'm told, includes me) out of this hobby for good since he thinks our style of gaming is wrong. Well, I'm glad we got that settled. For the life of me I cannot understand the problem some people have with the very idea of a gamemaster. In the Old Skool sense, that is. And what's with all these horror-stories of GM tyranny and railroading? I can't help but wonder if they have actually ever played an RPG session or are all the gamemasters they know just retarded assholes?
The gamemaster in an Old Skool RPG is neither a tyrant nor the author. He is the narrator with the powers of a referee. I don't know how they got this auteur-shit mixed into it in the first place but if it's really a crime to prepare notes before a session I'm going to jail for life with quite a few other people.
Somebody asked in the roolipelaaja.fi webcomic thread what would happen if the five people featured in the comic would really sit down to have a game. My guess is that with the possible exception of Eero's Forge-driven specialty games, nothing out of the ordinary. Ultimately we're all doing the same thing. This whole issue of schools, playstyles and methods is ultimately a bunch of horseshit. I originally used the term Old Skool as a joke (hence the intentional typo) but naturally someone had to take it seriously. Looking at Stalker and Tähti, I don't see any fundamental differences beyond the setting.
Actually, I was pleased to see that Mike has adopted my idea of a narrow but deep focus into a particular segment of the setting through the character roles. That is also the main difference between my games and the traditional sandbox-style games they are always compared with. Stalker, or any other game by me in the future, is no exception. If I did D&D, it'd be a high-fantasy game about... thieves in Waterdeep (a big city in Forgotten Realms). If I did Myrskyn aika, it'd be an RPG about the Trodai warriors. If I did Heimot, it'd be an RPG about space pirates somewhere in the overall Heimot -setting. If I did Cyberpunk, it'd be about netrunners.You get the picture.
I don't know if anyone has come up with a fancy term for that yet. Eero, this is right up your alley.

09-Oct-2007: The Strangest Thing
For now and probably the next two months, I'm working at nights. My workday starts at 21.00 and ends around 4.00 in the morning. I sleep until around 11 or 12, get up, go out for lunch and groceries, live my life for the next nine hours and then the work begins again. It's tough, it sort of messes up everything else since I am out of sync with the rest of the world and it stresses me out. However, it is also necessary or things won't happen. All of you thinking about a job in games, consider yourself warned. For the most part, working in games is a dream job. But sometimes it really bites you in the ass and you really can't have the former if you're not willing to accept the latter. This one just bites a little harder than usual.
That lead to the strangest thing today. Going to have lunch in a local Chinese street kitchen, I suddenly realised I hadn't really seen Myyrmäki during the normal office hours without being either sick or in the middle of a holiday season. I just walked wide-eyed at Iso-Myyri mall (the smaller one, without the explosives). All the shops were open, people were going about windows-shopping, somebody was being tortured in the tattoo parlor (but apparently proud of his bare chest) and the RC car shopkeeper had setup his workshop right by the window so you could see what he was doing. It was really quite nice and made this gigantic sub-urbia to Helsinki feel like an actual place. I really wish the services and the industry would not have the same office hours so I could feel like this more often. Basically, by the time I usually get home, Myyrmäki has already died, apart from the groceries and the bars.
Yep, there are perks to my current working hours, crazy as they are. And here's today's Stalker image: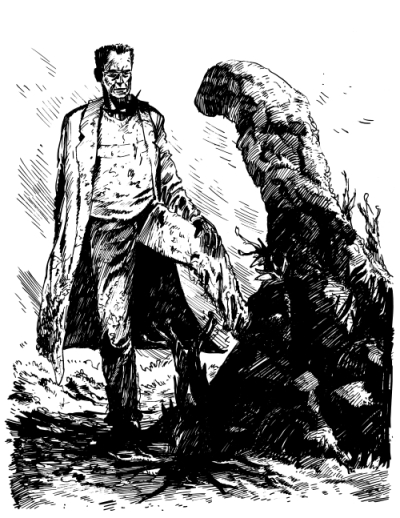 08-Oct-2007: Refresher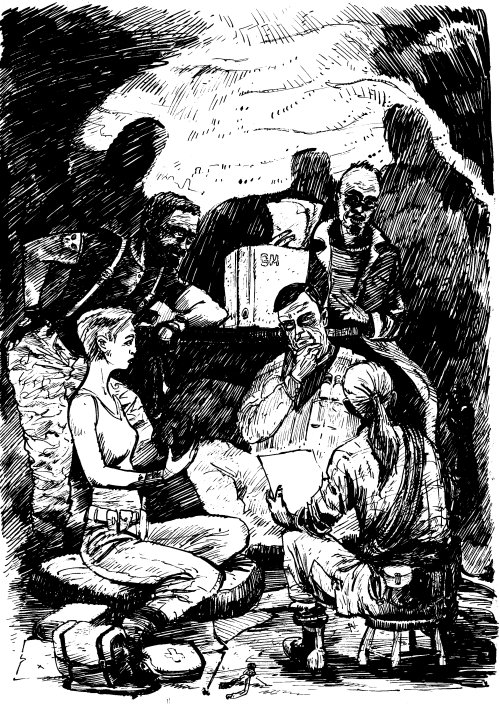 "Virallisista - toistan, virallisista lähteistä olen saanut tietää, että autotallin tutkimisesta voi koitua suurta hyötyä tieteelle."
We're almost there. Although I'm still lacking a few pages, a sample adventure (probably that which I ran at Ropecon) and the Toulouse Zone map, Stalker RPG is slowly moving away from writing and into the tweaking phase. Going to the text, adding subheaders, moving paragraphs around, removing futile things, tweaking the layout, filling in gaps, repositioning the artwork and so on. From now on I could publish more Stalker art here. I got a fine new batch from Jani Hämäläinen, the second illustrator to Stalker. The above is from the main artist Tuomo Veijanen, who decided that also stalker groups can play RPGs. I had some trouble with the .jpg conversion (they're artists, not me) but I think that turned out okay.
Speaking of art, I am now a webcomic character! Mike, Miska, Juhana, myself, and Eero have been immortalised into as of yet officially unnamed webcomic appearing on roolipelaaja.fi forums. It's an inside joke but given the location there's probably enough people who get it to make it worthwhile. At least us five have been enjoying it immensely. Just keep scrolling, I think there are currently four of those but I hope there will be more. My only previous appearance in a comic has been Aura Ijäs' comic on the Enter-magazine writer cruise in 2005. Unfortunately it is not in an easily readable form anymore but here are the characters.

03-Oct-2007: The Pain! The Pain!
No, I'm not talking about the review of Pelintekijän käsikirja in Pelit-magazine. It got 3/5 and I agree with the reviewer on many points. It is a thin book, the games list at the back of the book is definitely not core subject material and the book is really crying out for illustrations to match its light and entertaining style. The reviewer was suitably impressed by how "went straight for the throat" at things and how the style of writing made the book easy to read. Good enough for me, especially since Miska also commended my book yesterday. I am still waiting for him to say something about it in his blog, though (*nudge* *nudge*).
I don't want to challenge reviews of my work even when I disagree with them. After all, if I think the reviewer misses the point, I am at least partly to blame for not making the point clearer. And in any case, I don't disagree with the Pelit-review. I might question some of the observations but so 3/5 is something I can live with.
However, when it's not about me, reviews are fair game. Tony Manninen got 5/5 for making simple things look like bloody rocket science in his Pelisuunnittelijan käsikirja. The book is not a total loss but the only real explanation for this is that the idea of games being rocket science makes games magazine writers feel good about themselves. (Actually, my coworkers had a pretty plausible idea of how the review came to be but I'm not repeating it here.)
Speaking of books, I will be speaking about books and games in a panel at Helsingin Kirjamessut on October 27th. Panel starts at 12.30 and is titled "game novels". Pelintekijän käsikirja isn't one, so I guess I'm there because of my job.
And finally, the movers and shakers of the Finnish RPG authoring scene have been gathered into this great portrait (Mike, Miska, Juhana, Burger, Eero). Somebody should start a webcomic of us five trying to play a Pirate RPG together while stubbornly clinging to and promoting our perceptions of gaming.

28-Sep-2007: Bad Apples
One of the cherished myths of IT is "Micro$oft bad, Apple good". Times have changed. M$ isn't any better than before but Apple has gone over to the dark side in a big way. I've met some dedicated Apple users in my time and they have really embraced the idea of Apple being friendly and fair as opposed to its competitors. I wonder what they are saying now that new I-pods not only reject non-Itunes uploaded songs but lock up for good when you try to do it. They remain inaccessible even if you are later trying to upload songs with Itunes. I don't know if that's even legal but Apple did it. Fortunately my I-pod is too old to do that but when it dies some day, my next mp3- (and this time also ogg-) player is going to be from somebody else.
I don't have an I-phone. If I did, I'd be pissed not only because of the sudden price drop but because Apple wants to retain control over their hardware even after it has been sold. This would be remotely okay (even if still assholish) if the fact that the phone comes with a factory-controlled self-destruct feature been announced as part of the I-phone launch. Instead, Apple counted on no-one reading the small print EULA and they were right. It is now clear that you can't actually buy an I-phone, only the right to use one from Apple. So no self-written software or applications for this phone, or trying to get some unorthodox games run on it. No emulators. No nothing. I think this picture sums it up:
Roolipelaaja has linked two articles from the music magazine Basso. It's all part of Mike's publicity campaign for Tähti RPG. I'd never heard from Basso before but it's apparantely it's a music magazine for people wearing oversized pants. Anyway, they published two Mike-inspired articles on "wacky roleplayers" and I guess any publicity is good publicity. The articles are here and here. I have no clue as to who Stig Dogg is but apparently he figured it out himself and dressed up as Al Yankovic instead. Now that guy I have heard about and I think I caught a glimpse of him at Ropecon.
Wille Ruotsalainen has been working on a second version of Roudan Maa since forever. I was afraid he had already given up on it and his downright angry presentation on the lack of Finnish themes in RPGs in last year's Ropecon scared me some more. Fortunately, it now seems that the project is back on track and he talks about it at Roolipelaaja forums. We don't have a release date (or perhaps even year) yet but the rulebook will have hard covers, full-colour illustrations and a system he says will perfectly support Kalevala-style roleplaying, whatever that means. I hope it all works out. The original Roudan Maa was short but still an impressive piece of work and I like Wille's vision on how to turn the mythic north into a working game setting, weaving folklore and artistic extrapolation together to fill the gaps.
I once thought about writing a historical roleplaying game based on the Vikings' "East Road", running from Lake Ladoga to the Black Sea and beyond. If Roudan Maa could be the northern end of the road, somebody could write a compatible game featuring the rest of the way (or games, since the 9th century Constantinopole alone would make a great RPG). Now *that* would rock.
Sigh. Oh well, Stalker calls. I'm almost finished with the Artifact creation system.

27-Sep-2007: MySpace and Facebook
I've been asked why I don't have a MySpace site instead of a hand-maintained regular http-site like this? Well, I like to be in control of my own things and MySpace does not have anything I couldn't do already. It's just another piece of Net 2.0 garbage to me. Besides, I'm already part of a social community in real life and don't feel like patching up my life with a "Friends" counter that's keeping tabs of thousands of people I've never met. Isn't that what the website visitor counter is for, actually? I know you can't trust those things but even if we halve the current result, it's still around 8000 people I don't know. More importantly, you really don't want your email address on the page of some company who (like Facebook at least) then has the right to copy, distribute and sell it onwards to "friendly third parties". So, when it comes to community websites, I'm with these guys.
My hatred for Facebook goes a little bit deeper than that. Unlike most nasty secret conspiracies out there, those guys have their agenda right there in that tiny little legal claim text that nobody bothers to read before signing on. I already knew some of this stuff from before but this nice flash representation really sums it all up, along with quite a few things I didn't know. Sign up and they own you, or rather your net identity. Forever. Even if you cancel your subscription. And in the networked world of today, what else matters?
Keep the hell away from those things.

26-Sep-2007: Health Problems
I was hospitalized for these past three days. Those damn kidney stones were at it again and this time it got serious. Left urinary tract was actually blocked and that wreaks havoc on the kidney itself. On the plus side, when I die and decompose, the stones will still be there long after my bones are gone. I just don't wanna die of kidney failure just yet. And fuck, those things can be painful. Right now there was nothing more the docs could do but keep monitoring the situation and since I can do that myself, they sent me home with some industrial-strength pain meds. If I blog something "interesting" in the next few days, I blame it all on the meds.
Speaking of interesting, the roolipelaaja.fi thread about making roleplaying games into a business is alive and well and the current page is packed with interesting links and information. Of course, I am gratified that the facts turned out to be my way but on the whole the commercial picture is pretty bleak across the globe. This is not a good time to invest in RPGs but luckily Burger Games has a very efficient cost structure and an all-volunteer workforce. Just like I prediced a month back: sometime in the future the RPG publishing industry means guys like me, doing stuff virtually for free on our spare time. The good thing is that this kind of activity is impossible to kill off AND if I'm wrong, I don't mind one bit. :)
Oh yeah, Tähti has received some would-be retailer feedback. That rates 7.8 on the clueless scale on part the retailer. While I did find the message of Tähti a bit confused at times, calling it subversive communist propaganda for teen-aged girls tells more about the critic than the game. It is practically family-safe. Now, what Mike has done or said about the game in the media or in Ropecon is a whole different matter and I was surprised how sexually the game concept was presented in Ropecon. I guess the idea of marketing your RPG with teenage sex somehow annoys me but it works. I wonder if I need to put more sex into Stalker? After all, the name IS ambigious...

22-Sep-2007: Eero's Blog and Concept
Mike is busy guessing his sales, Juhana is busy pushing out the next issue of Roolipelaaja (I think it is almost out by now), I'm stuck between a hobby project that has dragged on for four years and a job project that will see daylight in three or four years and... I have no clue as to what Miska is doing. Eero, on the other hand, has been busy. He has his own blog now and unlike some of us, he apparently has his bosses' permission to be open about their videogame project. I'd be fired and sued to poverty if I tried that. And oh boy, am I flattered by his blog entry! I'll send you guys cookies for Christmas!
Eero has become involved with a still-emerging game development studio that will do God knows what. He is giving out a description of their first and foremost product concept in his blog. It's an MMORPGG based on Greek mythology. And this is not as crazy as it sounds. Most people think WoW when you say "MMO" (they should think cows but you know how these city kids are). In reality, an MMOG can be something deceptively simple. Besides, it's not always easy to draw a line on what is massively multiplayer and what is not. It's even possible for the same game to be an MMOG for some and just a networked multiplayer game for others. Player experience is the final arbiter.
For example, if the player feels he is playing Counterstrike for the thrill of combat and winning, that's a networked multiplayer game. But if the combat is just means to achieve a better tournament ranking, the game is there in the player charts, with thousands of active simultaneous participants. That's when it is an MMOG and you could call the fights "instances". The only difference is that the party (or two parties, in fact) enter the instance with a click of a mouse instead of running through a virtual world. And that CS has never been marketed as an MMOG, of course. Funny thing that, the marketing.
Eero's concept seems solid to me and I like even more the way he has both feet firmly on the ground. I foresee problems with the marketing since static-image games are not that hot anymore but the MMO properties might more than compensate for it. If the game makes a number about playing with cards, all the better. High-level gameplay and the stuff about pantheons was probably work in progress but at this stage you can't expect anything else. So take a hint, boys and girls. Eero has a perfectly viable MMORPG concept that *IS* executable with a small core studio. Remember that the next time some big shot from the premium games industry (my side of town) says in an interview that you can't do squat in the MMOG field for less than 30 million USD.

17-Sep-2007: Setting The Record Straight
I'm glad that Lönkka (Fantasiapelit/Acquisitions) came to set the record straight on RPG sales in Finland. I had already given up one page before but yeah, most of my figures and impressions are from Fantasiapelit staff, Lönkkä and Jyrki Tudeer included. I just didn't have access to the paperwork to prove it but he does. His entry is a healthy reality check for all the would-be RPG authors out there, although I've been saying the same in about a half-a-dozen presentations about publishing an RPG in this country. But what can you do? They never listen.
Lönkka's entry also explains why I'm so happy about having sold 700 Praedors and made profit from it, even if some think it is barely a pittance. Fantasiapelit has sold about 500 of those which is more than any other Finnish RPG this century AND beating probably 90% of the foreign titles on sale. At some point I was told that Praedor was their fifth-best-selling RPG but I have no idea how that statistic was formed. This is as good as it gets and I will probably spend the rest of my RPG authoring career trying in to match it. In vain, most likely.
My suspicion that no-one, Mike included, has a clue of the real end-user sales of Myrskyn aika, was also confirmed. Finally, the casual way how Mike and Juhana came up with those sales figures suggests that they have a some kind of a business plan(s) to go with them. I do hope they'll make it because I will gladly exchange some pride for a roleplaying renaissance that brings back the glory days. I'm just not holding my breath and not doing any J-Pop roleplaying games either.
STALKER is on page 202. Roughly 18 to go if my estimates hold true but I think you can add another five to ten pages for adventure material. I've been looking into new printing options and the possibility of doing it with hard covers. If that sounds like I'm a little jealous of Heimot, you're wrong. I'm insanely jealous. No promises, though. I am not taking the same kind of print run as Miska did and if hard covers push the cost per unit above my pain treshold, then softcover it is. I am currently writing the artifact generation mechanism, or rather the second major diceless randomization system in the game. Then it just needs a few examples and then all that remains of the Gamemaster's Book are the monuments. I'm still waiting on a coworker who promised to tweak a couple of maps for me. When I get those, I can start working on Zone Book which concludes the game, along with the adventures.
No, I am not rushing to the printers even then. There needs to be at least two proofreading and editing rounds, then collecting ads and notices from all the people and organisations I want to promote (I don't know if anybody reads the stuff but I like to have it there), a bidding round with printing companies and talks with retailers as to how many books they want. I'm planning to make the initial print run 200 copies. With Stalker, that might actually be all we ever need. Not exactly mass market, is it?

14-Sep-2007: Core Games
Now that the debate at Roolipelaaja.fi has quieted down, a new concept has emerged: Core Game. This is a roleplaying game that seeks to have all the archetypical genre conventions of its type; nothing more, nothing less. On the genre triangle I drew for my book, that would mean aiming just for the corners, with Cyberpunk as the exception that makes the rule. The idea is that nobody needs to learn anything and the gamemaster doesn't need to explain the players anything. Just sit down, make the characters and start playing on the assumptions that all major things associated with the genre hold true. Pretty casual for a roleplaying-game, huh?
And that's where it hits the rocks. Genre conventions are good and having a hunch on which conventions are most commonly used and applying them on non-essential parts of the setting is even better (or at least that's what I'm trying to do). However, there is no definite authority on what belongs or doesn't belong into an archetypical fantasy game. Judging from this guys feedback on genre definitions, his ideas are based on existing roleplaying games. I, however, see roleplaying games as a form of speculative fiction literature and bang! We're not speaking the same language anymore! Having so much experience from roleplaying games across the spectrum I'd know what he is talking about but when I'd tell him that Hyboria would make a much better game world than Middle-Earth, it would be the end of our beautiful hypothetical friendship.
And it gets worse. Tolkien has nailed down the image of fantasy in popular culture and only Conan is nipping at his heels. But what the hell do we have for Sci-Fi? If you say "Star Wars", I'm not talking to you. Star Trek is the second-best contender and a respectful silence is about the best I can manage about that. I love Firefly but saying it epitomizes the genre would be too great of a lie even for me.
And don't get me started on Cyberpunk. Having read a good deal of cyberpunk literature, I think the basic premise of the CP2020 is wrong. If that doesn't get me burned at the stake, nothing will. Even I have fond memories of the game but it wasn't cyberpunk by any stretch of imagination. And having said that, it is only prudent to ask what then is the definition of cyberpunk? Who is the authority that can determine what is Cyberpunk? What is the popular perception of cyberpunk as a genre? My 50 cents says most non-gamers would go for Matrix these days.
But Burger, aren't you the mass market guy among these artsy hippies? Aren't Core Games right up your alley? Almost. I apply much of the same thinking on my games, trusting on established genre conventions to fill the gaps or provide the generic framework for the setting. It is true that there is less for customers to learn that way if they are otherwise familiar with the genre and its popular works. So, almost. But not quite.
That small difference hides a universe in it. That small difference makes Praedor neither RQ nor D&D and unlike many of the dunces out there might think, it is not about the rules. As I said, sometime in 2003 when this blog started, you can play Praedor with RQ rules. Or you can play RQ with Praedor rules. But you can't play Praedor with RQ setting, or Runequest in Jaconia. Setting determines the identity of the game and in the first wave of sales also the difference between the right game and the next best option (that you turned down for the right one). Core Games don't have that.
Faced between the choice of a Core Game and a more specialised game from the same genre, I would always choose the specialised game.
Something for everyone equals nothing for no-one.
Somebody should do Core Games by all means. But it is not going to be me. I am not dropping my own ideas from a game setting just because GM's dont want to do their homework. I'm writing games for fun (although money, sales and prestige won't hurt). If there is nothing unique, nothing mine in the game, how could I claim any of the rewards either? Yes, I do have a Cyberpunk game idea. No, it is not a Cyberpunk Core Game. But I still think it's a fucking cool addition to my secret desk drawer.

12-Sep-2007: Cybertroubles
This is the most Orwellian thing I've heard in a long time. If it is made a law, I urge all responsible citizens to vote "no" with the weapon of their choice. Yes, I stole that line from Living Steel RPG but if that thing really happens, I am going to steal quite a few more ideas from it.
Meanwhile, the discussion at Roolipelaaja.fi forums has taken a turn for the absurd and I'd best stop participating or soon we will never speak to each other again. Too bad, since me and Jiituomas almost got talking. Now, to clear things up, my figures come from Fantasiapelit sales just after Praedor 1.1 came out. Sometime last year, I think. They are also supported by what info was available from my other retailers, Puolenkuun Pelit and Roolipelit.net at the time. So I actually did ask, although I do admit I polled just the specialist stores. At some point, I think it was also last year, Praedor was Fantasiapelit's 5th best selling title in the RPG category.
The logic behind these figures is that two products (used to be three but GURPS is on its way out) sell hundreds or even thousands: D&D and WoD. The rest is peanuts. In that category Praedor counts as a coconut and Heimot as a walnut. Myrskyn aika is a hazelnut. My guess is that Mike is basing his figures on the sale of novels from bookstores since that's his primary channel. The side effect is that we don't really have a clue on the actual sales of Myrskyn aika. And the catch is that we are not in the business of writing novels to begin with. The 1500 books reported by Kniga are just the copies shipped to retailers. End user sales are still likely to be in the hundreds anyway, so no worries. It's a hit, just like Heimot and Praedor. I just wonder where all those players are now?
That concludes the state of the hobby today. I might be shocked at Fantasiapelit's decision to promote itself as a manga bookstore and Puolenkuun Pelit has been living on videogames since forever but I can't argue with the money. Roolipelit.net is still going strong, I hope? (Where's the Top List?).
On a completely unrelated (okay, a very distantly related) note, I've been doing some reading, from Netforce to Neuromancer, Snow Crash and Noir. You got it! Cyberpunk! Like with so many others, my first real exposure to the genre was through the Cyberpunk roleplaying game. I'd seen some movies, of course, but they never really registered as genre movies. Now, reading the books it is supposedly all based on, I couldn't help but wonder if I got the right RPG within those black covers? It's almost all firefights but there is very little shooting going on in the novels? Sure people can die but firefights just aren't cool. I don't believe in designer intent, you know that. However, I do believe in genre conventions and Cyberpunk 2020 (or any of its competitors) breaks them at every turn. Or, if the RPG determines the genre, the books have to be something else.
See the problem?
Now, there is this guy at Roolipelaaja.fi forums claiming to be "Joe the Average Gamer". There is no proof of this but what he is asking is really close to my heart: A non-gimmicky fantasy RPG, a non-gimmicky cyberpunk RPG, a non-gimmicky spaceflight Sci-Fi RPG, a non-gimmicky occult RPG (didn't they call this "horror" when I was a kid?) and a good anime-style game, all in FINNISH. He says he can't find any and know what? He is right, for the most part. I would promote Heimot for the space-flight scifi but I do agree it has gaps in the background material. Something I hope the future supplements will correct. We are all doing such artsy-fartsy bullshit that the mainstream genres are being neglected. We assume the English-language games already cover all the bases while clamoring for more Finnish RPGs. Really, where is the Finnish cyberpunk now that CP2020 is off the shelves? In the bloody toilet!
I'm going to put up a statue of this guy!
P.S.
Don't worry. The sick leave and pain meds end soon and then the blogging rate is back to normal.

11-Sep-2007: Re-evaluation
See? Lots of time, lots of pills and too tired to do any real writing (Stalker is on page 196), so I am blogging like hell. This is again stuff related to the long thread full of (mostly) bad advice at Roolipelaaja.fi. Since I'll be talking about my own games I thought it would be selfish to put all this right after my long entry on arcade roleplaying. I don't see how Arcade Roleplaying could have had anything in common with storytelling games like Universalis but hey, were are scene activists! Since when did we agree on... anything?
Anyway, Merten criticised Finnish RPGs, including Praedor, for not having good instructions on playing the character or that the books are just skimming over the gamemaster's duties. I was going to rip his argument apart in this entry but it turns out he was right. You can glean a lot of this stuff from other parts of Praedor but as it stands, there is just two pages about roleplaying your character and understanding group dynamics.
Gamemaster's book is also little on the short side compared to the two massive setting books that follow. Again, much of the gamemastering stuff is hidden between the lines in the setting books but it is not helping if you have to look something up in a hurry. Praedor was not really written with novices or experts in mind. I just went ahead and wrote the bloody thing. Now Stalker is supposedly written for veterans. How the heck are these page counts so different? I hadn't realised I had undergone such a massive style change since the year 2000 but when I compared notes on Praedor and Stalker, it really leaps out at me. Whew!
Stalker: Player's Guide has 70 pages. It starts with a tourist-level guide to the setting and the character's life as a stalker. I wrote it because I thought it would be prudent to tell the players something about the world they live in. Turns out there was quite a bit of stuff even though I was avoiding going too deep. Then there is a brief non-numeric explanation on how Flow works and what is expected of the player to have his character succeed in this game. Then we delve into the group dynamics; how stalker groups are formed and what are the typical roles within the group. Well be back on the group later on. Then we build a rough character history (or glean them from a ready-made history if the player has been busy) using the abilities and their drawbacks. This is a big deal since it affects not only what the character is good at but also replaces many of the traditional attributes or edges/flaws found in other games. It also determines what the player should aim for when playing in-character.
Since the abilities are not just skills but also lucky breaks and advantages that happened during Stalker's life, going through the possible implications of the stalker having his various abilities is explored in the ability descriptions. Done yet? Nope! The stalker group has a name and identity of its own. It is not really stats but there's stuff for the players to plan together, like how the group was formed and on what kind of agenda. It concludes with a rough walkthrough of a typical (and a rather peaceful) Zone expedition. All in all, 70 pages, the biggest parts being the setting intro and the ability/drawback section. Some personal details are filled in and voila! We have a stalker.
Stalker: Flow Guide is just that, a separate unit detailing the mechanics of the Flow system. And then comes the Gamemaster's Guide which long as hell.
To cut a lifelong epic short, the GM's Guide it consists of five major chapters: The Role of the Gamemaster, 12 pages of stuff about what the Gamemaster does during the game and how to use a simplified version of the Campbell's Hero's Path to create new adventures.Then I have 25 pages worth of stuff called Challenges and Conflicts. It is about interpreting and applying the Flow mechanics in practise. There is plenty of stuff here, including the whole of combat system. "Outcome instead of the Process" approach to combat is new for me and everybody else I know (I still wouldn't call it innovative), so there is plenty of examples, good and bad. Crawling over that we get to a monster chapter called Stalker Style Guide. On these 62 pages I move from the closest town towards the Zone, describing scenes, sounds, organisations and people active in the described locations. I've got Changed-worshipping cults, Institute men-in-black, shady artifact dealers and some decent souls trying to keep up the appearances of a normal life in the half-abandoned town of Toulouse. It concludes with descriptions of various hazards, from a diceless anomaly generation system to inorganisms and mutated animals. The GMG concludes with Artifacts and Monuments, with a system for creating your own artifacts with plenty of examples and travel diaries regarding the mysterious monuments deep in the Zone interior. That's what I'm writing right now.
Finally there's the Zone Book, your tourist map into the French Zone (or "EuroZone") in and around the city of Toulouse. It is going to be much shorter than I planned for because so much of this stuff is packed into other parts. The creature descriptions are already in the Gamemaster's Guide, so there is really not that much left to write home about. Oh yes, a model adventure or two and a two sheets packed with adventure nuggets should conclude this game nicely. The final page count is hopefully past 220 plus whatever ads and classifieds are on the final pages.
The Stalker Style Guide is easily the biggest single chapter in the whole game. I'll have to see if I could move the bestiary into the Zone Book to even it out.

10-Sep-2007: Tree of Bad Knowledge
It is almost 6 am and fading pains from kidney stones keep me awake (this is nothing, I writhed in agony and peed blood on Saturday), with the accompanying medication doing its part too. Feeling sleepy, yet can't fall asleep.
Browsing the 'Net during the darkest hours, I just had to check back on the Roolipelaaja.fi thread on Robin D. Laws' open letter to indie game designers. Mike "Sugar Daddy" Pohjola thought we all had much to learn from him. Bullshit. The only thing I want to learn from Robin D. Laws is his patience when putting up with drunken and stammering gamers at Keltsu during Ropecon. Like most guests of honour, Laws was a nice guy to sit down and have a beer (or Pepsi Max) with but that's it. His open letter to indie game designers was remarkable only in its unremarkability. Unfortunately, a relatively lively discussion sprang up and that is what makes the thread something that young and susceptible would-be RPG writers might look at when learning the ropes.
Honestly, all you would-be RPG writers out there, don't believe a word of it (with the possible exception of fonts). Nobody gives a fuck if an American game back in '85 did exactly the same thing. Besides, the odds of your game doing precisely that are astronomical and since it was the 80'ies, the game probably did it ass-first anyway (I have seen things you people would not believe... and I would like to forget...). Your rules can be smoother, your setting can have totally different themes and edges to it and your scifi-tech is more up-to-date. Hey, the settings are... different! Oh my, could we be talking about two different games? Gee, go figure. Only Forgers and some theorists have a problem with this but unfortunately they are a rather vocal minority. Don't let them get to you.
In the Finnish RPG scene, recognition and popularity are at the opposite ends of the spectrum. Praedor is unfavourably compared with some artsy-fartsy stuff despite (or perhaps because?) of outselling the lot of them by a factor of 2. Heimot gets bashed for being a "traditional scifi-game", even though it is the sole occupant of its niche. Sure, there are (very few) other space opera RPGs out there but A) none of them have been translated and B) apart from Star Wars, Heimot has outsold them all in this country. Besides, I'd rather have more games to choose from than less. They all have their unique vibes and combinations of themes and moods. For me, Heimot strikes closer to home than Star Wars. The three-digit sales figure says I'm not alone.
The Finnish RPG scene needs games with mass appeal. By mass appeal, I mean that they are easy to approach also for existing gamers and all else follows from there. They are typically set in mainstream spec-fic genres that have lots of fans, have high production values complete with eye candy and contain elements or even game mechanics that have proven popular in the past. In short, they are games with projected sales of over 20. You will be dissed for a lack vision or ambition, or perhaps even for causing the hobby to stagnate (bad, bad me!). Theorists will condemn your game for being too popular(!) and low-brow for their research (I'm not kidding). But you might also have people come up to you seven years after the release to thank you for a wonderful game.
Makes me wonder if I am actually shooting myself in the foot with Stalker.

06-Sep-2007: Burnout Mobile
Highly rated, a top seller and brings the best out of action gaming on mobile phones, Burnout Mobile rocks. Don't take just my word for it. Here is the Pocketgamer review and below are some pictures.
The review also offers some insight into what real game designers do. The RPG theorists seem to be more than a little confused about that.
Now everybody says it is an EA Mobile title and technically, they are right. But if you look into the About-part of the game you'll find, among all the crap, a little notation saying: Developed by Rovio Mobile. Unless they have removed that too, of course. For some fucked-up reason (okay, I can guess) the actual developers were left out of the credits by a weird close-to-the-release deal. There is a whole lot more I could say about EA Mobile regarding this project but that would still be covered by the NDA and breach the boundaries of good taste. Now, the guys at Rovio are bound by their work contracts not to make noise about this. I, on the other hand, had already left by the time of the no-credit deal. I also also happen to be one of the developers so no one can blame me for taking credit for my part in the game. But what I really want is every fucking one of us to get credit for it:
Producer
Jukka Peltola
Concept Design
Ville Vuorela
Game Design
Joonas Palmgren
Ville Vuorela
Prototype
Ville Helin
Miika Virtanen
Programming
Jon Franzas
Markus Hepo-oja
Juha Niinistö
2D Graphics
Lauri Rauhanen
Juha Impivaara
Joonas Mäkilä
3D Graphics
Tero Koivu
Joonas Mäkilä
Music and Sounds
Joonas Mäkilä
Tuomas Erikoinen
Testing
Kiarii Ngua
Evans Mungai
Misc.
Mikko Järvinen
...and justice for all.

04-Sep-2007: Pelisuunnittelijan käsikirja
You thought this was about my book? Wrong, my book is Pelintekijän käsikirja. There *is* a difference between a Game-maker and a Game Designer. No worries though, my own publisher got these mixed up and even Google brings both books up if you type that into the search field.
Tony Mannonen from Ludocraft has finally got his Pelisuunnittelijan käsikirja out of the printers and Recoil Games got one of them. Since comparisons between the two books are inevitable I thought I'd do a pre-emptive strike and write a comparison of my own. Let's all agree that if I don't talk about his book's back cover texts he does not talk about mine (okay, his are tamer). Publishers just can't not goof those up, can they?
While we in the games industry know who Tony Mannonen is, he is not really part of the scene. Ludocraft is an offshoot of the games laboratory of University of Oulu and while it is registered as a company, they get to play by their own rules (not having to watch the profit margin all the time). Sounds like an interesting place to work and they are best known for their Air Buccaneers -licensed mod for Unreal Tournament 2004. It is was highly regarded and you could argue that thanks to these guys, University of Oulu has a big lead on academic gaming over the other universities.
Pelisuunnittelijan käsikirja is about twice as thick as my book and has hard covers. Looking at them you might think the covers were switched: it has people in it and mine has this abstract... thing... or whatever it is. Production quality is high and browsing through I found a good deal of illustrations that again make me miss Aura Ijäs and the illustrations she did for my columns. He also has many more tables, a good deal of them in English for some reason. All in all, his use of English in the book surprised me. Non-translated tables and charts embedded in Finnish body text dent the image of good production quality.
The crucial differences between the books start with Tony's focus on game design, rather than the entire process of making games. He has written twice as many pages from what is effectively the first third of my book. Second, it is strictly videogames-only. The third important difference is that while mine is a handbook, he set out to write a schoolbook, complete with student excercises at the end of each chapter. I wish I knew what level of education this thing is aimed at. Fourth difference is the style of writing. I wrote my book like an extended column in a hobbyist magazine. Pelisuunnittelijan käsikirja is strictly academic and powder-dry at that. He is also avoiding giving an opinion about anything and as is typical for Finnish academic works, the person of the author is not present.
Personally, I found the text a little tiresome to read. Game design is not rocket science and Tony uses an awful lot of words to explain simple concepts. I also thought many of the charts were either stating the obvious or repeating what had already been said but I am not the best person to judge that. For someone who does not already know this stuff the experience could be very different, so we'll have to wait for outsider reviews. On the plus side, from what I could read during the day, I'd say all the essential things are there plus probably something extra. The excercises were a really nice touch. If I were to teach this subject to college-level students I'd use them. And making the students read the book would not exactly hurt them either.
But honestly, this is not Pelisuunnittelijan käsikirja but rather Pelisuunnittelijan oppikirja. A handbook implies more that just being a fact book: it implies being a quick and easy reference guide into the topic. For all its merits, this is not it. Whine whine. Anyway, neither my book nor his will make anyone a game designer without hands-on experience. Game design is about application, not information. If you have a project in mind, especially if it's a videogame, reading my book for an overview of the whole process (and a more market-oriented view) and then his book for the design should make a good start.

03-Sep-2007: Land of Hunger
My girlfriend hails from Hyrynsalmi, Kainuu. We just got back from a one-week trip there. 650 kilometres, seven or eight hours if you put pedal to the metal but still mind the police radar-cameras. It was already autumn up there; it is twice as warm here in Vantaa even though it was still supposed to be chilly for the season. Nowadays nobody starves there even when the autumn comes early but go back for fifty years and things were very different. Hence the nickname, Nälkämaa, Land of Hunger. Apparently the old times have not been forgotten. To stave off starvation, visitors are brutally sacrificed to ancient winter gods by feeding them to death. I have many times tried to restart my diet (being back almost right where I started back in 2003) but never with a better reason. Right now even my skin feels tight.
Heathen food orgies aside, the place is not exactly a hotbed activity after the summer season closes but there are things to do if you are prepared to drive quite a bit to get them. We visited Raate Road, one of the most (or to me, the most) interesting battlefields of Winter War. Being out of the way, the place has been preserved pretty much as it was. They have even built a small but good museum right where it happened. It also boasts the most impressive war monument I've ever seen anywhere. Click the small picture and you get a sense of the scale. Every one of those boulders around the monument represents a soldier killed in the battles for Suomussalmi and Raate Road. Thus there are 20000 boulders. The whole thing is freaking massive and very serene. Almost eerily so.
As we walked down the Raate Road, (forking off to the right in the picture), my imagination played a trick on me near the monument for Russian Fallen. Out of the corner of my eye, I saw four shapes among the trees, like blurry images of soldiers in snow camo, moving in slow motion. The white of their clothes shined so bright it was almost blinding but beneath their hoods there was just shadow. No face, no nothing, just darkness turned dark gray because of the bright blur. Of course, when I really looked that way they were gone. I put it down to vivid imagination but you are free to draw your own conclusions. Anyway, the whole experience was very cool. Maybe Stalker is making me lose my mind?
Speaking of Stalker, Miska called me and told he had had a spy in the Ropecon game sessions and was impressed by the reports of Flow and the Stalker setting in action. That was nice to hear. Also, just as I got back home, one of the #praedor regulars told me his non-gamer girlfriend had picked up his copy of Pelintekijän käsikirja and told him that "the writer is real good since he can make even a non-gamer understand what he is talking about". Now, if that does not count as a positive review, I don't know what will! Everybody else who has rated the book has so far been either a gamer or a game designer (or a theorist for the sole negative review). This was a truly fresh perspective!