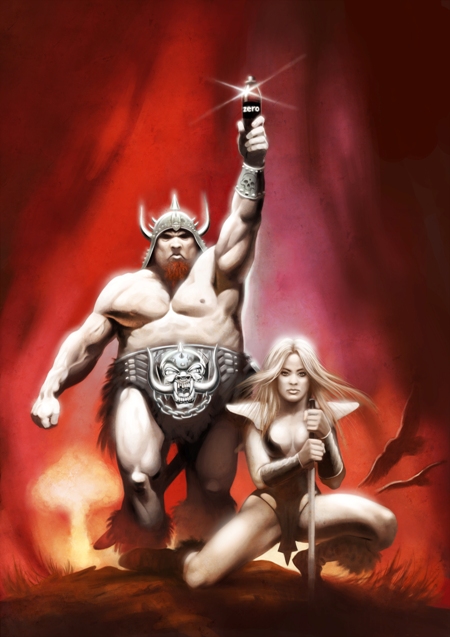 26-Feb-2013: Quo Vadis? Hipster?
Two weeks since I last blogged? Damn, I am slipping. Probably because of working and because of Facebook. Frequent status updates mean I don't have the kind of backlog of news that I used to. In short, if January was okay but not great, February has been red-hot. Really, if I could be certain that things will continue like this, Burger Games might actually consider employing somebody to help out with the workload. Unfortunately that someone would have to be a clone of me because in a consultancy business I am what the clients are paying for. There is no *grunt work* I could easily deal out. We are all supposed to be experts of our respective fields here. You know, me, me and me. Us.
So who am I?
Two things happened today. Firstly, I got a royalty cheque of January sales of Stalker RPG at drivethrurpg.com. I have now over 1K$ worth of royalty cheques on my desk and I will probably be taking them to the bank tomorrow. Secondly, there was a thread about Stalker RPG in 4chan.org, a notorious anonymity-preserving discussion board known for trolling, harsh language and the kind of brutal honesty that only the Internet can bring out in people. While much of the argument is about the usual: the merits of the game, diceless rules system and me spitting in the face of the Anti-Comics Sans meme, I was shocked to read that I am an "artsy hipster", or "a lousy hipster cunt", depending on the commentator. When people who know me contested my hipsterism, I learned that "I look like I probably own several fedoras". Now, I only have a vague idea of what a hipster is supposed to be and so far have no clue what fedoras have to do with anything. However, I can confirm that I do not own a single fedora. I do own a leather top hat that I use when meeting with customers (fits the professional image in my line of work) but other than that I am hatless.
Hmm, I also own a fancy bicycle helmet but I'll be damned if that is a "fedora".
So, a hipster am I? Let's look at the Wikipedia definition of the term.
Hipster refers to a subculture of young, recently settled urban middle class adults and older teenagers that appeared in the 1990s. The subculture is associated with independent music, a varied non-mainstream fashion sensibility, liberal[citation needed] or independent political views, alternative spirituality or atheism/agnosticism, and alternative lifestyles. Interests in media include independent film, magazines such as Clash, and websites like Pitchfork Media.
Got it. So how do I fit in?
Young: Umm, not really. I will turn 40 this year. I released my first RPG, Miekkamies, 19 years ago. (-1)
Recently settled: Although I have been living with my spouse since 1995, we only moved to Myyrmäki in 2003. Is that recent enough? (0)
Urban middle class: Guilty as charged, although this is a suburb. (+1)
Independent music: I don't think old-school heavy metal and hard rock count. Especially since I've been digging that from the early 80's when it wasn't retro yet. (-1)
Non-mainstream fashion: Fuck you! I am a 300-pound hippo and have to wear whatever fits! A fucking fashion statement! (-1)
Liberal/independent political views: Contrary to the entrepreneur stereotype, I usually vote the Left. I guess you could call that "liberal" in the American sense of the word. (+1)
Atheism/agnosticism: Well, I've been a die-hard atheist since 1980 when the issue of religion came up in school. (+1)
Alternative lifestyle: Overeating, playing videogames, riding a bike and lifting weights, writing novels, playing roleplaying games... what the hell counts as an alternative lifestyle in this day and age? I am a Geek and a Gamer. I am giving this a zero. (0)
Interest in independent film: Nothing against indie flicks but I am a big friend of Hollywood blockbusters as well. Even the kind of blockbusters that your average artsy type is supposed to loathe. I like pulp literature, so why not low-brow spec-fi action flicks? (-1)
Clash: What the hell is Clash? (-1)
Pitchfork Media: What the hell is Pitchfork Media? (-1)
Total: -3
On the basis of this analysis, I maintain that I am NOT a hipster. I have always considered myself an old geek and an aging metalhead, especially now that my beard is slowly turning gunmetal grey as well. Of all the claims and counter-claims made on 4chan.org, the hipster accusation is the only one that got under my skin. Unfortunately, the anonymity of the 4chan.org means I have no way of knowing who said it. Judging from the fedora comment, he either has the wrong guy in mind, or he has constructed some fake mental image of Ville Vuorela in his head and is now making slanderous assumptions based on it. Give a me trenchcoat and I'll wear your fucking fedora but otherwise my leather top-hat is all you are going to get. Of course, if I could have it all my way, I would dress like an early 17th century gentleman (think of Porthos in the 1973 version of Three Musketeers and you've nailed it). Now there is a fashion statement for you!
P.S.
My old colleague Osku pointed out that hipsters like Comic Sans. I guess that brings the total to -2.

09-Feb-2013: News and Dragonborn
I just ceased to be a Warhammer/WH40K fan. Games Workshop is engaging in what the IP lawyers call "domain creep" and bringing their legal warhammer down on small-time authors over the use of the word "Space Marine". Never mind that this term has been in common usage since the early 1930s, Games Workshop effectively claims they now have an exclusive trademark on it. This is bullshit and legally they don't have a leg to stand on. Unfortunately, that doesn't matter because by complaining to Amazon and other distributors about an alleged trademark infringement they can shut everybody else off the market. A small-time author can't afford to take them to court and a large-scale distributor doesn't really care one way or the other. I hope that the Heinlein estate or somebody else will eventually sue GW into bankrupcy (or at least back to their senses) but in the meantime all I can do is spread the word, keep my money, trash them in the media and spit in their faces if they ever come to Ropecon again.
Perkele, I am livid! This is the most stupid thing to have happened in the scene since that time when White Wolf decided that they have intellectual ownership of all uses of their properties, including private gaming sessions and thus they should get a cut of the pizza pool money (an actual example used by them). That row culminated in Justing Achilli berating his company's biggest fans on the company forums (long since deleted, I am sure). We are still waiting for Games Workshop to respond to this one but I already have a feeling they are going to say something incredibly stupid.
Join the Space Marine Liberation Front!
On the positive side, I finally got my hands on Dragonborn, the new DLC for The Elder Scrolls V: Skyrim. Having played that game for 1262 hours since its launch, I now consider myself something of an expert on the subject. The first two DLCs, Hearthfire and Dawnguard were somewhat lackluster (okay, Hearthfire was a bad joke), so how does Dragonborn measure up against its predecessors? Pretty much the same way a sandworm measures up to an earthworm. They are closely related but one is what you put in a fishhook and the other is freaking awesome. Skyrim has its inherent flaws and after 1262 hours I should fucking know. While Dragonborn cannot fix the fundamental flaws of its parent game, it does its own thing very well indeed and actually outclasses the parent title in some areas. In short, it kicks ass!
I don't want to spoil anything, so I'll go through the basics and then give you some personal impressions. The trailers have already told you that an attack by a strange cult you will have you leave Skyrim for Solstheim, a large island north of Morrowind (and where Morrowind: Tribunal was set in the olden days; here is a map of Tamriel). Here, you will face off with an ancient dragon priest that was a dragonborn and turned the tables on his scaly masters to the extent that dragons themselves razed his temple to the ground. There is, of course, the usual shitload of new places to explore and new side quests to get embroiled in. And for once the main quest has been sensibly paced so that you have some incentive to explore all these strange new things. Not that I needed any encouragement but some people might.
So, the good:
Solstheim is Dunmer territory and the opening town of Raven Rock has a delightfully different look and ambience to the Nord settlements of Skyrim. You really get to experience and immerse yourself in a strange new culture and frankly, exploring Raven Rock in the beginning of my DB experience gave the "Otherwhere Rush", the escapist high that I have been pursuing ever since watching Star Wars in a movie theatre when I was 5 years old. Very few videogames can do that to me and I've never felt it in a game expansion before. I will be buying everything they will ever release for Skyrim just in case I could get a whiff of that crack again. It is the ultimate addiction hook for me.
The main plot holds together quite well and has much more impact than the main storyline of Skyrim itself. Apart from the problematic final confrontation, your struggle with your mostly unseen foe carries weight and has an immediate impact on the game world. This is something where Skyrim really sucked; dragons or no dragons, the world was essentially the same and your actions could not really save or imperil anything. In Dragonborn, the shrine mechanic is simple but brilliant, because saving the poor souls has a visible and concrete effect on the island communities. It brings them back to life and enables you to access the features, services and sidequests that it entails. Your actions matter. Either someone was trying to make amends for the lack of a similar mechanism in Skyrim, or someome was trying to make the original design team look like idiots. Either way, mission accomplished.
New creatures. Autobalancing and other flaws in the parent title remain a pain in the ass but still, it was nice to see the Skyrim ecology expanded. Maybe these creatures were already in the original Morrowind but I am not complaining. I am moved to tears when I see the Burned Spriggans. As implacably hostile as the original spriggans in Skyrim, these mostly immobile, stick-straight figures are like physical ghosts of what they once were, symbolising the anguish the Red Year in Morrowind inflicted not just on the Dunmer but on all living things. The only hairline crack in the new ecosystem are the Reiklings. Solstheim does not have Falmer (and after Dawnguard expanded on Falmer lore I learned to love those tragic but terrifying things) but Reiklings, essentially blue-skinned barbarian goblins. There is no tragic backstory to them, no deep secret you can unearth, no nothing. They are short, brutish, stupid and somewhat comedic. Arrow fodder for grinders. There is also something wrong with their ragdoll modelling. I suspect the animation cycles have been taken from goblins in Oblivion. Upon being hit, they do not respond to the energy of the hit but simply tumble over and die on the spot. Since everything else is properly ragdollized, the effect is quite jarring.
Alchemy and resources. If only Skyrim had a proper sink for all those resources and the gold I am going to make... Still, it is exciting to find and collect new things and the alchemical effect table has been expanded to match.
Oblivion levels. Yes, imagine Shub-Niggurath opening a transdimensional library and hiring the Spawn of Cthulhu to be the caretakers. Compared to the stillborn "Soul Cairn" in Dawnguard, the Oblivion levels in DB show how alien worlds are done. Not to mention that the rewards, or rather, the whole concept of rewards for exploring them is badass.
Puzzles. The puzzles in Skyrim are laughably easy and there are plenty of those here as well. But especially the Dwemer dungeons now have new and original puzzles which can be quite complex. It must have made their daily lives hell but thousands of years later adventurers like me are simply delighted.
The World Beyond Its Borders. This where Dawnguard fell flat on its face and Dragonborn truly shines. Not only does Solstheim feel real and connected to the rest of Tamriel but its existence makes the whole Skyrim feel more real as well. Much of it is owed to the introduction of Dunmer culture and politics but there are subtle hints all over the place. And then there is one not-so-subtle.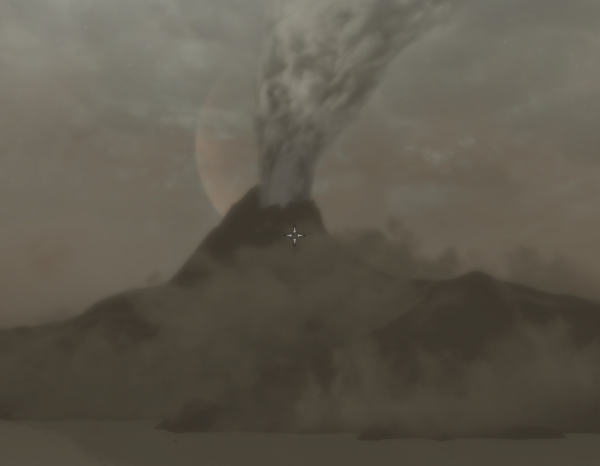 The coastline of Vvardenfell and the gigantic Red Mountain itself. The ash plume is animated and really looks like a live grey-category volcano.
Already in Skyrim, you have heard tales of the Red Year and how the Red Mountain erupted, devastating the Dunmer civilization of Morrowind. The mountain is still spewing ash in the sky and winds carry it over to Solstheim, where it covers the Ashlands and has pushed normal, Skyrim-type of life into the icy northern half of the island. Standing at the southern shores of Ashland and looking at the mist-shrouded coast of Vvardenfell and the cone of the volcano beyond, the world felt real. So real it was painful to know that I could not just swim there and keep adventuring and finding new interesting things from here to eternity. Such a simple trick. And so powerful.
Then the bad:
Skyrim's main flaws remain as they are. You should visit Solstheim earlier in the game than I did, because right now it was very unlikely to find anything better than the gear I was already wearing. Honestly, Bethesda, if you are going to have us explore this many dungeons and find this much treasure, look at Diablo 2 and how its item system works! This far into the game I could not be bothered even to collect jewels and who knows how many ancient artifacts were traded in for just a bit of (weightless) gold. In short, Dragonborn does not fix any of the Skyrim's inherent flaws and this takes some edge off from exploring.
Yes, you can fly on the back of a dragon. And it sucks. To say anything more would be a spoiler.
Whoever did the math for the final battle should get his head examined. There is a critical bug in the system and it is all due to some designer not knowing how to fucking count! Explaining it would mean venturing into the spoiler territory, so quicksave just before you start fighting, be a gentleman about letting your enemy to recover and reload if you start thinking you are stuck. And hope that Bethesda will fix the damn thing as soon as possible because crippling the final bossfight is pretty embarrassing even by Bethesda's admittedly low standards!
DB is surprisingly short. Solstheim isn't that big and playing time has been inflated with labyrinthine mountains and terrain obstacles. I think there is probably about 15-20 hours of content here. Come on, who pays 19€ for a measly 20 hours? If it is not at least 100 hours long it should not be called a game, so a good DLC should push at least 50, right? (*the sound of crickets*) Hmm, not much industry support for that one... I am going to go chain myself to the Bethesda office doors until they promise that the next DLC will have 200 hours of content in it. I still haven't had my fill of Skyrim.
But all in all, this is a glowing recommendation for Dragonborn. I hope it will sell millions and points the way how Skyrim DLC should be made.
P.S.
I have been asked about my Skyrim mods. The list has grown quite a bit and some might be redundant but here we go:
From Steam Workshop
Killmove Control (I had to replace Dance of Death because of its new requirements)
Faction: Pit Fighter
Faction: Pit Fighter Travels Add-on
Run For Your Lives
Disembarker's Den
Improved Interior Lighting
Alternative Lighting 2 (really good, IMHO)
Quest Fixes
Aetherium Crafting 2
True Nordic Hero Weapons
Tamriel Compendium
Winterhold College Improved!
Followers Keep Up
Hectrol Caves Deluxe HighRes Retex 2K Version
Bromjunaar Extended
Codifreds Enhanced Smithing
Guard Dialogue Overhaul
Brand-Shei Prison Fix
Wear Circlets With Hoods
Follower Map Markers
Kill Them Generals
Extra Encounters
Clams Give Pearls
The Myth Of Naraag
The Grytewake Legend
The Hawk's Nest
Isle of the Akavir
Skyrim Sewers 4
Chopping Block/Wood Fires Fix
Helmet Requirement Remover
Real Mountains
Lighting Placement Fix
Shadow Striping Fix (Indoor/outdoor)
Stones of Barenziah Quest Markers
Vibrant Auroras
Static Mesh Improvement Mod - SMIM Part 1
Shooting Stars
Thieves Guild Requirements - No Auto Quest Start
Guard Dialogue Overhaul Lite
Rainbows
New Bard Songs
The Paarthurnax Fix
Wealthy Merchants
Lush Greens
Artifact Balance Overhaul
Skyrim Crafting Fixes and Oversights
Left Hand Rings
Better Dynamic Snow
Crimson Tide - Blood New 2.2.
Quest: Sea of Ghosts - Ultimate Edition -
XCE - Xenius Character Enhancement
Water And Terrain Enhancement Redux
Lush Trees
Enhanced Distant Terrain
Lush Grass
Ask Follower Skills
Fixed Followers Lite
Faster Vanilla Horses
Wraparound Perk Trees
You may want to consider Enhanced Soundtrack mods. They add scores from various movies and games into fitting parts of the game. There is some conflict with Solstheim sounds but on mainland Skyrim they work well.
From skyrim.nexusmods.com
Much Ado About Snow Elves
Sword Of Sigdan
Wyrmstooth (now also in Workshop)
A Quality World Map - With Roads - All Roads
And if you must have nude mods and sex animations for your game, skyrim.nexusmods.com is the place. I just don't think they are worth the effort. Now, if someone where to write out the whole Lusty Argonian Maid series...

06-Feb-2013: The Rusty Horizons RPG
What can I do? Rusty Horizons won't let go of me and despite pouring it all out on paper I still want to make this game. There must be still some of that stuff clinging on the walls of my brain cavity, so I have to squeeze it a bit harder to get it all out. So here we go, Rusty Horizons with full AAA resources and tools, watcha gonna do? I have no idea what you are going to do but I would make a "Fallout New Vegas meets Borderlands (okay, RAGE in a pinch) while having a ménage-a-trois with John Carpenter's Ghosts of Mars and Studio Ghibli's Princess Mononoke".
Seriously though, no matter how much I love setting design, the core of the game is vehicular combat and if that fails, nothing else matters. In the touch screen version the objective was to keep the enemy in your crosshairs for as long as possible and the cumulative damage bonuses would finish off even boss-level mobs. In a full first-person 3D (or possible third-person when driving, with the camera above and behind the vehicle) that would make no sense. Instead, the vehicle armor would be segmented into 8 sectors and these are easily visible in the targeting reticle when aiming at it, so that you know what part of the enemy vehicle you should be aiming for. There are weak spots and in particular any externally mounted weapon components can be blown off from NPCs with a direct hit of sufficient power.
Driving physics are an interesting thing 3DRH since Rovers are not cars and typically have 6 or more wheels, partial walker or jumping capabilities, variable low and high profile configurations and you name it. Moreover, the game takes place in Martian gravity, enabling big jumps and drops. Taller vehicles might also tip over or roll but certain types of vehicles would right themselves, others can run upside down just fine and those with sufficiently powerful gyrostabilizers simply will not fall over. This is one thing where the vehicle upgrades will come into play. Basically, I would like to get the design team of Bugbear (Flatout etc.) drunk and then working on this. I don't need realism: I need cinerealistic driving physics that are also fun, especially in interaction with the terrain.
With that sorted out, there are two distinct but parallel avenues of further design. One is the storyline and how it takes you forward and helps unlock new aspects of gameplay and new areas for you to explore. The other one are trades which is basically a list of action careers you can pursuit. By limiting player perks and vehicle upgrade slots, it is usually choice between two or three of these but I'd like there to be at least seven:
Bounty hunting: chasing down "rat mobs" and responding to mission calls
Mercenary: Paid missions to advance the cause of a faction
Banditry: You versus the world for quick payoffs and unreliable friends
Salvage: Recycling scrap and scouring through ruins for rare parts
Smuggling: Speed runs and pursuit evasion between active locations
Trading: Buy cargo from somewhere and sell it somewhere else
Prospector: Seek out natural resources, set up camp and defend it while it is being exploited.
So, in a game like this, is it necessary for you to get out of the vehicle? For the full sandbox-experience, yes. But it will be very difficult to do both vehicle and FPS action at the scale I would want them to be, so I could live with a vehicle only game. Still, tempting... The one thing I did like about Borderlands was how the world was big enough for driving to feel meaningful and yet the on-foot action was seamlessly integrated into it. There is some of that in Rage as well but Rage was mostly a game about scifi-dungeons separated by drivable wide-pipe levels. If I can have it, great. If not, I want an open world game of kick-ass vehicle-to-vehicle action (with the occasional pedestrian enemy you can spread across your windshield), extensive faction system and Action-RPG character development.
Finally, I would like there to be concrete changes to the setting as per faction success, so that if you advance the cause of a faction, the effects are real and immediately visible, like conquering other settlements. Even if the main storyline takes you into a single linear ending, your actions in the game world help determine different kinds of outcomes and futures. And it would never really end. Maybe the endgame would be turning your home settlement into a real Martian city, building an empire to rival the corporate and federal enclaves of the northern polar plains, with procedurally generated successively greater resources and sinks extending into the infinity.
So that is the AAA. But if I were a millionaire, I would still do the touchscreen version first. Do you think Rusty Horizons could make an interesting pen-and-paper RPG?

30-Jan-2013: Praedor Update
Come back with a sack of gold - it is a miracle
Come back alive - the expedition was a success
The fangs of the Nameless are luck
As for everything else - fate
Good news! Petri Hiltunen just put the next Praedor comic album back on the table, which means the Praedor Supplement is back on my agenda. No dates yet but I have a sneaking suspicion the album might be out next Christmas or early next year. Remember, this is my guess, not a promise from the author. No promises on the supplement either but it is next in line after the Stalker novel. I am planning to make it about as thick as the old Praedor comic book albums (read: not very thick) and right now it looks like there will be just three parts: The Book of Treasures, The Book of Witches and XXXXXXXXXXXX (damn, I hope I can lift this media blackout soon; right now I can't discuss it because it would spoil parts of the new comic).
I am really looking forward to the next Praedor comic album and not just because I know the story is badass. For the roleplaying game it is really the best possible kind of story because XX XXXXX XXX XXXXXXX XXXXXXX XXX XXXXXX XXX XXXXX. And it is not like there would have been much going on in the franchise over the last few years, so I am really happy about this. Now, if only I could get him to finish the story he started in the now extinct Jysäys magazine...
Hmm, how about FLOW/Miekkamies rules conversion for Praedor?
But yeah, the Stalker novel takes precedence. My progress is steady but irregular. Chapter 1 did get a pass from my spouse, so that's good news but whew! I've never turned down a book project in my life (although years ago one publisher of children's books took it that way for reasons I still don't understand; I though I was asking more information about their project goals and they must have somehow interpreted that as me being reluctant or something) and probably never will. But still, this is daunting! As an author, I am no visionary but an entertainer! I am a self-confessed pulp-writer that is too sickly to smoke a cigar and too chicken to give cheap bourbon a full and fair chance to ruin his life. And I am slow. I write a lot but it is always a million things. Those guys sweated out entire novellettes in a few days. The quality suffered on occasion but then again that is the hallmark of pulp literature, right? I am a wannabe but that pulp writer category is where I want to be.
Am I doing the franchise a disservice here? Will the Roadside Picnic fans put a price on my head because I am not up to the Strugatsky standards? I know that in a similar situation videogame fans would. Sometimes I feel like a winner, ready to tell the world that if they don't like it they can fuck right off. At other times I just feel the walls closing in on me. Either way, the die is cast. I can't write any better than to the best of my ability, so under these circumstances, an author never worries. :)

29-Jan-2013: Rusty Horizons
Nobody ever comments my blogs anymore (I am looking at you, IRC), so I don't know if I have any readers left. At the risk of losing the last two of them, I am returning to the Burger Games Studio for yet another fictitious videogame title. I have found that writing these out really helps me get them out of my system and alleviates the freelancer angst I wrote about two entries ago. I will probably keep spewing out these game concepts at irregular intervals, especially when I think they are any good. Hopefully I can some day return to them and make at least some of them reality. However, that is not on the agenda right now. Rusty Horizons was obviously inspired by my old concept "INFRA" but since I have actually sold that IP and game idea away (for real money, believe or not), we are not talking about strategy and browser games anymore. However, those of you familiar with that concept will probably be reminded of it here.
Rusty Horizons is a vehicle-based scifi action-RPG for tablets and mouse-controlled computers. The design here is for a middleware production quality but the concept would work in full 3D with real driving game physics if AAA budgets and resources were available. For now, I am envisioning a top-down sprite-based 2D or a 2.5D game (3D graphics for effect, top-down angle, gameplay takes place on a 2D plane).
So how do you do a full vehicle combat game control scheme for one finger on a touchscreen? With no interaction, the vehicle is stopped at the center of the screen. Touching the screen makes the vehicle turn and move into that direction. Doing this at speed creates swerving turns and other special effects depending on finger speed and the angle of the direction change. Speed is controlled by the distance between the vehicle and the finger. When moving into the same general direction for at least 4 seconds, the camera centre begins to drift ahead of the vehicle, showing the player more and more of the incoming terrain. Turning more than 45 degrees makes the camera drift back to the vehicle and since in a vehicle-to-vehicle dogfight there is a lot of swerving the camera is almost always centred on the vehicle. Taking your finger of the screen makes the vehicle decelerate and eventually stop without changing direction.
Your vehicle, called "rover" in Rusty Horizons, is armed. Turreted weapons shoot automatically at the closest enemy within a short radius. Body-mounted weapons have a longer range but only shoot in forward arc. They can overlap but generally the direction and width of the arc depends on the weapon mount location and weapon type. Light weapons give you wider angle of fire but do much less damage. In addition, if you manage to keep your centerline pointed at an enemy, after a few seconds you start stacking up a cumulative damage bonus. If you are good enough (and vehicle properties play a part here), you can take out seemingly impossible bosses this way. On the other hand, when attacking a land-train, the enemy vehicle moves in a straight line but has weak points you have to destroy. So you will be making runs towards the enemy vehicle and then turning away to avoid collision. The longer and more accurate your run is, the more damage you can inflict but moving in a straight line exposes you to enemy weaponry and land-trains can be bristling with long-range turrets.
Finally, some rover models have a rear mount. These can hold static mine layers, a turret dropper, rocket lobbers etc. The rear mount weapon is fired by tapping the screen. Droppables are drop off right then and there. Artillery and rockets are fired at the location the player tapped on and impact after a short flight time. There is usually an ammo limit or a cooldown to such attacks. And if you dropped a sentry turret, you have to pick it up afterwards but fighting around it will make dents into the enemy pretty quickly. However, combat is not the onlöy thing that can wreck you. You have to avoid boulders, sudden drops, quicksand, gravel-bearing tornadoes, electrical sandstorms, radiation bursts. All of these damage the vehicle and some of them can also slow you down, short your weapon systems for a while and can have any number of other nasty effects.
As they should. Because you are not in Kansas anymore. Rusty Horizons takes place on future Mars, partially terraformed so that the air pressure and gas composition on the northern polar depression is breathable. Most of the planetary surface is much higher up and the drop in pressure would make your blood boil. However, the Valles Marineris canyon cuts deep into the equatorial highlands and the bottom is low enough for the air. 3000 kilometres long, at times hundreds of kilometres wide and surrounded on both sides by an 8-kilometre cliff, the canyon is now the new Martian frontier.
While the polar sectors are becoming civilized and have been claimed in turn by the Earth Federal and the Corporate States, the Valles Marineris canyon remains a hotbed of rebellion, dissidence and banditry. Yet as the canyon cuts eight kilometres deep into the Martian bedrock, it has proven to be a treasure trove of minerals, clatrates, fusion isotopes and even remnants of ancient Martian life. Federal agents and corporate spies mingle with the jetsam and flotsam of bartertowns. Bandit gangs spy on indie mining camps and ambush the huge landtrains travelling in between them. Some of the colonies here either cling to their Earth nation pasts or are rabidly isolationist. Finally there are rumors of mutant cults, who believe in the resurrection of an alien civilization and seek to fuse the human genome with whatever they can scrape off from fossilized samples of alien life. Some say even the corporations are looking into it.
At the centre of Valles Marineris is a bulge formed by the three great basins of Melas Chasma, Candor Chasma and Ophir Chasma. They would roughly fit inside a 600 x 600 kilometre square, with the rest of the canyon going on for a thousand kilometres on either side. This area is the playfield of Rusty Horizons: a huge level handpainted from satellite images and dotted with interesting locations, towns, enemy encounter zones, natural hazard areas and so on. There are huge plains where the player can reach exhilarating speeds; there are narrow gulchs and serpentine roads calling for skillful driving; the are travelling merchants and massive landtrains playing their trade between these locations, there is a "wildlife" system of NPC factions and the player can stumble into wild battles between rovers from the Red Star Rebels and the Corporate Mercenaries. Yeah, Rusty Horizons is a top-down arcade-style vehicle shooter but it is so heavily on steroids it will need a liver transplant.
There is a story to all this, one that I would also like to publish as a novel some day. However, you can also focus on inter-settlement trade or prospecting natural resources (and scavenging unnatural ones) from the canyon. You can try rebuilding your home settlement. You can gain special abilities from special quests as rover masters teach you their secrets. You can research high-tech loot to uncover the mysteries of federal, corporate or even mutant cult technology. The multiplayer component exist in the bigger towns, where you can challenge other players into duels, team duels and all-out death matches on Rusty Arenas (PVP victories have all the benefits of high-risk quests and if players choose to cooperate to abuse the system, so be it). If it turns out that real-time duelling is impossible because of latency issues, ghost duels (the vehicle is from another player, the controls are AI) and ladder matches (defeat successively more difficult NPCs and compete on the challenge ranks board) are used instead.
The graphical style is best described as "mature cartoon" or "western anime". There are no animated cutscenes but the story is carried forward by comic strips. Heck, even visiting a town can be a comic strip with interactive panels representing different locations. It is too bad that most people play iPad games without sound because this game screams for music and sound effects.
As for monetization, Rusty Horizons poses a delicious dilemma: It is rife with micropayment opportunities. So rife, in fact, that even I find it hard to resist. However, it is largely a single player game and there exists some debate on whether micropayment systems can be used in single player games. Apparently, EA is going to take a plunge with Dead Space 3 though, so it is possible. I would dare myself to use freemium model with Rusty Horizons as well. I would, however, take special care not be a dick about it. This is a professional weakness on my part. One reason why micropayment systems can be so succesful is intrusiveness, the way they and the obstacles they help you to get around are so much in your face. I find that... impolite towards the player and it does drive some customers away.
Further expansions to the game would obviously include new questlines, vehicle packs and even territories. Noctis Labyrinthis - The Labyrinth of Night - at the western end of of the canyon looks like it was made for mutant cult hideouts and remnants of a long-lost alien culture (I love John Carpenter's Ghosts of Mars...). Perhaps a more comprehensive multiplayer component could be added at a later date, such as cooperative multiplayer? The possibilities are as endless as they are enticing. And remember this? Auto Assault never had anything like this trailer in the actual game. But Rusty Horizons could have.
Whew! I would really like to make this game. I would really like to try out that car... sorry, "rover" combat mechanic. I would really like to explore this setting. But now that it is written out, maybe it will leave me alone for a while.
P.S.
Okay, I have three readers and they wondered about the control model and whether the player hand obscures too much of the screen. Since tracing the enemy with your finger is a fairly good tactic in this game, I don't see it becomig a problem and I am NOT adding a virtual D-pad like some pad games do. However, this is an issue I would love to test... Rusty Horizons will not work on iPhones. This game requires a larger screen than that. It would work in a browser game window, though.

27-Jan-2013: Pocket Trove
Here we go, another hypothetical game from Burger Games Studio. And no, I am not concerned over someone stealing these ideas. Ideas are dime a dozen anyway.
Pocket Trove is a fantasy quickie for iOS devices. You create a fantasy adventurer from all the usual tropes (warrior/rogue/wizard), then click on the city gate to learn what kind of dangerous locations wait you outside the city walls (essentially a location-based questlist). Usually there are three, representing low, medium and high danger/rewards. You click the one you want to go to and see the door into the location (ruined temple, cursed woods etc.) open in front of you. Instead of moving through a dungeon, the location is presented a series of encounters. These include but are not limited to:
Monster or several, of a species determined by the location lists
A trap of some sort
Some rubble that you can either bypass or clear out (chance of a monster or a treasure chest underneath).
A random loot item
Scribbled hints of dangers ahead
A fork, presenting two monster encounters you can choose from
Well, lair etc. presenting a tougher-than-most monster encounter that you can bypass or choose to take on because they always have special treasures.
After a number of these encounters (usually randomized within limits) the player comes up against the dungeon boss and the inevitable final encounter will ensue. The lesser fights have been balanced so that the player is likely to win any individual encounter. However, they are still likely to cost him some stamina and are progressively more difficult. The player can choose to return to town after any fight or challenge, keeping everything he has looted thus far, or keep going at the risk of losing everything upon death (which means that other adventurers found him badly wounded and brought him back to the town temple; there is no real death). However, all experience from resolved challenges, combat and otherwise, is his to keep in both cases.
Now, combat shows the player character face, essential stats and the monsters facing him, hopefully with some simple attack animations. Both the character and the enemies have weapon speeds to determine attack frequency and the base combat is handled automatically according to numerical variables and randomization. The player can access class- and weapon-specific special moves, as well as an inventory of potions, charms and power-ups. They are used by tapping on them but once used, there is a cooldown time until an object of the same category can be used again.
However, the real meat of the combat are the enemy weakpoints. If balanced properly, a combat encounter takes around 30 seconds. During that time, enemy weak points appear and disappear, indicated as circles on top of the enemy sprite. They have a rapidly diminishing damage multipliers listed on them and when tapped, the enemy takes an extra hit with the specified damage value, so tapping the weak points as quickly as possible can help take down even a superior enemy. There are combo bonuses for repeated high-damage taps and the weak point effects can also be tied to enemy skills. More patterns can be added to the weak point system, like if doing a good enough combo, it gives you the opportunity to disable an enemy special attack for good. Think putting out the eyes of a Medusa or cutting an extra fire valve into a dragon's throat and you are pretty close. Sometimes there are alternatives to fighting. Some creatures can be bribed. Or, if you have a good rogue, you can try sneaking past and perhaps even steal something in the process. A wizard can lay some spells on some enemies and a rogue or a warrior with the right skills can attempt to sneak up on the enemy for a devastating ambush.
Ideally, there should also be simple minigames for resolving traps and other kinds of challenges but in a pinch a probability checks based on skills and circumstances will do. For that matter I would also like to have the enemy sprite to react to weak point impacts. However, blood splashes with damage value indicators will probably have to do. And yeah, a world map would be nice too but most likely the gate screen will show a list of location icons and names that you can tap for access.
Once successfully back in town, the player is informed of his total loot and experience gains. If he levels up, he gets to pick a new skill. With enough gold he can also buy skill upgrades from specialist trainers. Much of the loot is exchanged to gold automatically (you find a gold statue as loot and it then converts to 50 gold once back in town). Gold can also be used to repair and upgrade equipment (you can buy stuff in the stores but eventually most gear will be from upgraded "purplez", if you catch my drift). Gold can also be traded for XP at a lousy exchange rate, forming an infinite gold sink even if you already have everything else in the game.
As for multiplayer, the player can check the town tavern for other characters whose players are not using them right now. You can hire them to accompany you until they are killed off or you end the game session. They use their current weapons and you have access to their special actions but only your own inventory is available. There are also NPCs around but player characters will always have better gear and special attacks. Likewise, while you are not in the game, your character is also available to others. If chosen, you get a share of the gold and XP the hiring player has earned on his adventures. So, in theory you can level up without doing anything, except that characters whose player has not been active in a week are removed from the multiplayer pool (and there may be other restrictions). You can have up to two companions and many of the dungeon end bosses require a full team to put down.
Technically, Pocket Trove can be open-ended. The balancing algorithms can extrapolate things into the eternity and new skills with roman numerals can be added as needed. However, I would love there to be a story and have some of the locations singled out as storyline events. Completing them would take the events forward in sync with the player's level. Perhaps after the storyline has been completed, the player can lay claim to the endgame locations he has overcome and compete with other "lord-level characters" over various titles and multiplayer achievements. Oh yes, there needs to be an achievement system, and some bonuses and skills are only available via achievements. Future expansions to the game could add more content; location types, skills, items, storyline, monsters, the types of challenges and so forth. Pocket Trove - The Elven Legacy to introduce Elven Warrior/Rogue/Wizard characters and a related storyline open also to old PT characters. Pocket Trove - Dwarf Kingdom to help some dwarves to build and expand their underground holdings etc.
It is professionally unwise for me to confess that I am not really that big of a fan of micropayments. Obviously, this is where the world is going and having seen the financials of more than one game a few good whales would be godsent. However, personally, I would prefer the Angry Birds pricing model. You get the game with a low one-time purchase and the future expansions and additions are their own one-time purchases, even if in this case the user accounts, characters and achievements are linked across all PT titles.
Yeah, so that's Pocket Trove. The next best thing to a Pink Unicorn.

26-Jan-2013: The Hopeless Romantic
Yesterday, I had three back-to-back meetings, two of them with prospective clients. I expect both of them to pay off, albeit not at equal odds. But whether they do or not, they did drive one painful point home. I have been a freelance game designer for a year-and-a-half now and I thought I was doing a good job. Yet, I have to go as far back as to Crown of Byzantus or HodiHodi (edutainment title for the Ministry of Foreign Affairs) to find a released game that I can point at and say "yeah, I totally designed that". I make money on doing analyses and re-designs of existing products, helping clients to make product pitches to third parties, working on pre-production and production stages of games still in stealth mode, chipping in to help with work overflows and documentation issues, or being contracted to design potentially high-profile stuff where the NDA comes with a bullet taped to it so that I can shoot myself the moment my involvement is revealed.
In short, all I have to show for the past 18 months is money. And for all the perks of freelancing, I suddenly find myself envying the in-house game designers. I am old but in this one regard I remain far from cynical. Despite what my colleagues are saying, I have retained my romanticized view of the industry and feel that there is true glamour in being a professional game designer. I am just as giddy to be working in it today as I was on my first day at Sumea almost nine years ago to a day. However, there is also glory to be had; the glory and rush of having your title released, especially when it is a title you can take personal pride in. By becoming a freelance game designer I have traded my glory for gold and now I wonder if the trade was really worth it.
I guess the jury is still out there.
Next, a teaser from Petri Hiltunen (from the Praedor Group in Facebook):
: Albumin nimi on "Praedor: Taivaan Suuri Susi." Se on Kadirin (Leijona & Perhonen) titteli, kun hän johtaa vuoristolaisensa sotaan Jaconian sivistyneitä kansoja vastaan. Sivulla neljä tussaamassa. Mutta sivuja taitaa tulla lähemmäs 150.
And finally a teaser from my very own Stalker novel The Hollow Pilgrim (working title - I guess the final title would have to have Roadside Picnic in there somewhere).
"Actually...", Grey said, struggling to find the right words. "The whole facility should be panicking right about now. Our temporal bubble branched off from their space-time continuity and became its own little pocket universe. Or in layman's terms, I made you, myself and everything else in this room vanish from Paris La Sante. Instead of the White Room they are looking at a hole in the universe."
Moncke stared at him as if he could not believe what he was hearing.
"How the hell are you going to talk your way out of that?" He finally blurted out.
"When I stop the Pendulum the bubble bursts, dumping us right back into the space-time coordinates it branched off. As far as that universe is considered the branching never happens. But any events made inside the bubble remain in effect, so we will know better."
Moncke squinted and was clearly trying to wrap his head around the whole idea. "But if the future outside the bubble has already happened and you return to an earlier point, you change the course of events. Aren't you... creating a new dimension or something?"
"Possibly", Grey admitted with a shrug. "But I won't be in it, so I don't care. And neither will you."

17-Jan-2013: A Week Already?
Sheesh! Time sure flies when you have something to do. Contracts are finally starting to come in, which is nice but my two big time sinks have been my return to a fully-modded Fallout: New Vegas (whose sins are all forgiven - I may actually find it difficult to return to Skyrim after this last jaunt) and writing my Stalker novel with FocusWriter, an excellent tool to help you concentrate on your writing and nothing but writing. Hint: I know all you would try find inspiration genre pictures as background images on that thing but trust me, whatever you write, use a Zen-type of background image with cool colors that does not grab your attention. I also typically put something light but etheric or ambient on Live365 on the background and start typing. Frankly, I am not a very efficient novellist, especially when writing in a foreign language, since I tend to write the same scenes over three or four times before moving on.
Oh yeah, I also played Far Cry 3 through. I guess this means I have to re-rate it to +1 but really, the game is a monument to missed opportunities. I don't understand how it can possibly score so well in commercial reviews.
Stalker RPG has sold very well over the past 30 days. I thought the PDF sales had a peak to them just before Christmas but that peak was absolutely dwarfed by the zerg rush of the January post-New Year sale. In the process, Stalker RPG was promoted to an Electrum Bestseller! Woohoo! Just ten downloads to go and Stalker RPG in both languages will have actually sold as much or more than Praedor. Now that the January sale on drivethrurpg.com is over, I have cut the price of the print version on lulu.com. It is a long shot but if anyone who bought the PDF for cheap wants to get their hands on the dead wood edition, they can now do it for just $19.90. I was just asked if Stalker RPG makes a good reading even if the reader is not a roleplayer. My answer would be yes; the rules system is so light it takes up very little space and there is a ton of fluff and setting material. You can treat the book as a factbook, gazetteer or even a collection of Stalker-related essays. IMNSHO, of course. I am biased ;)
The question of my dream game just does not leave me alone. Upping the budget, I began to think what would I do with an AA-budget of, let's say, a million or so. The answer is simple:
We've been at it for a long time. Couple of years ago I thought we were within sight of our goal but my faith in garage development has taken a beating since then. Still, we are at it and I, ever a cyberpunk fan (did you see this), still think HAX is a cool concept. If the resourcing issues were resolved (essentially I would have programmer slaves), the game would actually be a highly stylized (think Darwinia meets the DXHR hacking sequences) adventure-RTS game with two-dimensional gameplay but rudimentary (and thus also ageless) 3D graphics. What we want to do and what we actually can achieve have been drifting apart over the years but basically, I want to create a virtual representation of a Neuromancer-style computer network where shit happens. Basically, it is a dynamic, even living system that runs by itself until hackers (players) start throwing wrenches into works. Think of submarine simulators: you have the convoy doing its thing and the dozens of ships involved are interacting in a controlled manner. Then player intervenes with his submarine and throws the system into chaos, from which it then tries to recover, while the player benefits from being able to keep it off-balance for as long as possible.
Here you go, one of our original inspirations.
Red Projekt released a teaser of their upcoming Cyberpunk 2077 game and sure enough, we are all drooling. But, I also have had some red flags come up. One of the problems with the original CP2020 was that while very atmospheric and clever, the game had such a heavy emphasis on combat that many players treated it as a futuristic urban warfare roleplaying game. I may dislike the fantasy elements in Shadowrun but I have to admit they nailed the whole cyberpunk subculture thing much better. Now the trailer, which basicly shows the C-SWAT gunning down a full-body cyborg seems to falling into the same urban warfare trap. Sure, my favourite cyberpunk game can include shooting. But like DXHR demonstrated, it can't be all about shooting. Give me some cool netrunning stuff, pretty please?

10-Jan-2013: Miekkamies CRPG
I was at the IGDA (International Game Developers' Association) monthly meeting yesterday and really, Samuli Syvähuoko from Recoil Games should get a medal for his ceaseless networking aggregation. There were less people around than in years (not in "ever", since I've been there since 2004 when it was still a Games Industry Pub Night). Anyway, think of it as spheres of different kinds of people and gaming-related interests. Then imagine Samuli as a spider that is not weaving a web to entrap them (or maybe he is and I am just too stupid to notice...) but to link the parties together in the most productive way possible. Come on, the Finland chapter of IGDA, either pay the man something or ask him to teach you his secrets. For me, this was the busiest IGDA meet I've ever been to.
Perhaps because the IGDA meet was so nice and HAX is stuck in the programmer queue, I began thinking of a computer RPG based on Miekkamies. Something simple and intuitive that would run on almost any platform. I would probably start with the browser, make the interface touch-screen friendly and do some designer magic to fit the same content on mobile screens as well (some people just blow up mobile screens to pad size or vice versa but that won't fly with me). Actually, I was asked at the IGDA meeting if I wanted to make my own game. Well, I do. But after thinking about this for a while, I had to admit that at present my goals for my "dream game" are surprisingly modest. I don't know if this is because of lack of ambition or because I actually know something about making these things.
I love maps. I really, really, love maps. The playing board, so to speak, would be an artist-rendered map of a specific realm in Arleon. I was initially thinking about the southern have of Tynshae, my Elizabethan-style fantasy Britain, with civilization in the south and Fantasy Scotland in the mountains up north, towards the Bay of Relgia. To allow suficient detail and spacing, they would be divided into screens, named according to the counties and you would move from screen to screen as your character or party crossed the screen edge. Those of you who have played Crown of Byzantus know what I mean. Each screen would have a number of fixed adventure locations of differing difficulty, some of them open, some of them locked. There would also be randomly occurring adventure opportunities, such as bandit attacks on the road, or marauding monsters in the fields of a village. The locked locations would form the core of one or more storylines, while the rest would be part of sidequests or targets of opportunity.
Here is a (sort) of example of a map-based world from Puzzle Quest.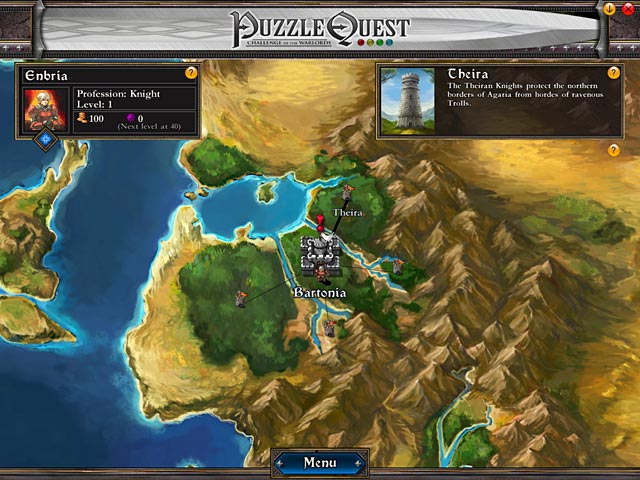 This kind of structure is very scalable. New releases would simply mean adding new screens and locations, expanding the game world beyond the borders of Tynshae. Just like with my dream RPG, I would like the game screen have the appearance of a richly decorated book. Every time the game state changes, it would turn a page to open a new screen. Pop-up actions would appear as playing cards on top of the play area, again with pictures of the events as they unfold. Of course, having the map is basically immersion candy: the mobile version would need the county name, movement links to adjacent counties and an interactive list of active hotspots within this county. This is nothing a mobile screen can't handle.
Although many actions here seem to happen in real-time, this is effectively a turn-based game. My cherished (and seriously award-winning) magnum opus of mobile game design Wolf Moon, had a simple but elegant system where combat encounter would appear as enem y icons on top of the view. You would choose the weapon or special item to use and the weapon would inflict its damage value in hits on the targets. For example, facing three hunters with 2 hits each, a rifle with a damage value would gun down first two (their icons became riddled with bullet holes) and would the last one (a single bullet hole) but that last enemy would then inflict damage on you (bullet holes on the mobile phone screen). Another turn, another weapon choice. The amount of damage depended both on weapons and surroundings: firearms for daylight and open spaces, knives, or God forbid, the chainsaw, for the dark of night, deep woods and interior spaces. There were also special items: explosives, meat to distract predators or hunting dogs, silver to make special bullets out of and Native American idols to distract werewolves and their allies.
Wielding a knife in the woods and there are only two one-hit hunters? Janet will probably win this one in the very first round.
In Miekkamies CRPG the system would be more compex with skills, the element of surprise, more variety on weapon and damage types, magical bonuses, special moves etc. but they would build on the same core principle, making it easy to use and understand. There would also be the option to avoid or even rob some of the targets, if your stealth was up to the task. Besides enemies, there would also be traps, puzzles (hopefully as skill-influenced minigames), locked treasure chests and small scenario opportunities. Not every encounter is a threat, though. Enter a village or town and you would see the street view and icons for different services available. Somebody talks to you and there would be a picture of his head as part of the pop-up, with action options highlighted. Voice-acting is a bit much to wish for, especially since browser and mobile games tend to be played at work or in public spaces without a sound (music and some basic effects are available as options, naturally). Storyline-events or "cutscenes" could be executed as painted images, much like when reading a webcomic.
Finally, the multiplayer aspects. This is a single player game and I hate moderating idiots, so either there is no chat option, or there is but anyone who gets 10 ignores is henceforth muted to everybody. At taverns, you can recruit the characters of other players at the same or nearby level and they stay in the party until they die, you let them go, the session ends or the level difference becomes too great. In exchange they gain experience and a share of looted gold. For example, if your character has been recruited, you would be notified of this when logging in and see the extra gold and XP you have collected. Grouping would be a great way to take out epic monsters; if the maximum damage a character can inflict in one turn is about 25, these critters would have 200 hits or more. On the other hand, you can go solo and try to sneak past it to steal its treasure (or perhaps even risk a backstabbing attack with humongous damage bonuses).
It is easier to talk about combat mechanics than social mechanics. Also, browser games are generally thought to be light on content. But this is a massively single player game and although the content would be easy to make, there would be a lot of it. Fallout: New Vegas sets good benchmark on how to make all sorts of skills and activities relevant. A swashbuckling adventure would call for anything from acrobatics (e.g. to reach certain places) to sweet-talking. One of the great strengths of FNV is that all solutions are rewarded, so there is no strong incentive kill everything that moves (unless you are attacked first, which happens fairly often).
The amount of content would also determine the monetization model. Personally, I am not a big fan of micropayments (professionally I am, given how Supercell turned a time-lock system into a Horn of Plenty). If the game would have sufficient amount of content in its webcomic storylines and sidequests, asking money upfront and then allowing the player do as he pleases would be an option. If not, player actions would have to be curtailed with an energy system (let's call it Fate) and certain activities would have time costs on them. Energy refills and time cost negations would be available for money. Do you know the concept of whales? In F2P world, a whale is a player who uses staggering amounts of money on a game. With Crown of Byzantus, whales represented perhaps 1% of the player base but they brought half of the revenue. Micropayment economy makes whales possible; the struggle is in getting the rest to pay something.
How do I conclude a blog entry like this? I could go on for hours on small stuff and details, even if they are right now just a whirlwind in my head. I guess it is best to pull the plug when I still can, so I won't be too bitter when my dream game never becomes reality. Too hardcore, too retro, too much content for a non-AAA game... yeah. But I can still dream, can't I?

06-Jan-2013: ...And A Snag
I just saw The Hobbit and contrary to my expectations, I loved it. Specifically, I loved all the things it has been criticized for; the slow start, the songs, the bits with Radagast (hell, Dol Guldur could have been from Praedor), the cameos and the dragging out the whole thing to three hours so you can discuss things like the history of Azog (*spoiler* he really died at the gates of Moria and his son is supposed to lead the orcs in the Battle of the Five Armies *spoiler* but having him around actually gives the orcs and goblins a society, which is real neat). And the Rock Giants! That scene is actually in the novel but I was sure they would be given the Tom Bombadil treatment (outright omission). But they were there! And they were awesome! Next I am going to go see it in less-headache-inducing 2D and after that all I can do is wait for the next part with hands shaking.
I don't know how much you can get out of it if you have not been raised with a diet of Tolkien and Corn Flakes like I was but holy moley! The movie gave me such a rush that I am outright euphoric. Unfortunately, the last thing I need right now is a fantasy high because I am just about to start writing the Stalker novel. But it can't be helped. Maybe I ought to give it a few days and see if I can catch my breath again.
Oh yes. I have one point of critique: far too many chase scenes and often end-to-end at that. Breaks down the pacing and dilutes the dramatics when it goes on too long.
*Whew*
Things are somewhat less euphoric on the Miekkamies front. Just as I thought I had the system issue resolved, I hit a snag with the character concept. In short, I haven't been able to give a satisfactory answer to the question of what is the definition of an adventurer in Arleon during the early years of the 8th Dynasty.
I tried the obvious "free-roaming-band-of-misfits" approach and ended up with praedors, more or less. The Baroque Era society is just as complex as the Jaconian late-medieval-Imperial-China hybrid. That kind of rigid social order does not stomach landless adventurers all that well, so they form their own social class, a Foreign Legion of sorts that anyone can join. An absolutely murderous attrition rate makes sure that those who are left are suitably heroic individuals and in the end those who make it finally return to the normal society and climb as high as their treasures allow. Vanha Koira settles down in the small town of Taxos deep in the Great Forests, marries into a Forest Folk clan and opens a kick-ass inn.
I really like the freedom that approach provides and I love to play out the scenes where everyday social norms clash with the independent nature of the praedor subculture. It would also work as a social mechanic for the world as a whole. The snag is that it does not fit the swashbuckling/Baroque Fantasy genre. I remember thinking about this already with the original Miekkamies but sort of glossed over it in the actual rulebook. I don't do gloss-overs anymore, so there needs to be a clear, concise adventurer concept. Players don't have to follow it, of course, but just like in Praedor, they need to at least understand what they are deviating from.
My next attempt was to shamelessly copy my sources, including Solomon Kane, who thinks himself a servant of God to a masochistic extent. Basically, in most fiction set in this era the protagonist is a a champion of a faction and while he may betray or be betrayed by his masters, this usually means switching factions rather than going independent. Having the support of the faction means being at least partially above the law but also having a bunch of default enemies and rivals besides his personal ones. And I just don't plain like it, unless you are doing a war-themed roleplaying game. Somehow Vampire made the whole clan bullshit work but I wasn't a big fan of that either.
I am wondering... am I making a mistake in trying to set the new Miekkamies into the break-up period of the Delorian Empire? Maybe the original setting, where the Imperial provinces have established themselves as sovereign states and the Empire is basically a mixture of nostalgia and the Papal States would work better after all?

31-Dec-2012: It's All In The Flow
Oh bollocks.
Being a lone wolf RPG author writing big stand-alone RPGs without the support or extension of a product family pre-supposes that your every new game will be better than the last one. You are supposed to learn from past mistakes, build on past innovations and incorporate new and exciting ideas into your design. Looking back at your portfolio, there should be a continuity of ideas stretching all the way back to that pile of graph paper you sketched out your first laser pistol stats on back in the mid-80'ies. And no, having a damage roll of 1D100 was not and still isn't a good idea.
That's how I thought it would go, ever upwards. And for 14 years it did. For all its faults, Taiga was an improvement over Miekkamies. Mobsters nailed its concept and riveted its audience even better than its post-holocaust predecessor. Praedor was not only a commercial success but brought the entire Finnish RPG writing scene back from the dead. So, to top that the next game would have to be something really, really special. Something like five years in the making and an amalgamation of everything I knew, learned and loved about pen-and-paper roleplaying. And as Murphy would have it, I actually pulled it off.
Whatever I do now, whatever I will ever write, it will always be overshadowed by STALKER - The Scifi Roleplaying Game. I've raised my own bar so high I can't even see it anymore. To make matters worse, I love that game. Even I, a self-deprecating drama queen, think it is a fist-sized diamond. I can't touch it without shivers running up my spine. I can't look at the cover without wanting to open it. When tucked away in the bookshelf it whispers to me, loud enough to keep me awake at nights. When travelling abroad, it reaches out to me and shows me visions of the Zone in whatever city I am in. I guess once you have been to the Zone you can never truly leave.
As far as later RPG design goes, I feel like a mouse caught in trap. For the past three years everything else I've tried has eventually started to feel like crap, or to taste like ashes to use a more colourful metaphor. Praedor was and still is a very good roleplaying game but I could not write it again. I have FLOW all over my fingers and it is damn sticky. I have hard time thinking outside this box... or returning to the box FLOW let me out of. Maybe it is an age thing. Or perhaps after gamemastering for 30 years I just can't bring myself to care about trivial bullshit. Good thing that Mike took it upon himself to write the perfect newbie RPG. I can't do it. Not anymore. Not in the post-Stalker space-time continuum.
Thanks in no small part to the #praedor IRC-community, I've been revisiting Arleon/Miekkamies lately. Setting design is as fun as ever and I really enjoyed writing the Prehistory of Arleon -series for this blog. The new setting would be the aftermath of the Age of Darkfire. Badly mauled, the Delorian Empire is falling apart. Powerful princes, church sects, secret societies and chivalric orders are fighting for power, while slaveraiders, marauders and would-be conquerors are gathering beyond its borders like wolves circling a strong but bleeding prey.
It is the rules that have been a problem. My original idea was a simple dice pool but it perished at the claws of FLOW. My next attempt was a re-iteration of the Praedor system, a sort of Praedor Lite. Maybe FLOW had a role here too but I ultimately scrapped that because I didn't want to sell a game system using "Like Praedor But Worse" as a slogan. If you want Praedor, go play Praedor. I am running a campaign with it right now and even after 12 years it still kicks ass. But try as I might, the character focus in Miekkamies 2.0 is not as laser-sharp as in Praedor. Also, the Baroque Society of the Delorian Empire is infinitely more complex than the high/late-medieval Jaconia. Would I have to go full Harnmaster on character creation? Or is there a way to skip the whole problem?
So, here we go:
At character creation, you get to choose 10 abilities representing your character through three stages of life. The default ability die is D6, but you can boost one up to D8 if you drop another to just D4. You can also improve on these ability levels later on. For every ability, you must also pick a drawback, usually related to the circumstances where the ability was learned. Most of the time these are used as roleplaying guidelines and to help define the character's personality. However, they can also include numeric disadvantages or adverse-effect adventure seeds. Finally, your attribute bonus is half of the number of abilities chosen from that attribute. This is usually 0, +1 or +2, but you could theoretically go as high as +5.
To beat a challenge, you roll the Action Die (D4...D12) + relevant Attribute value. The level of the action die is decided by your idea, strategy, engagement, roleplaying, presentation and perhaps party support. Add the relevant attribute bonus to the roll result and that is default roll in the game. The objective of the roll is to reach or exceed the difficulty threshold (3,6, intervals of 3 up to 30) and for every additional threshold reached there is an added benefit, or an additional enemy taken out of the fight.
Now, if you also have an ability that is related to the task at hand (even a quite outlandish ability may work if your strategy matches it), you can add the respective Ability die to the roll. With a roll average of 3.5 (or more), the ability die usually pushes the result up by one or two difficulty thresholds. If the target threshold is still beyond reach or you simply want to play it safe, you can also burn an attribute point for an automatic low-level success (or at least some measurable progress) in the task at hand. These points are restored om between game sessions.
In combat, the objective is to devise a strategy or tactic to defeat the enemy represented by a difficulty threshold. That threshold changes up and down a step for every positive or negative circumstance (such as armaments). If you reach the enemy threshold, you achieved your goal (whether it was to enrage him with insults or skewering him with your rapier). If you failed, the enemy achieves his. If it was bodily harm, you'll have to burn a point of Physique to negate the effects, or you'll feel the full force of the injury. There are no rounds, initiatives or...
Wait a minute! Doesn't this sound oddly familiar?
Indeed it does! This rule system would not only be 100% FLOW compatible but the gamemaster could switch between diceless and diced resolutions at will during the play, thus resolving one of the underlying issues with Stalker RPG's rigid adherence to dicelessness. Also, based on both my personal observations from play and a good deal of feedback, even hardline-old-schoolers are quite okay with using diceless resolution against inanimate objects or abstract challenges. However, they still prefer using dice in encounters with living/animate entities (read: competition and combat).
Yep, a diced conversion for FLOW. I think I finally cracked it. In theory, the diced version has higher resolution because of the varying ability die levels but this can be compensated for with the Roleplaying Variable in FLOW proper.

28-Dec-2012: My Mojave
Before we bid 2012 goodbye, I want to apologize to a game I have bad-mouthed pretty much ever since it came out: Fallout New Vegas. True, there are some core flaws here, the main one being getting the genre wrong and the second one being the lousy DLCs. Honestly, everything except Old World Blues is shit and even OWB does not hold a candle to the DLCs of Fallout 3. But to give credit where it is due, the FNV has the best world design (okay, Skyrim comes close) and by far the best writing (honestly, no contest here) of all Bethesda games I've laid my hands on since Future Shock. The world feels real even beyond its playable borders and the storylines are relevant, twisting and respond quite well to player choice.
And as for wrong genre and stuff, well, that is what the modding community is for. I am playing FNV with a bundle of mods, many of them new content and gameplay tweaks. Although these mods have made an already notoriously wobbly game about as stable as an Israeli-Palestinian peace treaty, I am having so much fun now that FNV is slowly overtaking FO3 on my all-time favourite list. But seriously, the next mod I will install has to be an autosaver that will automatically quicksave every 10 minutes in addition to the default. This is a fucking crashfest. You have been warned.
Before I list the mods, I want to bring up three of them.
The first and foremost on my mod list is Project Nevada. It is a big-ass mod that adds things, removes things, rewrites the game rules and rebalances the game difficulty. I don't know who the writers are but they've pulled off an impossible feat here. Levelling and skills feel both more and less relevant than ever. Any firefight is a wicked challenge; any battle you go to without a plan is likely to be your last. Your hit points are static so you'll never become a god and if the enemy has superior numbers, you'll better have superior location and tactics or it is over. This often makes the game more difficult (the actual mechanics are highly configurable through an interface launched from the main menu) while retaining the sense of progression and that I am still playing an RPG. If I made an open-world RPG based on Praedor, this is the kind of balance curve I'd want.
Skyrim, take note! (Although I have yet to try the dreaded Skyrim: Requiem mod).
World of Pain is my second reason to live. If the devs fucked up the genre, the modders un-fucked it with WoP. This mod adds a huge number of locations into the game and I was absolutely delighted to find *CENSORED* which alone add dozens of hours of content. All of these have their own and unique stories, sometimes as tidbits of info you can find, or as breadcrumbs that lead you to special rewards, or even outright quests. They usually don't have voice-acting, so turn on your general dialogue subtitles. The modders have become just as good at level design as the original devs but unlike the devs, they aren't afraid to experiment with smoke, fog, elements or just plain old darkness. Being forced to rely on the limited range of your Pip-Boy light is really unnerving and when you suddenly hear ghouls screech in the dark it is almost a laundry day on the spot! The Glowing Ones will be giving me nightmares for weeks to come.
My third highlight HAS VOICE-ACTING and superb one at that. New Vegas Bounties comes in two sets and turn you into a gunslinging bounty hunter straight out of a Spaghetti Western. The first set launches you onto an epic adventure with dozens of quests advancing the storyline, while the second creates Radiant-style bounty hunting missions ad infinitum and with infinitely more variety than in Skyrim (did anyone else feel the much touted Radiant quest system was a bit of a letdown?). Both mods are superbly voice-acted and introduce interesting characters and truly heinous villains. My one gripe with NVB is that especially the adventure part tends to drop you into the middle of lethal ambushes and the rebalancing from Project Nevada then turns them into death traps. There is no shame in god-moding every once in a while, especially if you are playing a sneaky sniper/assassin-type of character like I am.
Finally, a note about Fellout. This mod removes the coloured haze and some ambient lighting from the new Fallout games, green in FO3, red in FNV. I tried it in Fallout 3 and hated it. Removing the haze from Capital Wasteland removes all sense of being in a sun-baked, parched waste where a bottle of water is a prize worth killing for. So, only with plenty of doubt and prejucide, I finally gave it a try in FNV. Surprisingly, it un-craps the visuals. Removing the haze made Mojave Desert look like a parched waste with fiercely clear skies and air where you can see for miles and miles. Especially the effect of distant mountains on the horizon is breath-taking (were those things actually there in the default FNV?). I'd still like to have some heat haze but this is good enough and I find myself liking the visuals now. Maybe it won't have the same effect on you but since the vanilla FNV looks just plain bad, I thought you should know.
Now, modding Fallout: New Vegas (indeed, modding any game that does not have the Steam Workshop interface) is strictly for the members of the Glorious PC Gamer Master Race. Virtually any larger mod requires that you launch it with the New Vegas Script Extender. I suspect NVSE has a role in the frequent crashes, so any advice on how to counter that is welcome. I am also using Nexus Mod Manager, since all my mods come from nexusmods.com. I have a sneaking suspicion my 4GB Large Address Aware fix might not be working when launching via the mod manager. I'll have to test this some more.
My current mods are:
Yes, I will be adding more...

20-Dec-2012: Holidays!
The meeting I had yesterday was the last act of business for Burger Games in 2012. Unsurpisingly, 2012 has been the biggest fiscal year for Burger Games ever. It could have been bigger if everything had gone to plan, but it was big enough and a hard although not impossible act to follow in 2013, I am sure. Am I rolling in dough then? Not really. Taxes included, this is about as much I used to earn as a salary before going freelance. The real trick is that I have been working roughly 2 days a week to get it and no, the workload wasn't evenly distributed. I could probably make three times this much money if I could sell all my hours but from the looks of it, that is unlikely to happen. And I value my free time, thankyouverymuchforasking.
Right about now, Elinkeinoelämän Keskusliitto will be sending its kill-team after me because I am essentially downshifting while they are tightening the screws, cutting benefits and talking about lowering salaries all across the board (apart from their own). My only defence is that I am part of the entrepreneurial master race and thus above mere oppressible mortals as far as EK is concerned. In their wet dreams, everybody in Finland will be... wait, what, downshifting by both choice and circumstance like I am? Those guys don't know shit about economy, do they?
While EK and its very recent (and incredibly corrupt) government hire Kari Häkämies are trying disentangle their ideology from common sense, there is a new and interesting development regarding the Roadside Picnic IP. The German super-developer BitComposer claims to have acquired a license to S.T.A.L.K.E.R. videogame trilogy from the estate of Boris Strugatsky. Now, the whole point of naming the brand S.T.A.L.K.E.R. was to distance it from Roadside Picnic and GSC has always argued it was an original IP owned by them. Interestingly, BitComposer should also know better because they were the distributor for Call of Pripyat in parts of East Europe. Maybe they are disputing the status of GSC as the IP holder in favor of the Strugatskys, which would be very commendable? Or, they did not know what IP they were buying a license for, which would... make them... a bad target for investment, let's leave it at that.
After reducing the graphics settings so that Far Cry 3 began to look like tropics instead of DDR on a rainy day, I actually played it through. Took about 40 hours which makes it at least good value for money. The ground collision detection still gives me a headache, the crafting grind is terrible (but once done you rarely have to access the menus again, yay!) and after both new Fallouts and Skyrim it feels weird that exploration could be this boring. You can find absolutely nothing really relevant and even the Lost Letters storyline loses its appeal soon enough because it does not really go anywhere. In the end you are just rushing through the main storyline missions hoping the fucking thing will end at some point. I am upgrading its review rating to +1 because I did play it through but I won't be returning to Rook Island anytime soon.
Damn, that Jason Brody protagonist guy is an idiot. Doesn't he play any shooters back in the States? When you are infiltrating an enemy compound where the boss is hiding, you don't give away your position by talking smack!
This just in. THQ (once the fourth-biggest game publisher in the world) went under. No telling what this will do to the release of Metro: Last Light. My sincere hope is that it will do nothing.
Miekkamies has its own fanbase on the #praedor IRC-channel and they are reworking the map of Arleon. It is actually a very inspiring discussion to follow. I predict that Miekkamies and the Stalker Novel will be my big creative projects for 2013. You know, waiting in the sidelines and leaving the stage empty for Myrskyn Sankarit. It'd better be fucking awesome. Of course, if the next Praedor comic book would show some signs of life, the RPG supplement would do the same.
P.S.
Less than 24 hours to the end of the world.

13-Dec-2012: Far Cry 3 Tweaks
My great idol, Yahtzee of the Zero Punctuation, liked Far Cry 3. So, I grudgingly gave it another go but just to fuck with it, I dropped all visuals to low. The game did not run any faster but it looks BETTER!!! Also, something in that setup also greatly reduces the migraine-inducing head bobbing, and reducing the complexity of ground geometry makes the collision detection almost work! This greatly reduces the tendency to get stuck on door thresholds or simply trip over the bump-mapping on a dirt road.
But most interestingly, the game really looks better. It looks warm and sunny and tropical, the seas are of the right turquoise colour, the sand glows under the Sun... the environment still loses out to the original Far Cry but it is a big step into the right direction (and you can only achieve so much with a brain-dead Art Lead, I understand that). Now, if only the grind... sorry, crafting would be removed, the randomly (and endlessly) spawning enemies were fixed, the vehicle controls would not be asinine and the immersion-breaking stupidities that scream "this is a game" would vanish. Come on, play some S.T.A.L.K.E.R. or even Skyrim and see how it is done!
I also want to drown the high-end water texture artist in the blue waters of Tahiti. Then I would also like a belt made out of the skin of the PC port UI designer for Christmas. Honestly, how come I can configure walking controls for my left-handedness but the vehicle controls are fixed, even if they are the SAME bloody keys as the default walking controls? Why does there even have to be separate control schemes for walking and vehicles? Why... why... why..?
Far Cry 3, why U so stupid? It is now much improved but I still can't believe the glowing ratings this game got and it bodes ill for future open-world games.

12-Dec-2012: Against the Dark
I haven't done music compilations for a while. Now that we are well and truly in the Black Box, it is all too easy to let the dark seep into the soul as well. I am using music keep tiredness and melancholy at bay and for the most part it works. These are all unapologetic Pump-me Up and Feel-Good songs without depth or drama. But blaring them at an ear-shattering volume helps me get through the dark grey winter days. One day at a time.
So, here we go, the Top-10 Burger anti-depressants.
10. AC/DC: Anything Goes
What can I say? Listening to this is like bouncing on a trampoline made of candy. This is the only song I know that gives me sugar rush.
9. Mylene Farmer: Libertine (Metal Version)
The original song (and the video that actually inspired the FLOW game system) is part of the soundtrack of my life. But if I need an aural energy drink, this 1996 live version of Libertine works fine.
8. Motörhead: English Rose
Motörhead plays rock'n'roll but this is so old-school they could invide Elvis on stage. Listen to this long enough and London is beautiful, the English weather is warm, the English food is delicious and Lemmy is one sexy beast!
7. Rosvosektori: Onnellinen
No psychiatrist in the world can match this. I usually detest Rap but there are a few exceptions and this is one of them.The rest of that list is top-secret.
6. Iron Maiden: The Number of the Beast
Old-school Iron Maiden. Listening to this makes me feel young, healthy and handsome again. Unfortunately girls don't do big hair or ripped jeans anymore.
5. Motörhead: Christine
Lemmy does an ever better job at channeling Elvis. I want to comb my hair back with gel and drive a Cadillac. And lose 50 kilos so I can swing my hips...
4. Judas Priest: Devil's Child
The firstborn of Heavy Metal at its absolute best. If it takes selling my soul to Satan to recharge my mental batteries like this where do I sign?
3. Kiss: Lick it Up (2010 version)
I don't really like the new KISS. But the song is old and they scored a bullseye with the live performance. I actually wish I had been there.
2. AC/DC: Guns For Hire
Not a famous song, not one of their big hits... but the whole point of listening to AC/DC is to feel better and personally I think this is their best song ever.
1. Los Bastardos Finlandeses: Acapulco.
The strongest pill in my musical medicine cabinet. Take one of these and you are flying high! LBF is usually just a "good" band for me but this particular song made it into the soundtrack of my life.
A list like this changes over time as new songs are discovered and some of the oldies lose their charm. But I hope at least some of this will help you get through the Black Box. They are certainly helping me.

08-Dec-2012: Far Cry 3
The original Far Cry by CryTek is one of my all-time favourite shooters, although the difficulty curve could use some work. Their publisher back then, Ubisoft, grabbed the franchise and used someone else to put out the beautiful but otherwise mediocre Far Cry 2. Since adding token roleplaying elements and a badly designed open world made FC2 shit compared to FC1, Ubisoft then decided to go an extra mile into the same direction and TaDah! We have Far Cry 3, a shooter so loaded with token roleplaying elements it is actually in the neighbourhood of Skyrim. This must have worked since Eurogamer.net gave it a rating of 10/10 and named it the new "Apex predator of open-world shooters". What could go wrong?
My 50 euros, that's what! Far Cry 3 is an obnoxious turd!
It loses out to Far Cry 1 in every respect even before it shoots itself in the foot with the token RPG elements. The graphics are fucking horrible (I play mostly on Very High settings since Asus ROG 74S is still a monster of a gaming rig). The controls are stiff and the setup options are incomplete. The head wobble when moving is so exaggerated it is giving me a shrieking migraine. The HUD is plastered with non-dismissable pop-ups of practically everything between heaven and earth (oh well, at least it covers up the ugly-ass graphics) and the menu-based interface to crafting and shit is from the pits of hell. This is an open-world game but there is no quick-save option. And while you can tweak movement controls to suit my left-handedness, the vehicle controls are fixed into WASD! Who the fuck came up with that fucking stupid idea?
But first things first: this game is billed as a shooter, so lets start by looking at it like a shooter. The key element in any shooter is smooth movement, which basically means that if there are no obvious obstacles, you can go there. The controls are supposed to fade into the background as you go about on instinct, responding to the challenges of the gamerather than the shortcomings of the engine. This is absolutely botched in Far Cry 3. The head wobble makes me feel like a bobblehead doll dragged over a flight of stairs and my character gets hung up on or bumped by a myriad of mostly invisible obstacles. As a cherry on top the collision detection can't tell the difference between a wall and 10-centimeter first step, so climbing stairs is seriously gimped. And you can't clear this obstacle by jumping onto stairs either, because apparently they use different movement scripts and the game cannot switch from one to the other without dropping you onto the floor in between. Honestly, I had easier time scaling fences than climbing stairs!
Also, in shooters you usually get to shoot with something; mostly guns. Here the RPG elements come into play, gimping you at first so that you only have a single weapon slot (out of a majestic maximum of four) and can carry only a miniscule amount of ammunition around. Damage is nothing to write home about and I guess the enemy hit points ramp up because the perks have all sorts of weapon performance bonuses. I have yet to fight a combat scenario from any kind of respectable distance (oh gawd the long-distance terrain is ugly!!!) and I am fairly sure headshots have no discernible special effect on the enemy. Sneaking up on somebody enables you to do an instant take-down but other than that it does not matter where you hit. Besides, much of the hunting is done in tall grass anyway so anything standing lower than a human is always at a point-blank range.
You can "tag" visible enemies with a camera (FC1 had a similar mechanic using binoculars) but for some reason tagged enemies also become visible through walls and terrain obstacles and they have immersion-breaking icons hovering over their heads. As if the HUD wasn't too cluttered to begin with. Maybe the developers decided this was necessary because the minimap range, which also shows their position and facing, is absolutely pitiful. When NPCs speak, the lip-syncing is noticeably off. I've never seen such a thing in a shooter before.
Being a first-person-shooter is not enough. Far Cry 3 wants to be modern and thus be an action-RPG as well. I've never seen a shooter take the RPG elements so far. In the beginning you are pretty much shooting at rats but killing things and completing quests earns you Experience Points and these translate into skill points. You can use skill points to purchase what essentially amount to Perks from Skyrim. There are three different perk trees with 20+ perks each, so you are not going to run out anytime soon.
There is also crafting up the ass, as you can skin your animal kills and harvest several different types of plants. Instead of finding health kits and other common FPS loot, you pick flowers and turn them into syringes that heal you or give you special abilities (really special, are we sure the genre isn't magical realism?) for a limited duration. The crafting interface is a horrible mess, at least on a PC. Maybe the console-gaming master race gets some kind of VIP treatment here? You can also find random loot that trades for cash in the village stores. By the way, since my inventory space is limited, can someone tell me what I am supposed to do with Komodo Dragon skins? They are crafting resources so they can't be sold but there is nothing on the craftables that needs dragon skins. Am I supposed to just lug them around?
You can't have an RPG without quests and Far Cry 3 gives you a ton of them, although only one at a time. They invariably represent the very worst of your typical RPG quests (go X, kill Y of Z) but as a cherry on top they have exact weapon requirements. So, go kill five rabid dogs but the quest fails if you don't do it with a shotgun (which means giving up your assault rifle since at this stage you only have a single weapon slot). Or, there is an enemy commander guarding a roadblock and you have to take him out but only a knife or a sneaking take-down kill counts. This is beyond stupid and also disasterous to immersion. Funny enough, immersion is the reason I am supposed to like open-world games. Take it away and I am left with... nothing.
As for the story... oh well, you are an American white boy and the local degenerates have apparently waited for a non-combatant like you to be their champion against a crowd of modern-day pirates. This White Man's Burden has already been criticized elsewhere in the 'Net so I'll leave it at that. Damn, I really miss Jack Carver and his hilarious Hawaiian shirt. Come to think of it, I miss a great many things from the original Far Cry. Carver came off as little arrogant but I'd take that over the FC3 protagonist's whining any time.
So here we are. The rest of the world is celebrating the new apex predator of open-world shooters and I fear that the crowds will turn on me when I throw the first tomato. But here, in my blog, I can be honest to myself.
Final Rating: -2
It is no surprise that Fallout 3 does the RPG elements better. As for FO3 having a better open world... well, yeah. I can see that happen. But never in a million years would I have expected Fallout 3 to be the better shooter!

03-Dec-2012: My Dream RPG 2
What I would do as my Dream Game varies by mood, inspirations, planetary movements and so forth. Objectively, the next edition of Miekkamies would actually be the best option: it has enough brand recognition among my core audience to sell the first print run, it is an IP that I own and control 100%, it is in a mass appeal genre with a strong and visually immediately obvious twist that sets it apart from other titles. It does compete with 7th Sea and to the lesser extent with Agone but that's about it (no, it does not compete with Warhammer; I am still hurt from those early accusation). And it was/is a damn cool concept and setting.
I always thought that the pocketbook format of Myrskyn Aika was pretty damn cool, so the rulebook would probably be in A5 size and I would love to go all out on production values: design the page layout as if it was a CCG card, glossy paper with full colour page frames, illustrations and even text effects. There would be parchment-textured pages, effect symbols, blood-red title texts, small pictures of dice replacing the boring N notation (In Finnish, a die is "noppa"), heavy use of icons in place of stats, coinage and wherever else applicable. The outer page frame would mimic the glass mosaics of Renaissance churches, while the illustrations would be commissioned from a Frankenstein's monster built from the corpses of Rembrandt and Alphonse Mucha.
Having that much art means having relatively little text per page, so the rulebook would be a 300-page brick. Quite heavy with that glossy paper, I would imagine, despite the A5 page size. I am usually not into boxed sets but this time I would like to have the game come in a small treasure chest. The rulebook would be at the bottom... maybe split up into player and gamemaster books as separate works. There would also be a cloth map of Arleon, a set of branded dice, parchment-textured character sheets... hmm, I was actually quite impressed by Ultima V back in the day when they included the medallion (tin, but still) in the box.
Back in the real world, getting any art at all for Miekkamies would be a tall order even with an unlimited budget. Straight-out fantasy is a much easier genre to illustrate because everybody knows what it is supposed to look like and all your prospective artists probably spent their school years doodling orcs and elves into the margins of their schoolbooks. Unfortunately, they did not draw musketeers, pirates and East India Company traders, even though the Baroque is visually just as or even more impressive. Even with the original Miekkamies there was some coaching to do before the artists really grasped what I was going for.
I need to buy the 7th Sea rulebooks and see how they've managed theirs. All I know for now is that my closest competitor has pulled off the impossible and created a fantasy world map that I did not find even the least bit inspiring. Honestly, what the hell is this? I've never come across another fantasy map that would leave me so frigid. It is not the copying of Europe: we all do that and I'd like to have sex with the Old World map from Warhammer Fantasy games. The original Miekkamies map of Arleon by Sami Mutanen needs a few fixes but it already works much, much better. Any future iterations of Arleon will be based on it.
The Delorian Empire is the key to this setting. It starts out as something of a Roman Empire, uniting southern half of Arleon under a single banner while keeping the Relgian kingdoms in the north as a buffer zone and trade partners. Later, conflicts with the Sayarid Caliphate across the Blue Sea drive their overseas expansion and the Delorian Empire becomes the Spanish Empire, with colonies on three of the four corners of the Known World and trading ports in the otherwise insular Yu-Zhang. Just like in Spain, this influx of wealth kickstarts social decay as the gulf between the rich and the poor explodes. Still, largely thanks to the Order of Mechanologists, the Empire continues to evolve and reaches a stage resembling the British Empire, with technological wonders to match.
The Mechanologist Heresy and their subsequent exodus across the Grey Sea along with most of their secrets throws the Empire into chaos. Coups, assassinations, rival Emperors and eventual religious purges under the Puritans of the Twelve follow. The Empire's grip on its colonies falters and the Sayarid Caliphate drives the Delorians off the southern continent altogether. Whatever counter-measures the Puritans were planning are undercut by the Age of Darkfire and the return of magic. The Empire is shattered. Although Kronath's sacrifice restores some sembalance of order to the Delorian lands and the Puritans of the Twelve are driven into hiding, the provincial kings do not return to the Imperial fold.
The Empire is never abolished. Instead, much like the Pope, the reigning Emperor sits powerless in his vast palace in the ancient city of Ardelon, acting out the rituals of power while the Delorian kingdoms drift apart.
The original Miekkamies was set 300 years after the fall of the Empire, with the provincial kingdoms are well and truly established. What I would like to do now is set it perhaps 30 years after the Age of Darkfire, so that the elder political figures and soldiers can still remember the Delorian Age. This dying Empire is awash with secret societies, masterless chivalric orders, cults and witchcraft (no longer banned but definitely frowned upon). Intrigue abounds as some groups try to bring the Empire back together while others seek to ensure that break-up will continue and will be irreversible.
I am having some problems with the exact role of the player-characters but I am leaning towards the secret societies. It would be a good match to the master-champion setup that was supposed to be in the original (but never really discussed). Think of the Vampire Clans in Vampire the Masquerade and you are not far off. However, this also necessitates some way for characters from different secret societies to work together. Secret societies could also act as gatekeepers to secret knowledge, from mechanology to witchcraft. Other than that, there are no character classes.
Remember that the future is not set. Even if in the original Miekkamies the Empire did break apart, this time the players are there when it happens and they have a say in the matter.
Or would have.
This is a hypothetical product.

02-Dec-2012: My Dream RPG 1
I had a short but thought-provoking exchange with Mike Pohjola in Facebook recently, after I asking about the status of his upcoming RPG Myrskyn Sankarit and mentioned that a good deal of my stuff is on hold waiting for it (and for the Praedor album). With ample crowdfunding and negotiations underway about getting MS on sale also in department stores and the like, Mike is in the position to write and edit the RPG of his dreams. Curiously, he is trying to write an extremely newbie-friendly RPG with the maximum mass appeal instead, using the venerable red box D&D as his guide. I hope he pulls it off, although that would mean losing my status as the best-selling Finnish RPG author. I'd be lying if I said it has never been a point of pride for me. But really, if a new red-box D&D is what it takes to bring mass appeal back to the hobby, so be it. I sure as hell could not write the bloody thing myself.
But it did get me thinking: what kind of an RPG would I write and publish now, if I suddenly did not have to worry about any limitations? What would my dream RPG be like? And the answer... well, I guess doing some soul searching every once in a while is a good thing.
The Stalker RPG, or rather the process of creating it, changed me as an RPG author. With that game, I reached the Holy Grail of RPG writing and created the best roleplaying game ever, a masterpiece that I, or anyone else, has no hope in hell of ever matching. Any future games written by me will always be in its shadow. During the eight years it took me to figure the Stalker RPG out, I made some discoveries I could not do without anymore. For example, the way FLOW engages the player into the moment and to the task at hand was simply beautiful. Just like it was to see great character stories emerge at the drop of a hat through the talent/drawback dichotomy, while still keeping the character creation quick, simple and fluid. Eat that, CP2020 Lifepath!
Having engagement mechanics as part of a rule system is nothing new. While my not-understanding of what "The Forge" was all about has outlasted "The Forge" itself, I have convinced myself that this, player-engagement rule mechanics, was at least one of the things they were about. I know that pre-Stalker Burgeri would not have touched those with a ten-foot pole but even so, I've always been a big proponent of setting-specific rules. These effectively boil down to a penalty system that hinders the player agenda if their choices do not conform to the core expectations of the setting (as far as the adventure plot was concerned, they could still go off-script as much as they liked and the Otherwhere would never crack). Including engagement mechanics turns the penalty system into a player-transparent reward system. Judging from Stalker RPG, players find it empowering and conducive to creativity, while quantifiable results can still be applied to algorithmic rules.
The post-Stalker Burgeri would not write a game without including both of these effects in some format. He would also like bend over backwards to retain the advantages of FLOW-based character creation over the min-maxing and point-shuffling of Edges and Flaws, or having a mostly static primary attribute system contributing to a field of dynamic variables called secondary attributes and... and... those are all things I cannot go back to. There is nothing wrong with using them in existing systems but I really, really, don't want to design something like that anymore. So yeah, Stalker RPG hit me so hard it left a permanent mark. Not only are my future RPGs going to stand in its shadow but they will also be its offspring. You'll see the family resemblance.
That said, my dream RPG is not diceless. Stalker RPG became diceless out of necessity, because of the adventuring style. For all the virtues of FLOW, I never could keep it entirely dice-free. The "Shit Die" is a seductive little thing, especially late in the evening when the stalkers do something totally unexpected. I am very tempted to roll it to give myself a clue on the difficulty of the challenge at hand, rather than deciding it using the available facts. Furthermore, it is a question of mass appeal and sales. While I am much less concerned about those than before, I am not immune. Finally, there is also the hook of gambling, provided that the rolls are varied enough. Shouldn't be, for an immersion addict like myself, but there is.
Hmm. This is turning quite a bit longer than I expected and I haven't even described the game yet! Oh well, another day...